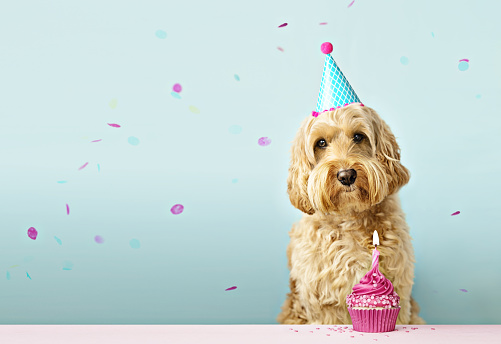 Dogs bring immeasurable joy and happiness to our lives. So, it is only right that we celebrate their milestones just like we do our own! If your pet is turning one year older (not necessarily wiser) and you are wondering what you can do to make him feel special, we have you covered! Here are six unique and fun birthday gift ideas that are sure to make your pet's day, month and year!
Dog Kennel
A kennel is one of the most basic requirements for a dog. So, if you find your pet missing this necessity, it's time to get him his own home! There are several considerations to choosing a dog kennel, the foremost being size. Ensure you invest in a kennel that factors in the adult size and prospective growth of your dog. A kennel must offer plenty of insulation and ventilation so your dog is in good health. As a kennel is an outdoor fixture, it is best to opt for one that is made of good quality fir wood, as this ensures it can withstand all types of weather. Angled roof, pee tray, detachable roof and easy human access are some of the basic requisites for a kennel. Ensure you keep these factors in mind when you bring home your dog's birthday present. My Dog Supplies is a one-stop-shop for good quality dog kennels that pack in a punch in terms of features, durability and design.
Pet Insurance
If you consider your dog a part of the family, here's one way to seal the deal! Pet insurances aren't new on the market, but they are certainly finding a lot many takers in the recent past. It is a great way to hedge your pet against common risks such as illness, accidents and more. Pet insurance saves money and also saves the day when you need it most.
Dog Chewies
What's not to love about some delicious chewies to pamper those tastebuds? You don't need an occasion to get your dog some yummy treats, but if you are looking for one, there couldn't be a better day than his birthday! Get your furry friend a basket full of his favourite treats as a perfect celebration of his big day. Choose the best chewies for dogs that are good for his health and appeal to his tastebuds. One thing is for sure, he will look forward to his birthday every year if he is in for such treats!
The Best Dog Chews in 2022 | Pet Side
Party
Go old-school and throw your dog a full-blown birthday party. Bring home some good old party decor complete with birthday hats, pom-poms, piñatas and the works. Order a cake, especially catering to your dog's tastebuds, with ingredients that are safe for his tummy. Invite the neighbourhood dogs for some fun games and activities to make for a great birthday celebration for your furry friend! This day shall certainly go down in your memory as a cherished birthday of your pet.
Spa Day
What not to love about a day of pampering at the spa? If this sounds exciting to you, you aren't alone! Turns out, dogs love some tender love and care too! Pamper your dog with a day of self-care at your neighbourhood pet spa. There's no end to what you can do to make your furry friend's day special! A splash in the pool before a refreshing bath followed by a pedicure and massage sounds like the perfect birthday plan for your birthday buddy. That's one-day joy dog won't forget for a long, long time!
Day Out with Family
Nothing makes your dog happier than having you and the family all for himself. If you haven't had the time to plan a fun day for your dog, don't fret! You can still make it work by simply giving your dog a day full of his favourite activities! From playtime in the park to a dip in the pool and some cuddles on the couch, your humble furry friend is fairly easy to please! If your dog has your undivided attention for a day, consider it a job well done! Plan a day out with the family to celebrate your pet's birthday and watch him jump for joy, literally!
Mating Partner
Let your dog enjoy the little pleasures of life by finding him a mating partner. Many dog owners choose to neuter their dogs to avoid the natural hormonal tendencies of mating. Only a few dog owners take the trouble of looking for a suitable mating partner for their furry friend. This is, in fact, a great birthday gift for your dog, as it helps them explore their natural mating instincts and live a fulfilling life.
Wrap Up
Dogs are man's best friends! If your furry friend has your heart, the above ideas are a great way to celebrate their presence in your life. We hope we have given you enough inspiration to make your dog's birthday a memorable one!
Image