California
Ford inks surprising deal with striking UAW workers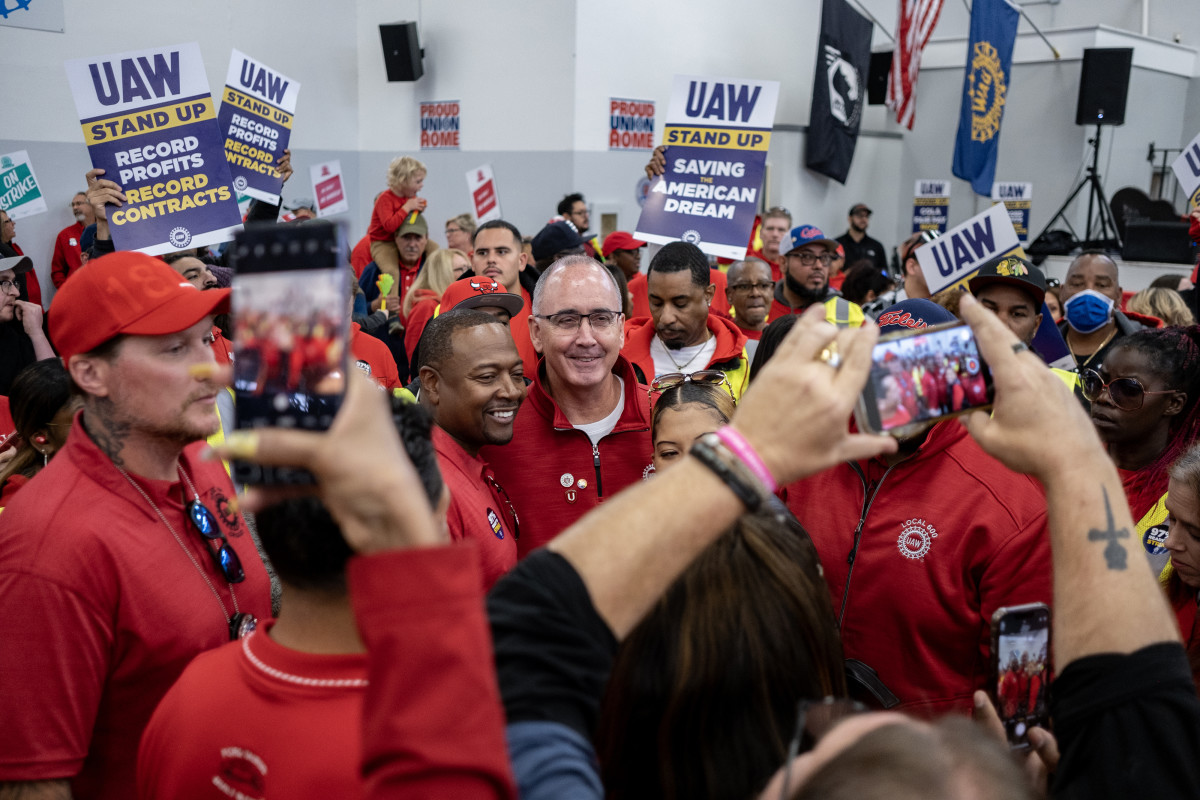 Ford Motor  (F) – Get Free Report has come to terms with United Auto Workers, agreeing to a landmark compensation deal to end workers' stand-up strike against it. 
UAW workers have been striking against all of Detroit's big three automakers. However, Ford was the first to cut a tentative deal with employees that could allow car and truck production to resume at its factories.
The agreement comes after the UAW upped the ante this past week against General Motors  (GM) – Get Free Report and Stellantis  (STLA) – Get Free Report, calling on more workers to strike at key plants. 
If Ford's 57,000 UAW members ratify the contract, it could serve as a blueprint for General Motors and Stellantis.
The auto workers' strike reaches a turning point
The strike began on Sept. 15 with workers walking out at one plant at each of the three car makers. 
Since then, it's expanded to include 45,000 of its 150,000 members across eight assembly plants and 38 parts distribution centers in 22 states, including Ford's highly profitable Kentucky Truck Plant where the Ford Expedition and Lincoln Navigator are built.
Related: UAW workers play hardball with General Motors
The tentative agreement with Ford follows decisions to strike at Stellantis' Sterling Heights Assembly Plant on Oct. 23 and GM's Arlington Assembly on Oct. 24. 
Sterling Heights Assembly, Stellantis' biggest plant, manufactures the top-selling Dodge RAM 1500 trucks, while Arlington Assembly produces the Chevy Tahoe, Chevy Suburban, GMC Yukon, and Cadillac Escalade. 
UAW President Shawn Fain said that Stellantis' offer trailed offers by both GM and Ford, while General Motors' offer was inferior to the one put forward by Ford.
The willingness of the UAW to up the ante by striking at the heart of Stellantis and GM's biggest money makers may have pushed a deal forward with Ford, which may have been concerned that the strike could soon expand to include F-150 production.
"Ford knew what was coming for them Wednesday if we didn't get a deal. That was checkmate," said UAW President Shawn Fain.
Ford agrees to a record compensation package for workers
After 41 days, the strike against Ford appears to be coming to an end. Workers didn't get everything they requested, but Ford has agreed to many items on the UAW's wish list.
More Business of EVs:
Initially, the UAW targeted a 40% increase in wages, an increase that Ford argued would put it on a path to bankruptcy. 
Instead, the tentative deal reached with workers includes a 25% wage bump through April 2028. Wages at the highest tier will increase by a cumulative 30% to over $40 per hour, and starting pay will increase by 68% to over $28 an hour.
According to the UAW, some workers at the lowest end of the wage scale could see pay climb more than 150%. 
Ford also agreed to other crucial demands, including reinstating cost-of-living increases to offset inflation, a shorter three-year progression to top wages, and the elimination of wage tiers for union workers. Retirement money and the right to strike over the closure of factories for the first time were also included in the contract.
The pressure is now higher for General Motors and Stellantis. All three car companies have argued that a new deal with workers could allow competitors to outmaneuver it, especially companies like Tesla  (TSLA) – Get Free Report, Toyota Motor  (TM) – Get Free Report, and Honda Motor  (HMC) – Get Free Report that aren't unionized.
Industry-wide, companies are investing significantly in designing and manufacturing electric vehicles, which are increasingly displacing conventional internal combustion engine (ICE) vehicles. According to Cox Automotive, EV sales surged nearly 50% in the third quarter from one year ago, and now account for about 8% of total vehicle sales.
EVs are expected to grow to account for about 40% of all vehicles sold in the United States by 2030, according to S&P Global Mobility.
The new deal with workers will allow Ford to focus on ensuring it gets its fair share of that market opportunity. 
A simple majority of Ford's union workers will need to vote in favor of the contract for it to become official. In the meantime, Ford workers will return to their jobs. 
Forget Ford – Sign up to see what stocks we're buying now
https://www.thestreet.com/automotive/ford-inks-surprising-deal-with-striking-uaw-workers Ford inks surprising deal with striking UAW workers