California
Disney CEO hits back at Florida's DeSantis, presents clear threat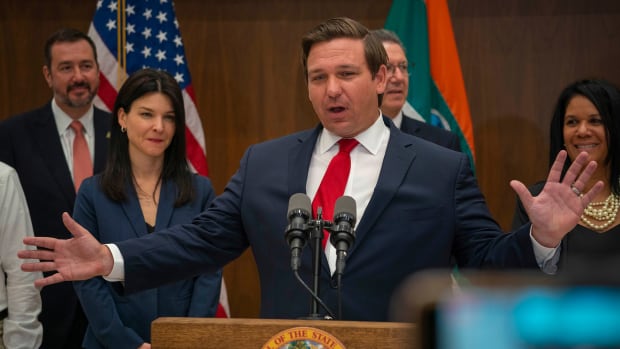 Walt Disney CEO Bob Iger doesn't want to play Florida Governor Ron DeSantis' games or listen to him. No, but I'm not far from fighting either.
Mr. Iger has made it very clear that his company has no intention of taking on the governorship, even if it opposes a law many of its employees found deplorable. (DIS)- Get Free Report Public opposition to his so-called "don't say gay" bill was seen as a way for Iger's predecessor, Bob Chapek, to set the company off in his "Awakened War" marketing campaign.
Do not miss it: Disney World should admit its failure and bring back FastPass+
Disney's current CEO has tried to make it clear to DeSantis that his company isn't going to be a pawn in the political stance game during that period. 2nd Quarter Financial Results AnnouncementHe tried to make it clear that Disney doesn't want to circumvent handouts or regulations, but wants to continue operating in its current fashion.
Iger made his position clear and ended his remarks with words that could clearly be perceived as threatening.
Iger believes DeSantis is retaliating
Iger elaborated on the company's situation in Florida, where it operates four theme parks, two water parks, numerous hotels, and a large shopping district at Disney Springs.
"Regarding Florida, I have a few things to say about it. First of all, I think the lawsuit we filed last month made our position and facts very clear. We believe we are only retaliating for taking a position on the said.
The Disney CEO also shared that his company does not enjoy some kind of unique status in Florida.
"Also, this is not about Disney using special privileges or a level playing field or influence around Florida. It was founded to promote and we are one of them," he said.
They were created to make it easier to do business in the state, Iger said, and Disney has done a lot of business in the state. The company has more than 75,000 employees statewide, with "tens of millions" in Florida.
"So it's easy to say that the Reedy Creek District, which was established for us over 50 years ago, has benefited us, but not considering how much Disney has benefited the State of Florida. is misleading.
Iger also shared that both Daytona Speedway and The Villages retirement community have special districts.
"If the goal is to level the playing field in uniform application of the law, or government oversight of the special districts should take place or apply to all special districts," he added. .
The Eiger makes a not-so-subtle threat
Disney World will never leave Florida, but it does have the option to invest more or less in its in-state operations. This is the leverage that Iger very much pleased he pointed out to DeSantis.
"There is a huge opportunity to continue investing in Florida. Our plan is to invest $17 billion over the next 10 years and this is what the state wants us to do," he shared. Did.
Iger also said Disney isn't asking for tax cuts or nonpayment of its fair share.
"There is a false story that we have fought to protect the tax cuts as part of this. But in reality, we are the largest taxpayer in Central Florida who paid over $1.1 billion in state and local taxes last year alone. We're paying more taxes, specifically, more real estate taxes as a result of that special district," he added.
Finally, when Iger appeared to be looking for rational action rather than political drama, the CEO completely put his cards on the table.
"We operate responsibly. We pay our fair share of taxes. We employ thousands of people, but we pay significantly less than the minimum wage set by the State of Florida. We pay them above minimum wage, and we offer them great benefits, so obviously it's a long answer, but I'll end with one question: Can the state do us more? Do you want to invest, hire more people and pay more taxes?"
https://www.thestreet.com/travel/disney-ceo-fires-back-at-floridas-desantis-makes-clear-threat Disney CEO hits back at Florida's DeSantis, presents clear threat