Local
UPDATE: COVID-19 cases and hospitalizations rise rapidly following holiday season in S.B. County | News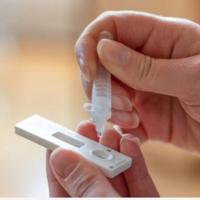 According to health officials, San Bernardino County continues to face a huge surge in COVID-19 cases and hospitalizations due to direct gatherings after the holiday season.
On January 14, the county's COVID-19 dashboard showed a total of 432,797 cases. This is a significant increase from 409,871 reported on January 11 due to the highly contagious variant of Omicron.
Over the three days, the death toll increased from 6,113 to 6,182.
In Fontana, the number of cases surged from 52,196 on January 11th to 54,754 on January 14th. Eight more deaths have been reported in Fontana, bringing the total to 654 since the pandemic began in early 2020.
According to the county news release, 974 confirmed COVID-19 patients were admitted to the county on January 10. This represents a significant surge from 371 confirmed cases on December 10, a month ago.
The number of ICUs in the county has more than doubled, with 187 COVID-19 cases confirmed on 10 January, compared to 91 on 10 December.
"We urge the public to continue to contribute to the prevention of COVID-19, including wearing masks, avoiding unnecessary direct gatherings, and taking booster shots," said Josh Dugas, Director of Public Health. I am saying.
—– The county-promoted test sites continue to operate at high capacity levels in all regions of the county, with extended uptime. The appointment is held every Friday. We recommend booking a PCR test, but we also accept walk-ins. Due to current test demand, there will be a long waiting time for carry-on.
In Fontana, the Jesse Turner Center on 15556 Summit Avenue offers COVID-19 testing from noon to 8 pm Monday through Friday.
Other nearby test sites operated by the county:
• Ayala Park Community Center, 18313 Valley Boulevard, Bloomington, Tuesday-Saturday 10 am-6pm
• RC Family Resource Center, Rancho Cucamonga's 9791 Arrowroot, Tuesday-Saturday 10 am-6pm
• Carl Johnson Center, Rialto 214 N. Palm Avenue, Monday-Friday 10 am-6pm
In compliance with Martin Luther King Jr. Day, the county-operated COVID-19 testing and vaccination site will be closed on Monday, January 17th.
For more information on COVID-19 testing or vaccines, please visit: sbcovid19.com Or call 909-387-3911.
—– Beginning in December, the county began distributing free antigen testing kits to a number of community organizations, and this month began offering them available for pick-up on all county testing sites.
However, the county temporarily suspended the distribution of test kits due to a significant increase in demand for kits and delays in federal shipments.
"We will update the public on our website and social media channels when supplies are replenished and home kits are available again," the county said in a news release.


UPDATE: COVID-19 cases and hospitalizations rise rapidly following holiday season in S.B. County | News Source link UPDATE: COVID-19 cases and hospitalizations rise rapidly following holiday season in S.B. County | News