Local
Tanuki Izakaya & Ramen Hits A Home Run!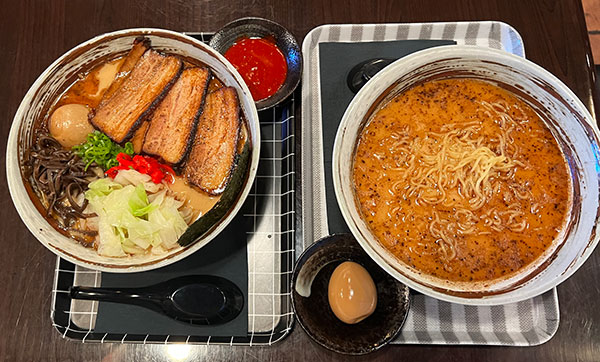 I've been wanting to try Tanuki Izakaya and Ramen for a while. Given the dubious situation where several restaurants were launched and eventually closed, including Uni Boil, I was pleasantly surprised to find that the food and customer service were on point. In fact, I don't have a single critique of food or customer service, not one!
The Atmosphere
When you first walk into the restaurant, you can see a sushi bar counter and a bunch of stalls and tables. The place seemed crowded on a Friday night. I enjoyed the careful Japanese decorations and the line of beer and sake offered by the sushi bar for all to see. It was very busy but still inviting.
They greeted us cordially and invited us to sit in the sushi bar while we waited for a table. They came to take my drink order 2 minutes after my arrival, and I thought it was good that I could have a sake while I waited for a table.
the food
The menu has a pretty well thought out menu, with ramen and izakaya options, being the main stars here. I decided to make it simple. We ordered the Black Mayu Tonkatsu Ramen with extra soup, noodles and an extra ajitama egg. We also ordered Agedashi Tofu, A5 Wagyu and Gyu Kaibi (veal rib).
Black Mayu Tonkatsu Ramen
The Black Mayu Tonkatsu Ramen was delicious. From the first spoonful I was hooked. Real ramen is all about the broth. If the broth is not tasty and savory, you will not like ramen. The menu describes this ramen as a rich pork broth with toasted garlic oil, barbecue pork belly, soft boiled marinated egg, nori, ginger, mushroom, green onion and cabbage. They offer a kotteri option that offers a thicker broth.
I really enjoyed the tasty broth with the delicious pieces of pork belly. Ginger, green onion and fungus really added depth to the flavor. I'm sold. I will be back to take this specific ramen again and continue with me with noodles, soup and extra egg.
Tofu Agedashi
Advertising
I love tofu. So there was no way I wasn't going to try Tanuki's Agedashi Tofu. It was as it should be. The tofu itself was well fried. It was crispy on the outside and soft on the inside. It was served with a sauce that I poured over it as well as milled it. I really liked this dish.
A5 Wagyu
The A5 Wagyu was as tender as I imagined it would be. It was tasty and delicious with every bite. This is absolutely a must! If you are not a vegetarian, you MUST TRY this wagyu when you enter Tanuki!
Gyu Kaibi
The Gyu Kaibi was also delicious. I found it well flavored with the meat itself quite moist. I would ask for this again, but I have to be honest and say I preferred the A5 Wagyu. So if you're debating between the two, go for the A5 Wagyu. If you want to try both, go for both and you won't regret it.
In general
I had a chance to talk a bit with the owners John and Steve. They were kind and explained their vision behind their restaurant. They wanted to create a restaurant with high quality food and make it accessible to the local community. I also thanked our cheerful waitress Ada, who was great with her customer service and always seemed to show up when she needed something.
My dinner partner and I were very impressed with the food, customer service and warm atmosphere of Tanuki Ramen and Izakaya. I will definitely be back again.
Go for the Black Mayu Tonkatsu Ramen and the A5 Wagyu! YOU MUST TRY IT! Tanuki Ramen & Izakaya is APPROVED EGT! Tell them Jax sent you!
Tanuki Izakaya and Ramen
7119 Elk Grove Blvd, # 125
Elk Grove, CA 95758
(916) 829-2186
www.tanukiizakayaramen.com
Tanuki Izakaya & Ramen Hits A Home Run! Source link Tanuki Izakaya & Ramen Hits A Home Run!