Local
Suspect crashes vehicle in Rialto after fleeing from police in Fontana | News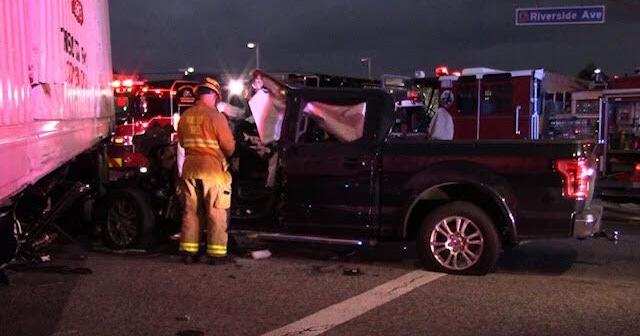 A suspect fleeing police in Fontana crashed a vehicle into a tractor-trailer in Rialto on March 28, according to the Fontana Police Department.
Police initially received a report of a stolen Honda CRV in the area of ​​Jurupa and Slover Roads in southern Fontana. Officers searched the area and did not find that vehicle, said Fontana Police public information officer Daniel Romero.
However, officers later found a black 2015 Ford F150 with stolen license plates on it. Officers tried to stop the traffic, but the F150 left immediately, traveling east on Interstate 10 and exiting on Riverside Avenue.
The F150 sped south on Riverside, turning on a red light in Slover and colliding with a tractor-trailer heading north on Riverside. The driver, later identified as 38-year-old Juan Brizuela, remained trapped inside the vehicle and had to be pulled out by the Rialto Fire Department.
Officers removed two French bulldogs unharmed from the F150.
The Rialto DP was in charge of investigating the road accident.
Brizuela was transported to the West Valley Detention Center for treatment of non-life-threatening injuries. Upon release, the suspect will be remanded in custody at the West Valley Detention Center due to two arrest warrants from LA County and Imperial County and three open felony charges, Romero said.
There were no civilian or officer injuries and no damage to city property, Romero said.


Suspect crashes vehicle in Rialto after fleeing from police in Fontana | News Source link Suspect crashes vehicle in Rialto after fleeing from police in Fontana | News