Local
Summer beach reads episode, YA and kids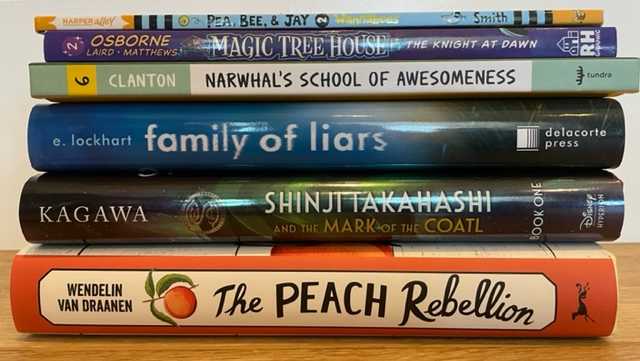 Dying to Ask Podcast: Annual summer beach reads episode, part 2
ARE YOU READY TO HIT ON THE BEACH? GET LOST IN A GOOD BOOK BEFORE LEAVING YOUR NEXT HOLIDAY? BRANDY: KCRA DEIRDRE FITZPATRICK MEETS US IN THE STUDIO WITH A PREVIEW THIS WEEK DIES TO ASK PODCAST. DEIRDRE: IT'S OUR SUMMER BEACH READING EPISODE. THERE ARE SO MANY GOOD CHOICES THIS SUMMER, WE DIVIDED THE PERFORMANCE INTO TWO PARTS. BOTH ARE NOW AVAILABLE NOW ON YOUR FAVORITE PODCAST PLATFORM. PART ONE COVERS ADULT OPTIONS. PART TWO LABEL TITLES FOR YOUNG ADULTS AND CHILDREN. THE JOURNEY OF OUR BOOK IS TINA FERGUSSON, OWNER OF A PERSON IN A BOOKSTORE. HE SAYS THERE IS A COMMON TOPIC TO THE BOOKSTORE CUSTOMERS THESE DAYS. PEOPLE WANT TO AVOID REAL LIFE. >> I really did it that people have to feel well that they are looking at the news and that they are experiencing life, and you know how to experience its pain by putting gas on their car, but somebody who is fun, fantastic, just anything or anybody who IT'S NOT RIGHT HERE, AND IMMEDIATELY NOW. DEIRDRE: TO THIS ASK, LEARN HOW BOOKS REALLY REACH THE TOP OF THE BEST SELL LIST. HOW THE AUTHORS CURSE THE FANS AT TIKTOK. AND RECEIVE MANY SUGGESTIONS FOR THE BOOKS YOU WANT TO LOSE THIS SUMMER BOTH OF TINA AND FIT. – TINA AND ME. SCAN THIS QR CODE TO GET RIGHT IN THE EPISODE. Ή SEARCH A LOT TO ASK YOUR FAVORITE PODCAST PLATFORM
Dying to Ask Podcast: Annual summer beach reads episode, part 2
Go read a book. These four words summed up my mother's constant summer refrain in my childhood and I find myself parroting her words as a mom! Part 2 of the annual summer episode "Beach Readings" focuses on books for children and young adults or for YA readers. But here is the issue. YA is actually for all ages. Do you just enjoy the fast, fun reading? Listen to some great YA readings that will inspire and entertain. Do you have a reluctant reader at home? My guest Tina Ferguson has some great tips to get the kids lost in the pages of a great book. Tina owns the Face in a Book bookstore in El Dorado Hills, California. Titles mentioned in the show: Family of Liars by E. Lockhart The Peach Rebellion by Wendelin Van DraanenShinji Takahashi and the Mark of the Coatl by Julie Kagawa In this Dying to Ask: How to get a recitant reader concern in readingWhy graphic novels are a strong motivation readingHow Disney and TikTok Inspire Great Children's Literature The Rise of Inclusiveness and Diversity in Children's LightWhy YA Books Are For All AgesAnd stay at the end of the story of how Dolly Parton and James Patterson worked together the most popular books of the yearOther places to listen: CLICK HERE to listen to iTunes CLICK HERE to listen to Stitcher
SACRAMEDO, CA –
Go read a book.
These four words summed up my mother's constant summer refrain in my childhood and I find myself parroting her words as a mom!
Part 2 by us annual summer beach reads episode focuses on books for children and young adults or YA readers. But here is the issue. YA is actually for all ages.
Do you just enjoy the fast, fun reading? Listen to some great YA readings that will inspire and entertain.
Do you have a reluctant reader at home? my guest Tina Ferguson has some great hacks to get kids lost in the pages of a great book.
Tina is its owner Face in a book bookstore in El Dorado Hills, California.
The titles mentioned in the show:
In this Dying to Ask:
How to make a reluctant reader interested in reading
Because graphic novels are a powerful motivator for reading
How Disney and TikTok Inspire Great Children's Literature
The rise of inclusiveness and diversity in children's lights
Because YA books are for all ages
And, stay tuned for the story of how Dolly Parton and James Patterson collaborated on one of the most popular books of the year
Other places to listen:
CLICK HERE to listen to iTunes
CLICK HERE to listen to Stitcher
Summer beach reads episode, YA and kids Source link Summer beach reads episode, YA and kids