Local
Submit your question for candidates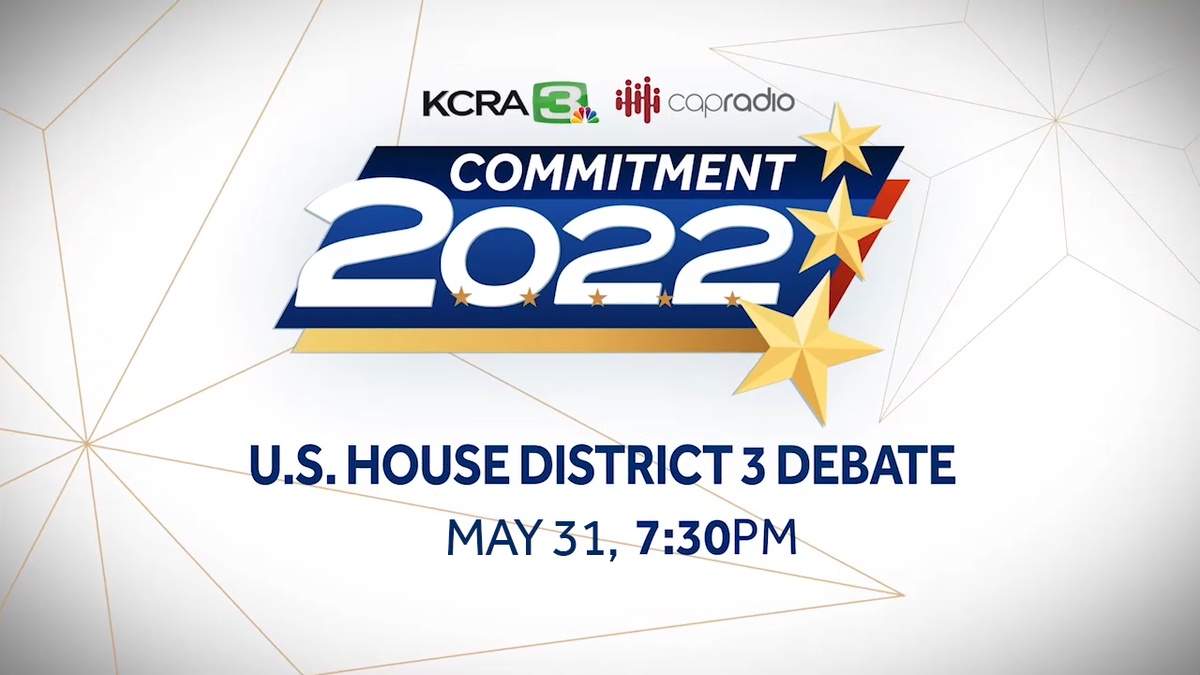 KCRA 3 / CapRadio Debate for US District 3: Introducing Your Question to Candidates
KCRA 3 and CapRadio are having a live debate in Sacramento with the top candidates for U.S. House District 3 on Tuesday, May 31. Leading candidates will be Democrat Kermit Jones, a doctor from Roseville; Republican Scott Jones, Sacramento County Commissioner; and Kevin Kiley, a Republican, a member of the state legislature who now represents El Dorado, Placer and Sacramento. U.S. House District 3 has no active member after it was redesigned in the California redistribution system. The district represents parts of Plumas, Mono, Sacramento Sierra, Yuba, Nevada, Placer, El Dorado, Alpine and Inyo. The debate will be moderated by KCRA 3 reporter Edie Lambert and CapRadio state journalist Nicole Nixon. What questions do you want candidates to answer? Click here to submit your question How can you watch the debate? The debate will air live at 7:30 pm on KCRA 3 and will be broadcast on KCRA.com. It will also be broadcast on CapRadio on the following channels. 90.9 FM Sacramento KXJZ90.5 FM Tahoe / Reno KKTO91.3 FM Stockton / Modesto KUOP88.1 FM Quincy KQNCcapradio.org Voters' Guide: Northern California Interesting Competition in 2022 June Primary How to vote, follow your vote in CA's Port 202 election deadline for CA voters County Election officials have detailed details of the Sacramento County Sheriff's election preparations: KCRA 3 sits with candidates Jim Cooper, Jim Barnes
SACRAMENTO, California –
KCRA 3 and CapRadio host a live debate in Sacramento with several top US House 3 district candidates on Tuesday, May 31st.
Leading candidates will be Democrat Kermit Jones, a doctor from Roseville; Republican Scott Jones, Sacramento County Commissioner; and Republican Kevin Kiley, a state legislator who now represents the El Dorado, Placer and Sacramento constituencies.
U.S. House District 3 has no staff after it was redesigned in California's redistribution system. The district represents parts of Plumas, Mono, Sacramento Sierra, Yuba, Nevada, Placer, El Dorado, Alpine and Inyo.
The debate will be co-chaired by KCRA 3 Edie Lambert and CapRadio state political correspondent Nicole Nixon.
What questions do you want candidates to answer?
Click here to submit your question
How do you view the debate?
The debate will air live at 7:30 pm on KCRA 3 and will be broadcast on KCRA.com. It will also be broadcast on CapRadio on the following channels.
90.9 FM Sacramento KXJZ
90.5 FM Tahoe / Reno KKTO
91.3 FM Stockton / Modesto KUOP
88.1 FM Quincy KQNC
Related Articles
Submit your question for candidates Source link Submit your question for candidates