Local
Scheid Vineyards hosts Earth Day tour at Greenfield estate – Salinas Valley Tribune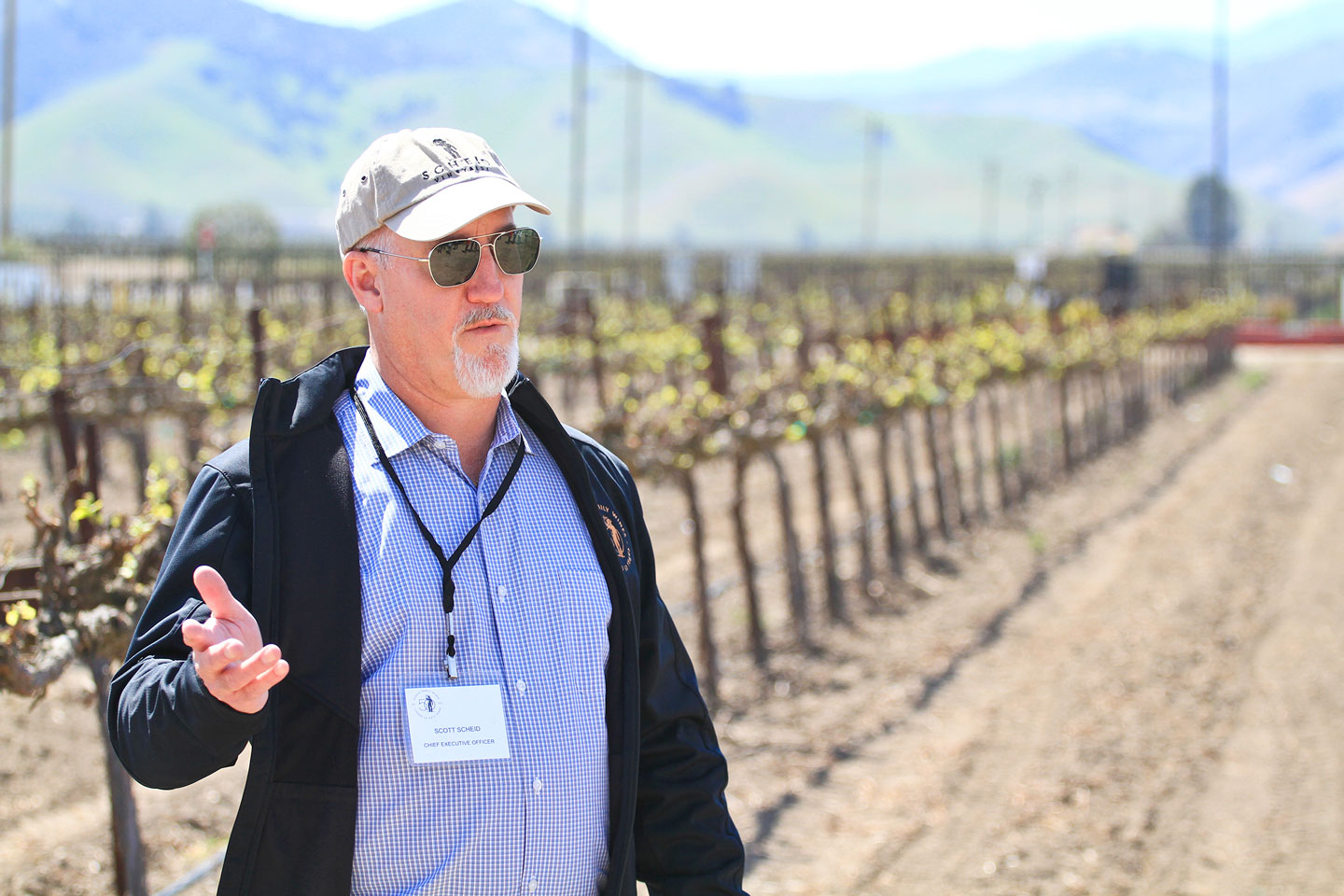 GREENFIELD – Scheid Vineyards is celebrating its 50th anniversary this year and recently hosted an Earth Day tour of its winery, right off Highway 101 between Greenfield and King City, to discuss its growing efforts in light of environmental responsibility.
During the March 25 tour, scheduled before Earth Day on April 22, management reviewed the winery's sustainable efforts to combine technology with sustainability, from the giant wind turbine on Greenfield Vineyards to the smallest of insect larvae. used as pest control.
"We have enough vineyards to do experiments," said President Scott Scheid. "With 3,000 acres of vines we grow, there are always opportunities in our different climates to line up and do repeated testing over the years."
Craig Winn, director of viticulture and technology, added: "We have four of the five crop regions covered in one company, which doesn't happen very often, so we can play with the techniques."
"There's a difference between the leading edge and the bleeding edge," Scott Scheid said of the importance of testing ideas, from insect handling to the development of wine flavors.
The 1.85-megawatt wind turbine, which stands 230 feet in the air with a total blade height of 400 feet, was installed in 2017.
Executive Vice President Heidi Scheid said the amount of kilowatt-hours generated by the turbine was "equivalent to 3,125 tons of carbon pollution." She compared this to the removal of 350 cars from the road or the carbon sequestration of 47,000 tree seedlings over 10 years.
Scott Scheid said the excess energy feeds the equivalent of 125 homes. Although the vineyard receives energy from PG&E on windless days, he noted that the turbine produces 200% of the energy needed for the winery each year, with the excess energy being put back into the grid.
Although solar energy was considered, Scott Scheid said the wind made more sense because the area was so windy.
The company worked with the Ventana Wildlife Society to ensure that turbine blades did not interfere with condor flights in the area. Crops can also be planted at the foot of the structure.
Pest control efforts
Winn reviewed the growing environmental conscious efforts, including the announcement that the company had begun using drones to respond to pests. Vineyard workers can detect pests and identify them, so the appropriate predator or parasitic insect used to control that pest can be released specifically in the infested row or rows.
An example that Winn gave was the cryptolaemus, which has larvae that feed on scales that would otherwise harm plants. He explained that insect control testing was part of the company's mission to "provide quality fruit at a reasonable price and be environmentally conscious."
By using insects to respond to pests, the company sees a reduction in the need for chemical solutions.
Winn said recent price increases for insecticides, as well as other agricultural supplies, are an added incentive to the desire to reduce the amount of chemicals released not only into vines but also into the area's environment. With that broader scope in mind, specific pest control efforts also reduce damage to non-target insects.
Another pest control effort that Winn reviewed was the Agrothermal system, which can be equipped with a tractor to spray the rows with a paraffin-like oil with heat. He also said that weed control between rows can be achieved with low blades on tractors, rather than spraying herbicides.
Winn noted that with harmful chemicals, it can sometimes be years before a producer sees the impact of what it has been putting on the environment.
"Everything we use now is needs-based," he said, not only about pest responses that can be reduced to individual rows, but also the use of monitoring technology, including sensors, to know water, soil and soil conditions. of the vines.
He compared current methods of precision with older agricultural practices, which were more "all in, all" when it came to answers.
"Everything is accurate," Winn said, explaining that if a vine has a need and not its neighbors, the company can answer on its own.
To reduce the specific answers, it is necessary to have technology to control the vineyard and make readings several times a day. It also requires interaction and communication, and Winn points out that Scheid is "full of communication."
Sustainable cultivation practices
Winn also reviewed growing practices, which include the responsible use of resources. Harvest pomace, the mixture of vegetable waste left over from harvest and initial winemaking, ferments and converts into compost.
Applied to the rows, it not only provides nutrients to the vines, but also acts as a mulch to reduce weed growth. A drip irrigation system means that less water is used than irrigation in the maintenance of the vines.
In addition to monitoring and active responses, Winn said the company encourages wildlife to collaborate with growing efforts. Rows of insects are used to attract the desired insects to the vines.
Although grapes are self-pollinated, bees are still desired. The company also had 174 owl boxes, including an owl box near the tasting room.
There are also perch for birds of prey. Winn said the boys do a great job of controlling rodents, from bald eagles to red-tailed hawks and a variety of owls.
"In some areas, we encourage coyotes to come up with water sources for them so that they are ahead of squirrels and rodents," Winn said. He explained that coyote puppies can chew lines during teething, but the loss is acceptable as line breaks are a routine part of maintenance.
In conclusion, Heidi Scheid said that making innovations requires having a "mindset of continuous improvement" because the avant-garde of agtech is always moving forward. Scott Scheid added that innovation and technology in the company are driven by product quality.
Scheid Vineyards hosts Earth Day tour at Greenfield estate – Salinas Valley Tribune Source link Scheid Vineyards hosts Earth Day tour at Greenfield estate – Salinas Valley Tribune