Local
San Bernardino County Supervisor Paul Cook's Team Attends National Night Out – Westside Story Newspaper – Online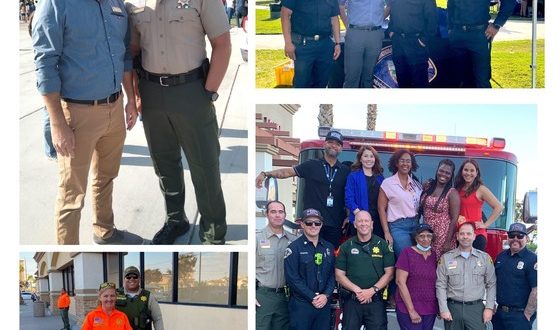 Staff members Kimberly Mesen, Christopher Porter, Samuel Shoup and Paul Marsh joined the High Desert community on Tuesday, August 2nd for National Night Out.
Started in 1984, National Night Out is an annual community-building campaign that promotes police-community partnerships and neighborhood camaraderie.
There was a great turnout throughout the First District! Supervisor Cook's staff enjoyed meeting with constituents and meeting with public safety representatives.

2022-08-04
window.___gcfg = {lang: 'en-US'};
(function(w, d, s) {
function go(){
var js, fjs = d.getElementsByTagName(s)[0], load = function(url, id) {
if (d.getElementById(id)) {return;}
js = d.createElement(s); js.src = url; js.id = id;
fjs.parentNode.insertBefore(js, fjs);
};
load('//connect.facebook.net/en/all.js#xfbml=1', 'fbjssdk');
load('https://apis.google.com/js/plusone.js', 'gplus1js');
load('//platform.twitter.com/widgets.js', 'tweetjs');
}
if (w.addEventListener) { w.addEventListener("load", go, false); }
else if (w.attachEvent) { w.attachEvent("onload",go); }
}(window, document, 'script'));
San Bernardino County Supervisor Paul Cook's Team Attends National Night Out – Westside Story Newspaper – Online Source link San Bernardino County Supervisor Paul Cook's Team Attends National Night Out – Westside Story Newspaper – Online