Local
San Bernardino City Unified Board Of Education Establishes Leadership Transition Plan – Westside Story Newspaper – Online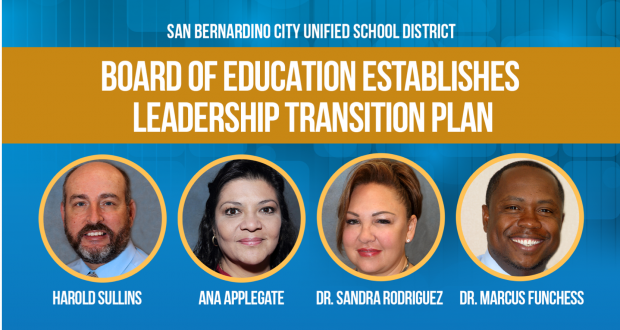 On July 1, the day-to-day operations of the San Bernardino City Unified School District (SBCUSD), the state's seventh largest, were placed under the responsibility of four members of the executive leadership team.
Together, these four leaders have extensive experience in public education, have worked in SBCUSD for decades, and two of them attended the district's schools as children. They will alternate each month to serve in the District's first seat while the Board of Education conducts a thorough search for a new superintendent following Doc Ervin's June 30 retirement. That search will continue after the November election, when the four seats on the governing board are filled. The Board of Education's goal is to announce a new SBCUSD superintendent in January 2023.
The President of the Board Dr. Scott Wyatt, a local educator, is confident that SBCUSD's day-to-day operations will be taken care of and teaching and learning will continue under this leadership plan, which begins with Associate Superintendent Harold Sullins, who leads the Business Services Division and will be the district's administrator in charge in July. Sullins currently directs all business, maintenance and information technology programs for SBCUSD. His leadership is especially important as the District prepares to open schools on August 1 for a new school year.
"As a Board, we have the utmost confidence in our executive cabinet, which is why we believe in this rotation," Wyatt said at the June 21 Board meeting. "We have incredible talent here in our district and we trust our executive cabinet to guide us through this period as we continue our search. Our schools, students, staff and families will be in the same good hands that currently serve them."
It will also serve monthly duties at the helm until a permanent leader is appointed
Ana Applegate, Assistant Superintendent of Educational Services. She will lead the District in August as schools welcome 46,000 students back to classrooms across San Bernardino and Highland. Applegate is a product of San Bernardino City Schools, still lives in the community and has earned accolades for her leadership of the District's multilingual programs.
In September Dr. Sandra Rodriguez will assume the leadership position. Dr. Rodriguez is now the Assistant Superintendent of Student Services. A graduate of Cajon High School, Dr. Rodriguez is a former principal of San Bernardino High, grew up in the community and still lives in San Bernardino.
In October, Dr. Marcus Funchess, Assistant Superintendent of Human Resources, will serve as administrator in charge. Dr. Funchess previously served as a teacher, principal and principal in the district. He was recently recognized as Administrator of the Year by the California Association of School Administrators.
After the Board of Education resumes its search for a permanent superintendent following Ervin's retirement at the end of June, a new superintendent is scheduled to be named in January.
"I have been extremely impressed with the strong leadership of our cabinet team," said Ervini. "The Board's decision to rely on a leadership rotation is a testament to the talent and commitment we already have."

2022-07-06
window.___gcfg = {lang: 'en-US'};
(function(w, d, s) {
function go(){
var js, fjs = d.getElementsByTagName(s)[0], load = function(url, id) {
if (d.getElementById(id)) {return;}
js = d.createElement(s); js.src = url; js.id = id;
fjs.parentNode.insertBefore(js, fjs);
};
load('//connect.facebook.net/en/all.js#xfbml=1', 'fbjssdk');
load('https://apis.google.com/js/plusone.js', 'gplus1js');
load('//platform.twitter.com/widgets.js', 'tweetjs');
}
if (w.addEventListener) { w.addEventListener("load", go, false); }
else if (w.attachEvent) { w.attachEvent("onload",go); }
}(window, document, 'script'));
San Bernardino City Unified Board Of Education Establishes Leadership Transition Plan – Westside Story Newspaper – Online Source link San Bernardino City Unified Board Of Education Establishes Leadership Transition Plan – Westside Story Newspaper – Online