Local
Sacramento Asian Real Estate Association of America Holds 2022 Installation Gala At King Palace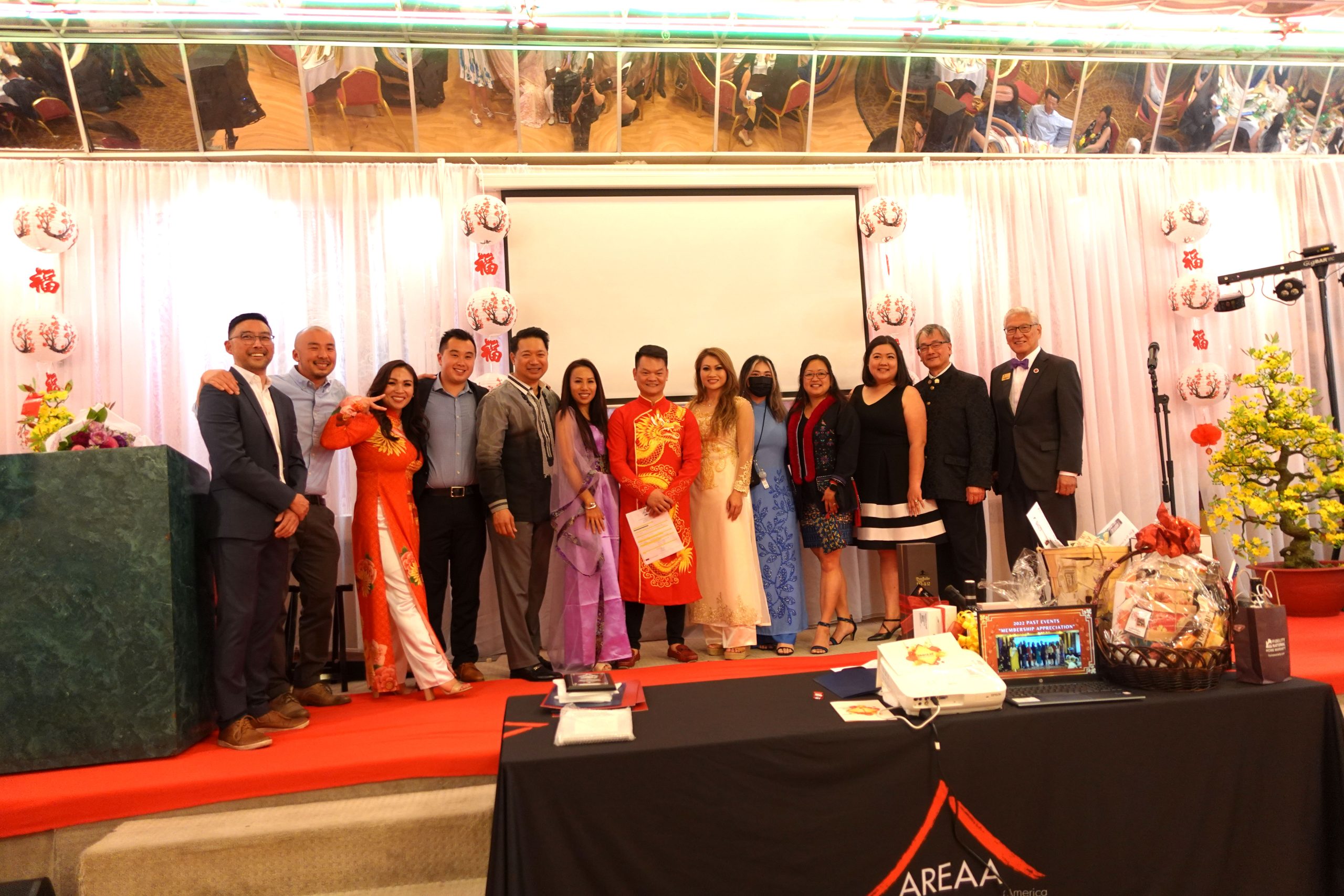 On April 26, 2022, the Sacramento chapter of the Asian Real Estate Association of America met at King Palace Restaurant to celebrate its Asian heritage and install new directors, board members and advisors for next year. The event was a joyous one, as AREAA members and community partners enjoyed the opportunity to go out and celebrate it, after enduring a few years of the Covid-19 pandemic. The event included a twelve-course meal, an awards auction, music and dancing.
It is important to note that the event was sponsored by Wells Fargo, Emerald, Home Mortgage, US Bank, Big Valley Mortgage, Chase, Loan Depot, The BNKR Group Cross Country Mortgage Group, Rube, Prime Lending, Loan Factory and MetroList.
Outstanding political leaders in attendance included Elk Grove Councilor Stephanie Nguyen, City Council member Pat Hume and Sacramento Mayor Pro Tem Eric Guerra. The event was hosted by Van Tieu of Channel 10 News. Meanwhile, Barry Brome of the Greater Sacramento Economic Council was the keynote speaker. AREAA National President Amy Kong was also present.
2022 Sacramento AREA Executives, Board of Directors and Advisory Board
During the event, the new Directors and Board of Directors of 2019 were installed. The executive officers and board of directors of the chapter of AREAA Sacramento 2022 are:
President – Vaneesa Lam
Vice President – Tuan Tran
Secretary – Fam Saechao
Treasurer – Daniel Kwon
Immediate former President – Malyna Phan
Board of Directors – Maymay Huang
Board of Directors – John Lanting
Board of Directors – Connie Van
Board of Directors – Jonathan Lee
Board of Directors – Spring Ho
Board of Directors-Dennis Ngai
Member of the Advisory Board – Samantha Tov
Advisory Board Member – Randall Hom
Member of the Advisory Board – Luanne Shikasho
Member of the Advisory Board – Patrick Lieuw
Advertising
The Holidays
Afterwards, President Vaneesa Lam, Vice President Tuan Tran, former President Malyna Phan and Advisory Board member Samantha Tov helped lead the festivities. This included calling the winners of the draw. Raffle prizes included gift certificates for breweries and restaurants, Chanel perfume and Johnny Walker Black Label. At one point, President Vaneesa Lam performed a solo on stage playing a Chinese guzheng zither.
A twelve-course Chinese meal was served. Some of the highlights of the meal included lobster, prawns with honey and nuts, steamed chicken with ginger chives sauce and meat cooked with vegetables. Bleeding was also available to everyone. All attendees seemed to enjoy the food and the festivities. At the end of the night, the deejay put on dance music and people migrated from the tables to the dance floor.
The event, according to AREAA Sacramento Chapter President Vaneesa Lam, has been completely sold out. With a sold-out event, great food, entertainment entertainment and the fact that over $ 2000 was also raised for the AREAA Foundation (501c3 non-profit), the 2022 Annual Installation Gala could undoubtedly be considered a great success.
From Sacramento AREA President
"I am very excited this year to lead the AREAA Greater Sacramento Chapter to continue our legacy of giving back. As we raise our community one family at a time, we bring light and hope to society as a whole. I am very honored and honored to be among so many "I am the founder and leader of AREAA in providing my time and service to advance and defend the ownership of sustainable housing in the AAPI community.

President of Sacramento AREAA Vaneesa Lam
About AREAA
Asian Real Estate Association of America is a "professional non-profit business organization dedicated to promoting sustainable housing ownership opportunities in Asian American communities by creating a powerful national voice for the housing and real estate professionals serving this dynamic market." ** There are 39 chapters and 17,000 members in the United States and Canada. AREA is the largest Asian organization in North America.
AREAA members help advocate for policies that grow and improve home ownership within the AAPI community. In addition, they often participate in community service events to benefit the local community of Asian Pacific islands. Free education courses are offered to members. In addition, members have the advantage of being able to meet and learn from the experiences of others.
If you are interested in joining the AREAA Sacramento Chapter or would like more information, you can contact them at sacramento.areaa@gmail.com.
** extracted from www.areaa.org
Sacramento Asian Real Estate Association of America Holds 2022 Installation Gala At King Palace Source link Sacramento Asian Real Estate Association of America Holds 2022 Installation Gala At King Palace