Local
Report says there was an increase in crime in cities covered by S.B. County Sheriff's Department | News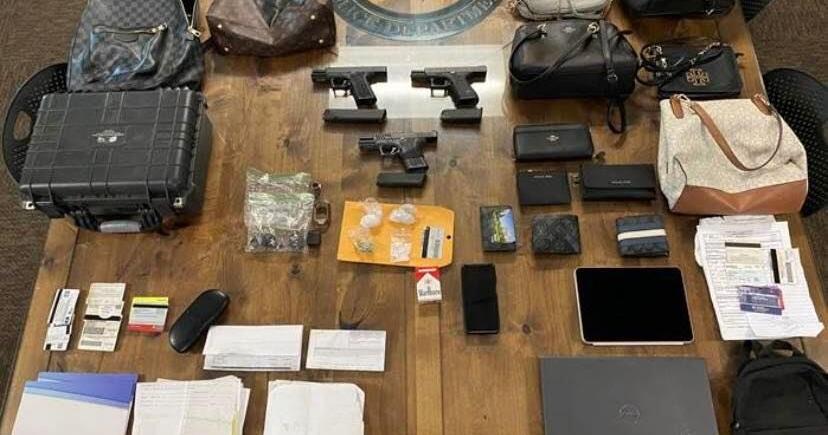 There was an increase in crime last year in cities and counties that contract law enforcement services to the San Bernardino County Sheriff's Department, according to the department's annual report.
Violent crimes increased 13 percent in 2021 compared to 2020, the Sheriff's Department said. There were 64 murders, 382 rapes and 5,360 serious assaults.
In addition, property crimes increased by 1 percent over the year.
The report (which includes several cities, including Rancho Cucamonga and Highland, as well as areas such as Bloomington) does not include statistics from cities that have their own separate police departments, such as Fontana.
However, the Sheriff's Department has jurisdiction over the unincorporated area of ​​Fontana. Overall in unincorporated areas of the county, violent crimes increased by 18 percent and property crimes increased by 9 percent in 2021.
In a message that was included in the report, Sheriff Shannon Dicus indicated that drug-related crimes continue to cause tragedy in the county.
"Over the past several years, the county has experienced the troubling effects of the opioid epidemic. This continues to be compounded by the increasing introduction of fentanyl," said Dicus. "Drug traffickers have produced counterfeit pharmaceutical pills, causing a massive increase in overdoses and overdose deaths. We have seen firsthand that social status and criminal history do not matter, victims come from all walks of life.
"In response to this trend, starting in 2021, the Overdose Response Team (ORT) was created. This team investigated 115 cases of drug overdoses and related deaths.
Also last year, the Sheriff's Department began an ongoing operation targeting illegal marijuana cultivation, which brings "crime, blight and danger" to local communities, Dicus said.
In 2021, Operation Hammer Strike served 415 search warrants, made 475 arrests, seized 130 firearms and destroyed 2,634 greenhouses, he said. Most of the greenhouses are located in small desert towns, but some of the suspects who were arrested were residents of Fontana.
Dicus said another aspect of law enforcement the county is focusing on is inmate rehabilitation.
"In 2021, the Community Service and Reentry Division (CSRD) was established to expand our inmate rehabilitation, education and reentry programs. Through vocational, academic, and cognitive programs, inmates gain the skills needed to improve themselves, make their families stable, and change their circumstances. Another focus is on healthy and active parenting to break the multi-generational cycle of incarceration," he said. "In 2021, Inmate Services Programs had more than 700 inmates participating in various programs."
However, the county has come under fire over a series of reports of in-custody deaths of several inmates at the West Valley Detention Center, the county jail in Rancho Cucamonga.
(function(d, s, id) {
var js, fjs = d.getElementsByTagName(s)[0];
if (d.getElementById(id)) return;
js = d.createElement(s); js.id = id;
js.src = "//connect.facebook.net/en_US/sdk.js#xfbml=1&version=v2.5&appId=1550124928647000";
fjs.parentNode.insertBefore(js, fjs);
}(document, 'script', 'facebook-jssdk'));

Report says there was an increase in crime in cities covered by S.B. County Sheriff's Department | News Source link Report says there was an increase in crime in cities covered by S.B. County Sheriff's Department | News