Local
President Biden announces new sanctions against Russia, says Putin 'chose' war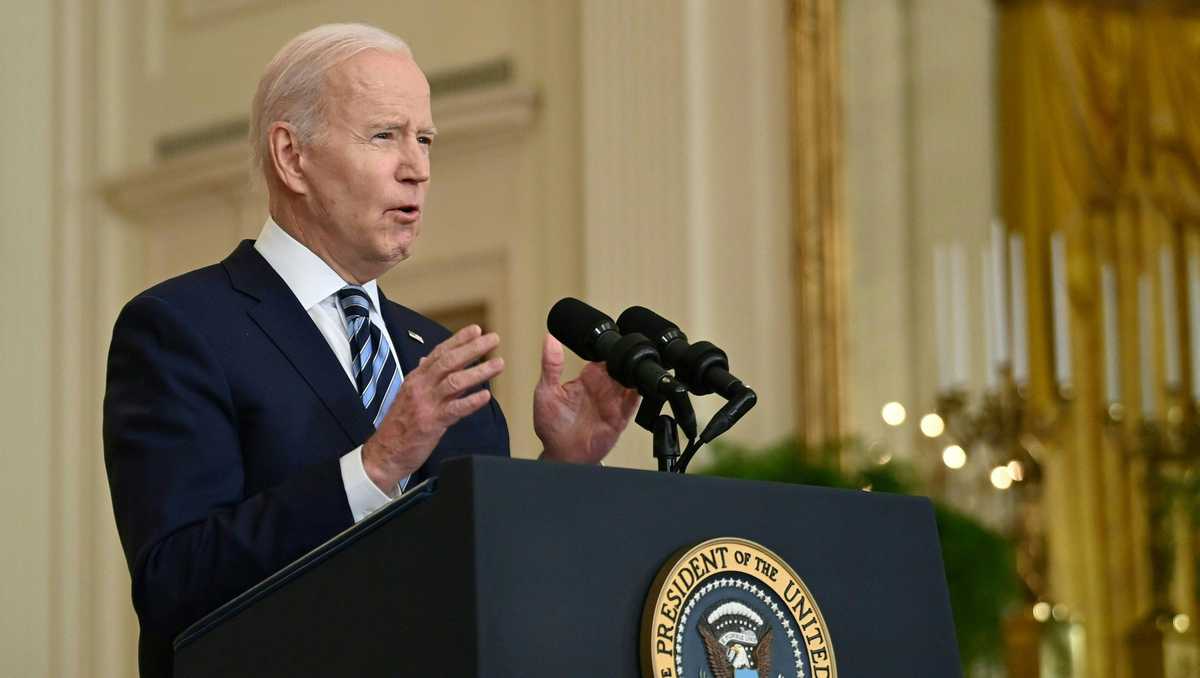 Russian troops launched their anticipated attack on Ukraine late Wednesday, as President Vladimir Putin cast aside international condemnation and sanctions.Here's the latest on the Ukraine-Russia conflict: In his address to the nation Thursday afternoon, President Joe Biden said "Putin chose this war" in Ukraine, and he and Russia "will bear the consequences" of new sanctions.The U.S and its allies are blocking assets of four large Russian banks, imposing export controls and sanctioning oligarchs, according to Biden.Biden says the U.S. is deploying additional forces to Germany to bolster NATO in face of the Russian invasion of Ukraine.The U.N. Security Council is expected to vote Friday on a resolution condemning Russia in the strongest terms possible for attacking Ukraine and demanding the immediate withdrawal of all its forces, according to a senior U.S official.Stocks tumbled worldwide Russia's attack sent fear through markets and upped the pressure on the high inflation already hurting people and businesses around the world. Ukraine's cybersecurity service is reporting continued cyberattacks. All times referenced below are in Eastern Standard Time3:11 p.m.A Russian military plane crashed in Moscow's Voronezh region that borders with Ukraine, the Russian military said Thursday night.The An-26 plane was carrying out a planned flight transporting military equipment and crashed because of technical failure, military officials said, adding that the plane's entire crew died in the crash.They didn't specify how many crew members were on board of the plane.3 p.m.U.S. aviation regulators widened the area of eastern Europe and Russia where U.S. airlines and pilots are barred because of the conflict.In a new directive Thursday, the Federal Aviation Administration prohibited U.S. airlines from flying over any part of Ukraine or Belarus and the western part of Russia.Earlier restrictions had barred U.S. airlines from flying over the eastern part of Ukraine. The restrictions cover both passenger and cargo flights, but not military ones. 2 p.m. Ukraine's ambassador to the United Nations has asked the president of the 193-member General Assembly to prepare for an emergency session in the coming days in light of Russia's military aggression.Ukraine's U.N. Ambassador Sergiy Kyslytsya tweeted Thursday that the meeting should be held under the so-called "Uniting for Peace" resolution. The resolution gives the General Assembly the power to call emergency meetings to consider matters of international peace and security when the Security Council is unable to act because of the lack of unanimity among its five veto-wielding permanent members — the United States, Russia, China, Britain and France.The U.N. Security Council is expected to vote Friday on a resolution condemning Russia in the strongest terms possible for attacking Ukraine and demanding the immediate withdrawal of all its forces — knowing that Russia will veto the legally binding measure, according to a senior U.S. official, speaking on condition of anonymity because he was not authorized to speak publicly.1:40 p.m. President Joe Biden on Thursday unveiled new, "devastating" sanctions on Russia meant to punish the country for its full-scale invasion of Ukraine, calling out Russian President Vladimir Putin for his aggression."Putin is the aggressor. Putin chose this war. And now he and his country will bear the consequences," Biden said, laying out a set of sanctions including export controls that will "impose severe cost on the Russian economy, both immediately and over time."Biden addressed the nation from the White House East Room, his first appearance in public since the Russian attack commenced late Wednesday. In written statements, Biden deemed Russia's assault a "premeditated war" and vowed to hold the country accountable.The new sanctions were selected from a menu of options that includes restrictions on financial institutions, bans on technology exports and blocks targeting members of Putin's inner circle.The new sanctions, the latest U.S. reprisals against Moscow this week, had been reserved as Biden hoped to maintain some leverage in dissuading Putin from a full-scale invasion. But so far, Western threats of economic punishment, as well as Biden's strategy of revealing what the U.S. knew about Putin's buildup of forces to try to make the Russian leader second-guess himself, have proven ineffective.1:10 p.m. Anti-war protesters were seen being arrested in Moscow Thursday afternoon and CNN reports they believe 200 have been arrested across Russia. 1 p.m. A presidential adviser says Ukraine lost control of the Chernobyl nuclear site, where Ukranian forces had waged a fierce battle with Russian troops.Adviser Myhailo Podolyak told The Associated Press that Ukrainian authorities did not know the current condition of the facilities at Chernobyl, the site of the world's worst nuclear disaster."After the absolutely senseless attack of the Russians in this direction, it is impossible to say that the Chernobyl nuclear power plant is safe," he said.Ukrainian President Volodymyr Zelenskyy had announced several hours earlier Thursday that Russian forces were trying to seize the Chernobyl nuclear plant.A nuclear reactor at the plant 80 miles north of Ukraine's capital, Kyiv, exploded in April 1986, spewing radioactive waste across Europe.The exploded reactor was covered by a protective shelter several years ago to prevent radiation leaks.12:25 p.m. A senior U.S. official says the U.N. Security Council is expected to vote Friday on a resolution condemning Russia in the strongest terms possible for attacking Ukraine and demanding the immediate withdrawal of all its forces — knowing that Russia will veto the legally binding measure.The United States believes it is very important to put the resolution to a vote to underscore Russia's international isolation, and emphasizes that the veto will be followed quickly by a resolution in the 193-member U.N. General Assembly where there are no vetoes, the official said Thursday. He spoke on condition of anonymity because he was not authorized to speak publicly."This is a first step in how the U.N. responds to this premeditated war of choice that Russia has chosen to take, and we will see action in the General Assembly in the coming days," he said, adding that it is part of a much broader, coordinated response that includes steps the Biden administration and its allies are taking.The resolution is drafted under Article 7 of the U.N. Charter, which can be enforced militarily, according to the official.12:10 p.m.Russian President Vladimir Putin says he was "forced" to order a military action in Ukraine because of the Western refusal to heed Russian security demands.Speaking at a Kremlin meeting with businesspeople Thursday, Putin said the military action was a "forced measure" that stemmed from rising security risks for Russia.He said that he was surprised by the West's "intransigence" regarding Moscow's security demands. "I was surprised that didn't move a millimeter on any issue," he said. "They have left us no chance to act differently."Turning to Western sanctions, he said "Russia remains part of the global economy and isn't going to hurt the system that it is part of as long as it remains there.""Our partners should realize that and not set a goal to push us out of the system," he said in an apparent warning to the West.12 p.m.Ukrainian President Volodymyr Zelensnkyy has urged Moscow to end hostilities, adding that Russian airborne troops have been checked outside Kyiv."It wasn't Ukraine that chose the path of war, but Ukraine is offering to go back to the path of peace," he said Thursday.He said a Russian airborne force in Hostomel airport outside Kyiv, which has a big runway, has been stopped and is being destroyed.The Ukrainian leader said many Russian warplanes and armored vehicles were destroyed but didn't give numbers. He also said an unspecified number of Russian troops were captured.He said a difficult situation is developing in Kharkiv, Ukraine's second-largest city just over 20 kilometers from the Russian border. In the north the Russians are slowly advancing toward Chernihiv, Zelenskyy said.He appealed to global leaders, saying that "if you don't help us now, if you fail to offer strong assistance to Ukraine, tomorrow the war will knock on your door."11:45 a.m.The Group of Seven leaders have strongly condemned Russia's attack on Ukraine.The German government, which currently heads the G7, put out a joint statement after a virtual leaders' meeting Thursday, vowing to bring "forward severe and coordinated economic and financial sanctions."It called "on all partners and members of the international community to condemn this attack in the strongest possible terms, to stand shoulder to shoulder with Ukraine, and raise their voice against this blatant violation of the fundamental principles of international peace and security."11:13 a.m. A senior U.S. defense official says Thursday's attack by Russia appears to be the first phase in what will likely be a multiple-phased, large-scale invasion.The official said it began around 9:30 p.m. U.S. eastern time, with land- and sea-based missile launches. The official said that roughly more than 100 missiles, primarily short-range ballistic missiles, but also medium-range ballistic missiles, cruise missiles, surface-to-air missiles and sea-launched missiles, were launched in the first few hours of the attack.The official said the Russians are moving on three axes: From Crimea to Kherson, from Belarus toward Kyiv, and from the northeast to Kharkiv.The official, who spoke on condition of anonymity, said it's not clear how many Russian troops are in Ukraine now, and the main targets of the air assault have been barracks, ammunition warehouses, and 10 airfields. The official said Russian ground forces began to move in to Ukraine from Belarus around 5 a.m. Eastern time.10:30 a.m. Ukrainian President Volodymyr Zelenskyy says Russian forces are trying to seize the Chernobyl nuclear plant, the site of world's worst nuclear disaster.The plant was the site of the world's worst nuclear accident when a nuclear reactor exploded in April 1986, spewing radioactive waste across Europe. The plant lies 80 miles north of the capital of Kyiv.The exploded reactor has been covered by a protective shelter to prevent radiation leak and the entire plant has been decommissioned.Zelenskyy said on Twitter that "our defenders are giving their lives so that the tragedy of 1986 will not be repeated." He added that "this is a declaration of war against the whole of Europe." 10:10 a.m. Ukraine's military chief says Ukrainian troops are fighting the Russian army in the north and the south.Valerii Zaluzhnyi said a battle was raging Thursday near the Hostomel air base less than 5 miles northwest of the capital, Kyiv.He said that in the south, fighting was going on near Henichesk, Skadovsk and Chaplynka.9:10 a.m.Russia's Defense Ministry says the Russian military has destroyed 74 Ukrainian military facilities, including 11 air bases.Russian Defense Minister Sergei Shoigu ordered that Ukrainian servicemen be treated "with respect" and those who lay down their weapons offered safe corridors.The Russian Defense Ministry confirmed the loss of a Su-25 attack jet due to "pilor error."8:50 a.m.A top European Union official is pledging to make Russia suffer with "massive and targeted sanctions" that will particularly hit the country's elite.European Commission President Ursula von der Leyen said the package of EU measures will include financial sanctions that will severely limit Russia's access to the capital markets and have a severe impact on all sectors of its economy.She said ahead of an EU summit Thursday that "these sanctions will suppress Russia's economic growth, increase the borrowing costs, raise inflations, intensify capital outflow and gradually erode its industrial basis."Von der Leyen said the package also will aim to limit Russia's access to crucial technologies.She said that "our measures will weaken Russia technological positions in key areas, actually from which the elite makes most of their money." She cited high-tech components and "cutting-edge software."8:15 a.m.The Slovak government has authorized the deployment of up to 1,500 soldiers to help guard the border with Ukraine following Russia's attack on Slovakia's eastern neighbor.The defense ministry said Thursday they will be used if there is a massive wave of refugees.The government said Slovakia is also ready to open more border crossings with Ukraine if needed.Slovania last week lifted all coronavirus restrictions for potential refugees coming from Ukraine in the case of a Russian invasion.7:30 a.m.British Prime Minister Boris Johnson says Russian President Vladimir Putin has "unleashed war in our European continent" and Britain "cannot and will not just look away."In a televised address Thursday, Johnson said the U.K. and its allies will agree a "massive package of economic sanctions designed in time to hobble the Russian economy.""Our mission is clear: diplomatically, politically, economically and eventually militarily, this hideous and barbaric venture of Vladimir Putin must end in failure," Johnson said.He is expected to give more details about new sanctions later Thursday.7 a.m.The president of Romania has condemned Russia's "reprehensible" attack on Ukraine and said that Russian President Vladimir Putin "threatens the peace of the entire planet."Romania borders Ukraine and is a member of NATO and the European Union. Romanian President Klaus Iohannis said that Russia "chose the reprehensible and completely illegal path of massive armed violence against an independent and sovereign state."Iohannis said that Romania, a country of about 19.5 million people, is ready to deal with economic and humanitarian consequences that the conflict could generate.He stressed that Romania will not be drawn into the military conflict in Ukraine and said Romanian authorities will take "absolutely all the necessary measures" to ensure the safety of the country's citizens. Czech President Milos Zeman, who has been a leading pro-Russian voice among European Union leaders, has condemned Russia's invasion of Ukraine as "an unprovoked act of aggression."Zeman said in an address to the nation that "Russia has committed a crime against peace."A week ago, Zeman said that warnings of an imminent Russian invasion of Ukraine were a failure by CIA. He said repeatedly he didn't believe Russia wanted to attack Ukraine."I admit I was wrong," Zeman said Thursday. "An irrational decision by the leadership of the Russian Federation will cause significant damages to the Russian state."He called for harder sanctions against Russia, declaring that "it's necessary to isolate a lunatic and not just to defend ourselves by words but also by deeds." 6:15 a.m. NATO member Lithuania, which has borders with Russian ally Belarus and Russia's exclave of Kaliningrad on the Baltic Sea, has declared a state of emergency effective early Thursday afternoon due to the situation in Ukraine.The decree signed Thursday by Lithuanian President Gitanas Nauseda steps up border protection. It gives authorities, among other things, the right to check and inspect vehicles, persons and luggage in the border area.Lithuania also borders fellow NATO and European Union members Poland and Latvia.Video: Air raid sirens ring out in Ukraine's capital5:50 a.m.NATO has agreed to beef up its land, sea and air forces on its eastern flank near Ukraine and Russia after Russian President Vladimir Putin ordered a military offensive in Ukraine.NATO ambassadors said in a statement after emergency talks Thursday that "we have increased the readiness of our forces to respond to all contingencies."While some of NATO's 30 member countries are supplying arms, ammunition and other equipment to Ukraine, NATO as an organization is not. It will not launch any military action in support of Ukraine.Countries closest to the conflict – Estonia, Latvia, Lithuania and Poland – are among those to have triggered rare consultations under Article 4 of NATO's founding treaty, which can be launched when "the territorial integrity, political independence or security of any of the (NATO) parties is threatened.""We have decided, in line with our defensive planning to protect all allies, to take additional steps to further strengthen deterrence and defense across the Alliance," the envoys said in a statement. "Our measures are and remain preventive, proportionate and non-escalatory.".5:15 a.m. An adviser to Ukraine's president says about 40 people have been killed so far in the Russian attack on the country.Oleksii Arestovich, an adviser to President Volodymyr Zelenskyy said Thursday that several dozen people have been wounded.He didn't specify whether the casualties included civilians.Zelenskyy said the Ukrainian authorities will hand weapons to all those willing to defend the country."The future of the Ukrainian people depends on every Ukrainian," he said, urging all those who can defend the country to come to the Interior Ministry's assembly facilities. Video above: Flashes seen in Kyiv before dawn4:50 a.m.Ukraine's president says his country has cut diplomatic ties with Russia after it was attacked.Ukrainian President Volodymyr Zelenskyy announced the decision to rupture ties with Moscow on Thursday after it launched a massive air and missile attack on its neighbor and Russian forces were seen rolling into Ukraine.Ukrainian officials say the country's military is fighting back and asked for Western defense assistance.4:15 a.m.NATO envoys met in an emergency session Thursday after Russian President Vladimir Putin ordered a large-scale attack on Ukraine as the 30-nation military organization prepares to bolster its defenses in allies neighboring both countries. Preparations are also underway for a NATO summit."This is a grave breach of international law, and a serious threat to Euro-Atlantic security," NATO Secretary-General Jens Stoltenberg said in a statement. The allies are meeting, he said, "to address the consequences of Russia's aggressive actions." 1:55 a.m.The Russian military says it has knocked out Ukraine's air defense assets and airbases.The Russian Defense Ministry said the Russian strikes have "suppressed air defense means of the Ukrainian military," adding that the infrastructure of Ukraine's military bases has been incapacitated." It denied the claims that a Russian warplane was shot down over Ukraine.The Ukrainian military, meanwhile, reported that it has shot down five Russian aircraft while fending off the Russian attack on the country.Russian President Vladimir Putin announced that he unleashed an attack on Ukraine in a televised address early Thursday, drawing international condemnation.Video above: Large explosion seen near Sumy, Ukraine10:30 p.m. WednesdayPutin announced a military operation in Ukraine and warned other countries that any attempt to interfere with the Russian action would lead to "consequences they have never seen."Big explosions were heard before dawn in Kyiv, Kharkiv and Odesa as world leaders decried the start of a Russian invasion that could cause massive casualties and topple Ukraine's democratically elected government.Ukrainian President Volodymyr Zelenskyy introduced martial law, saying Russia has targeted Ukraine's military infrastructure and explosions are heard across the country. Zelenskyy said he had just talked to President Joe Biden and the U.S. was rallying international support for Ukraine. He urged Ukrainians to stay home and not to panic.Putin said the attack was needed to protect civilians in eastern Ukraine – a claim the U.S. had predicted he would falsely make to justify an invasion.In a televised address, Putin accused the U.S. and its allies of ignoring Russia's demand to prevent Ukraine from joining NATO and offer Moscow security guarantees. He said Russia's goal was not to occupy Ukraine. A full-blown Russian invasion could cause massive casualties and topple Ukraine's democratically elected government. And the consequences of the conflict and resulting sanctions levied on Russia could reverberate throughout the world, affecting energy supplies in Europe, jolting global financial markets and threatening the post-Cold War balance on the continent.He said the Russian military operation aims to ensure a "demilitarization" of Ukraine. Putin urged Ukrainian servicemen to "immediately put down arms and go home."
KYIV, Ukraine —
Russian troops launched their anticipated attack on Ukraine late Wednesday, as President Vladimir Putin cast aside international condemnation and sanctions.
Here's the latest on the Ukraine-Russia conflict:
In his address to the nation Thursday afternoon, President Joe Biden said "Putin chose this war" in Ukraine, and he and Russia "will bear the consequences" of new sanctions.
The U.S and its allies are blocking assets of four large Russian banks, imposing export controls and sanctioning oligarchs, according to Biden.
Biden says the U.S. is deploying additional forces to Germany to bolster NATO in face of the Russian invasion of Ukraine.
The U.N. Security Council is expected to vote Friday on a resolution condemning Russia in the strongest terms possible for attacking Ukraine and demanding the immediate withdrawal of all its forces, according to a senior U.S official.
Stocks tumbled worldwide Russia's attack sent fear through markets and upped the pressure on the high inflation already hurting people and businesses around the world.
Ukraine's cybersecurity service is reporting continued cyberattacks.
---
All times referenced below are in Eastern Standard Time
3:11 p.m.

A Russian military plane crashed in Moscow's Voronezh region that borders with Ukraine, the Russian military said Thursday night.
The An-26 plane was carrying out a planned flight transporting military equipment and crashed because of technical failure, military officials said, adding that the plane's entire crew died in the crash.
They didn't specify how many crew members were on board of the plane.

3 p.m.

U.S. aviation regulators widened the area of eastern Europe and Russia where U.S. airlines and pilots are barred because of the conflict.
In a new directive Thursday, the Federal Aviation Administration prohibited U.S. airlines from flying over any part of Ukraine or Belarus and the western part of Russia.
Earlier restrictions had barred U.S. airlines from flying over the eastern part of Ukraine. The restrictions cover both passenger and cargo flights, but not military ones.
2 p.m.

Ukraine's ambassador to the United Nations has asked the president of the 193-member General Assembly to prepare for an emergency session in the coming days in light of Russia's military aggression.
Ukraine's U.N. Ambassador Sergiy Kyslytsya tweeted Thursday that the meeting should be held under the so-called "Uniting for Peace" resolution. The resolution gives the General Assembly the power to call emergency meetings to consider matters of international peace and security when the Security Council is unable to act because of the lack of unanimity among its five veto-wielding permanent members — the United States, Russia, China, Britain and France.
The U.N. Security Council is expected to vote Friday on a resolution condemning Russia in the strongest terms possible for attacking Ukraine and demanding the immediate withdrawal of all its forces — knowing that Russia will veto the legally binding measure, according to a senior U.S. official, speaking on condition of anonymity because he was not authorized to speak publicly.

1:40 p.m.
President Joe Biden on Thursday unveiled new, "devastating" sanctions on Russia meant to punish the country for its full-scale invasion of Ukraine, calling out Russian President Vladimir Putin for his aggression.
"Putin is the aggressor. Putin chose this war. And now he and his country will bear the consequences," Biden said, laying out a set of sanctions including export controls that will "impose severe cost on the Russian economy, both immediately and over time."
Biden addressed the nation from the White House East Room, his first appearance in public since the Russian attack commenced late Wednesday. In written statements, Biden deemed Russia's assault a "premeditated war" and vowed to hold the country accountable.
The new sanctions were selected from a menu of options that includes restrictions on financial institutions, bans on technology exports and blocks targeting members of Putin's inner circle.
The new sanctions, the latest U.S. reprisals against Moscow this week, had been reserved as Biden hoped to maintain some leverage in dissuading Putin from a full-scale invasion. But so far, Western threats of economic punishment, as well as Biden's strategy of revealing what the U.S. knew about Putin's buildup of forces to try to make the Russian leader second-guess himself, have proven ineffective.

1:10 p.m.
Anti-war protesters were seen being arrested in Moscow Thursday afternoon and CNN reports they believe 200 have been arrested across Russia.
1 p.m.
A presidential adviser says Ukraine lost control of the Chernobyl nuclear site, where Ukranian forces had waged a fierce battle with Russian troops.
Adviser Myhailo Podolyak told The Associated Press that Ukrainian authorities did not know the current condition of the facilities at Chernobyl, the site of the world's worst nuclear disaster.
"After the absolutely senseless attack of the Russians in this direction, it is impossible to say that the Chernobyl nuclear power plant is safe," he said.
Ukrainian President Volodymyr Zelenskyy had announced several hours earlier Thursday that Russian forces were trying to seize the Chernobyl nuclear plant.
A nuclear reactor at the plant 80 miles north of Ukraine's capital, Kyiv, exploded in April 1986, spewing radioactive waste across Europe.
The exploded reactor was covered by a protective shelter several years ago to prevent radiation leaks.
12:25 p.m.

A senior U.S. official says the U.N. Security Council is expected to vote Friday on a resolution condemning Russia in the strongest terms possible for attacking Ukraine and demanding the immediate withdrawal of all its forces — knowing that Russia will veto the legally binding measure.
The United States believes it is very important to put the resolution to a vote to underscore Russia's international isolation, and emphasizes that the veto will be followed quickly by a resolution in the 193-member U.N. General Assembly where there are no vetoes, the official said Thursday. He spoke on condition of anonymity because he was not authorized to speak publicly.
"This is a first step in how the U.N. responds to this premeditated war of choice that Russia has chosen to take, and we will see action in the General Assembly in the coming days," he said, adding that it is part of a much broader, coordinated response that includes steps the Biden administration and its allies are taking.
The resolution is drafted under Article 7 of the U.N. Charter, which can be enforced militarily, according to the official.
12:10 p.m.

Russian President Vladimir Putin says he was "forced" to order a military action in Ukraine because of the Western refusal to heed Russian security demands.
Speaking at a Kremlin meeting with businesspeople Thursday, Putin said the military action was a "forced measure" that stemmed from rising security risks for Russia.
He said that he was surprised by the West's "intransigence" regarding Moscow's security demands. "I was surprised that didn't move a millimeter on any issue," he said. "They have left us no chance to act differently."
Turning to Western sanctions, he said "Russia remains part of the global economy and isn't going to hurt the system that it is part of as long as it remains there."
"Our partners should realize that and not set a goal to push us out of the system," he said in an apparent warning to the West.
12 p.m.

Ukrainian President Volodymyr Zelensnkyy has urged Moscow to end hostilities, adding that Russian airborne troops have been checked outside Kyiv.
"It wasn't Ukraine that chose the path of war, but Ukraine is offering to go back to the path of peace," he said Thursday.
He said a Russian airborne force in Hostomel airport outside Kyiv, which has a big runway, has been stopped and is being destroyed.
The Ukrainian leader said many Russian warplanes and armored vehicles were destroyed but didn't give numbers. He also said an unspecified number of Russian troops were captured.
He said a difficult situation is developing in Kharkiv, Ukraine's second-largest city just over 20 kilometers from the Russian border. In the north the Russians are slowly advancing toward Chernihiv, Zelenskyy said.
He appealed to global leaders, saying that "if you don't help us now, if you fail to offer strong assistance to Ukraine, tomorrow the war will knock on your door."
11:45 a.m.

The Group of Seven leaders have strongly condemned Russia's attack on Ukraine.
The German government, which currently heads the G7, put out a joint statement after a virtual leaders' meeting Thursday, vowing to bring "forward severe and coordinated economic and financial sanctions."
It called "on all partners and members of the international community to condemn this attack in the strongest possible terms, to stand shoulder to shoulder with Ukraine, and raise their voice against this blatant violation of the fundamental principles of international peace and security."

11:13 a.m.
A senior U.S. defense official says Thursday's attack by Russia appears to be the first phase in what will likely be a multiple-phased, large-scale invasion.
The official said it began around 9:30 p.m. U.S. eastern time, with land- and sea-based missile launches. The official said that roughly more than 100 missiles, primarily short-range ballistic missiles, but also medium-range ballistic missiles, cruise missiles, surface-to-air missiles and sea-launched missiles, were launched in the first few hours of the attack.
The official said the Russians are moving on three axes: From Crimea to Kherson, from Belarus toward Kyiv, and from the northeast to Kharkiv.
The official, who spoke on condition of anonymity, said it's not clear how many Russian troops are in Ukraine now, and the main targets of the air assault have been barracks, ammunition warehouses, and 10 airfields. The official said Russian ground forces began to move in to Ukraine from Belarus around 5 a.m. Eastern time.
10:30 a.m.
Ukrainian President Volodymyr Zelenskyy says Russian forces are trying to seize the Chernobyl nuclear plant, the site of world's worst nuclear disaster.
The plant was the site of the world's worst nuclear accident when a nuclear reactor exploded in April 1986, spewing radioactive waste across Europe. The plant lies 80 miles north of the capital of Kyiv.
The exploded reactor has been covered by a protective shelter to prevent radiation leak and the entire plant has been decommissioned.
Zelenskyy said on Twitter that "our defenders are giving their lives so that the tragedy of 1986 will not be repeated." He added that "this is a declaration of war against the whole of Europe."
10:10 a.m.

Ukraine's military chief says Ukrainian troops are fighting the Russian army in the north and the south.
Valerii Zaluzhnyi said a battle was raging Thursday near the Hostomel air base less than 5 miles northwest of the capital, Kyiv.
He said that in the south, fighting was going on near Henichesk, Skadovsk and Chaplynka.
9:10 a.m.
Russia's Defense Ministry says the Russian military has destroyed 74 Ukrainian military facilities, including 11 air bases.
Russian Defense Minister Sergei Shoigu ordered that Ukrainian servicemen be treated "with respect" and those who lay down their weapons offered safe corridors.
The Russian Defense Ministry confirmed the loss of a Su-25 attack jet due to "pilor error."
8:50 a.m.
A top European Union official is pledging to make Russia suffer with "massive and targeted sanctions" that will particularly hit the country's elite.
European Commission President Ursula von der Leyen said the package of EU measures will include financial sanctions that will severely limit Russia's access to the capital markets and have a severe impact on all sectors of its economy.
She said ahead of an EU summit Thursday that "these sanctions will suppress Russia's economic growth, increase the borrowing costs, raise inflations, intensify capital outflow and gradually erode its industrial basis."
Von der Leyen said the package also will aim to limit Russia's access to crucial technologies.
She said that "our measures will weaken Russia technological positions in key areas, actually from which the elite makes most of their money." She cited high-tech components and "cutting-edge software."
8:15 a.m.
The Slovak government has authorized the deployment of up to 1,500 soldiers to help guard the border with Ukraine following Russia's attack on Slovakia's eastern neighbor.
The defense ministry said Thursday they will be used if there is a massive wave of refugees.
The government said Slovakia is also ready to open more border crossings with Ukraine if needed.
Slovania last week lifted all coronavirus restrictions for potential refugees coming from Ukraine in the case of a Russian invasion.
7:30 a.m.
British Prime Minister Boris Johnson says Russian President Vladimir Putin has "unleashed war in our European continent" and Britain "cannot and will not just look away."
In a televised address Thursday, Johnson said the U.K. and its allies will agree a "massive package of economic sanctions designed in time to hobble the Russian economy."
"Our mission is clear: diplomatically, politically, economically and eventually militarily, this hideous and barbaric venture of Vladimir Putin must end in failure," Johnson said.
He is expected to give more details about new sanctions later Thursday.
7 a.m.
The president of Romania has condemned Russia's "reprehensible" attack on Ukraine and said that Russian President Vladimir Putin "threatens the peace of the entire planet."
Romania borders Ukraine and is a member of NATO and the European Union. Romanian President Klaus Iohannis said that Russia "chose the reprehensible and completely illegal path of massive armed violence against an independent and sovereign state."
Iohannis said that Romania, a country of about 19.5 million people, is ready to deal with economic and humanitarian consequences that the conflict could generate.
He stressed that Romania will not be drawn into the military conflict in Ukraine and said Romanian authorities will take "absolutely all the necessary measures" to ensure the safety of the country's citizens.
Czech President Milos Zeman, who has been a leading pro-Russian voice among European Union leaders, has condemned Russia's invasion of Ukraine as "an unprovoked act of aggression."
Zeman said in an address to the nation that "Russia has committed a crime against peace."
A week ago, Zeman said that warnings of an imminent Russian invasion of Ukraine were a failure by CIA. He said repeatedly he didn't believe Russia wanted to attack Ukraine.
"I admit I was wrong," Zeman said Thursday. "An irrational decision by the leadership of the Russian Federation will cause significant damages to the Russian state."
He called for harder sanctions against Russia, declaring that "it's necessary to isolate a lunatic and not just to defend ourselves by words but also by deeds."
6:15 a.m.
NATO member Lithuania, which has borders with Russian ally Belarus and Russia's exclave of Kaliningrad on the Baltic Sea, has declared a state of emergency effective early Thursday afternoon due to the situation in Ukraine.
The decree signed Thursday by Lithuanian President Gitanas Nauseda steps up border protection. It gives authorities, among other things, the right to check and inspect vehicles, persons and luggage in the border area.
Lithuania also borders fellow NATO and European Union members Poland and Latvia.
Video: Air raid sirens ring out in Ukraine's capital
5:50 a.m.
NATO has agreed to beef up its land, sea and air forces on its eastern flank near Ukraine and Russia after Russian President Vladimir Putin ordered a military offensive in Ukraine.
NATO ambassadors said in a statement after emergency talks Thursday that "we have increased the readiness of our forces to respond to all contingencies."
While some of NATO's 30 member countries are supplying arms, ammunition and other equipment to Ukraine, NATO as an organization is not. It will not launch any military action in support of Ukraine.
Countries closest to the conflict – Estonia, Latvia, Lithuania and Poland – are among those to have triggered rare consultations under Article 4 of NATO's founding treaty, which can be launched when "the territorial integrity, political independence or security of any of the (NATO) parties is threatened."
"We have decided, in line with our defensive planning to protect all allies, to take additional steps to further strengthen deterrence and defense across the Alliance," the envoys said in a statement. "Our measures are and remain preventive, proportionate and non-escalatory."

.
5:15 a.m.
An adviser to Ukraine's president says about 40 people have been killed so far in the Russian attack on the country.
Oleksii Arestovich, an adviser to President Volodymyr Zelenskyy said Thursday that several dozen people have been wounded.
He didn't specify whether the casualties included civilians.
Zelenskyy said the Ukrainian authorities will hand weapons to all those willing to defend the country.
"The future of the Ukrainian people depends on every Ukrainian," he said, urging all those who can defend the country to come to the Interior Ministry's assembly facilities.
Video above: Flashes seen in Kyiv before dawn
4:50 a.m.
Ukraine's president says his country has cut diplomatic ties with Russia after it was attacked.
Ukrainian President Volodymyr Zelenskyy announced the decision to rupture ties with Moscow on Thursday after it launched a massive air and missile attack on its neighbor and Russian forces were seen rolling into Ukraine.
Ukrainian officials say the country's military is fighting back and asked for Western defense assistance.
4:15 a.m.
NATO envoys met in an emergency session Thursday after Russian President Vladimir Putin ordered a large-scale attack on Ukraine as the 30-nation military organization prepares to bolster its defenses in allies neighboring both countries. Preparations are also underway for a NATO summit.
"This is a grave breach of international law, and a serious threat to Euro-Atlantic security," NATO Secretary-General Jens Stoltenberg said in a statement. The allies are meeting, he said, "to address the consequences of Russia's aggressive actions."
1:55 a.m.
The Russian military says it has knocked out Ukraine's air defense assets and airbases.
The Russian Defense Ministry said the Russian strikes have "suppressed air defense means of the Ukrainian military," adding that the infrastructure of Ukraine's military bases has been incapacitated." It denied the claims that a Russian warplane was shot down over Ukraine.
The Ukrainian military, meanwhile, reported that it has shot down five Russian aircraft while fending off the Russian attack on the country.
Russian President Vladimir Putin announced that he unleashed an attack on Ukraine in a televised address early Thursday, drawing international condemnation.

Video above: Large explosion seen near Sumy, Ukraine
10:30 p.m. Wednesday
Putin announced a military operation in Ukraine and warned other countries that any attempt to interfere with the Russian action would lead to "consequences they have never seen."
Big explosions were heard before dawn in Kyiv, Kharkiv and Odesa as world leaders decried the start of a Russian invasion that could cause massive casualties and topple Ukraine's democratically elected government.
Ukrainian President Volodymyr Zelenskyy introduced martial law, saying Russia has targeted Ukraine's military infrastructure and explosions are heard across the country. Zelenskyy said he had just talked to President Joe Biden and the U.S. was rallying international support for Ukraine. He urged Ukrainians to stay home and not to panic.
This content is imported from Twitter.
You may be able to find the same content in another format, or you may be able to find more information, at their web site.
Putin said the attack was needed to protect civilians in eastern Ukraine – a claim the U.S. had predicted he would falsely make to justify an invasion.
In a televised address, Putin accused the U.S. and its allies of ignoring Russia's demand to prevent Ukraine from joining NATO and offer Moscow security guarantees. He said Russia's goal was not to occupy Ukraine.
A full-blown Russian invasion could cause massive casualties and topple Ukraine's democratically elected government. And the consequences of the conflict and resulting sanctions levied on Russia could reverberate throughout the world, affecting energy supplies in Europe, jolting global financial markets and threatening the post-Cold War balance on the continent.
He said the Russian military operation aims to ensure a "demilitarization" of Ukraine. Putin urged Ukrainian servicemen to "immediately put down arms and go home."


President Biden announces new sanctions against Russia, says Putin 'chose' war Source link President Biden announces new sanctions against Russia, says Putin 'chose' war