Local
Popular Elk Grove Blogger Hosts Weekend Long Event to Bring Cultural Awareness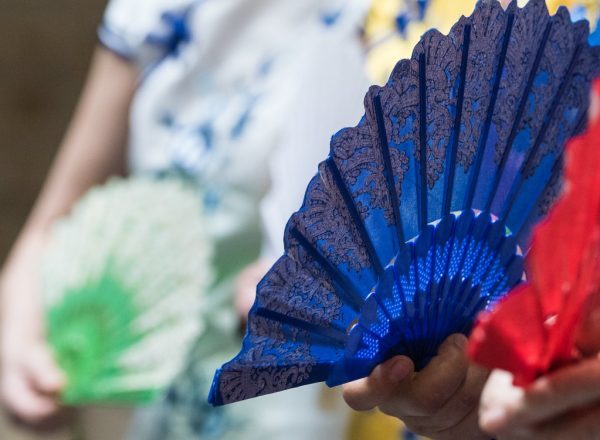 In an effort to remind people of the importance of the Pacific-American community in the Pacific Islands, Ashley Newell, a popular local blogger, organized a two-day celebration from May 21-22 with Emily Autenrieth of A Seat at the Table Books.
"I wanted people to feel seen. The last few years have been very difficult, so it's important that our morale feels inspired and proud."

– Ashley Newell
Event features
The event featured a mix of music, art and stories unique to AAPI culture. Local artists such as Elk Grove High School Desi Club; a demonstration of fighting with Philippine sticks given by, and hula of Halau 'The Keikiali'i were presented. In addition, vendors sold handcrafted bags, stickers, and plants from "Esmiralda Garcia Designs"; "Baked by Olga" confectionery and clothes with storytellers Rachael Cabalse, Karen Su Studios and Andri Tambunan. Speakers included Dr. Winnie Tam Hung; nonprofit, "My Sister's House"; morning radio disc jockey Kevin Nguyen and Instagram celebrity Lisa He.
On the radio, Nguyen broadcasts positive vibes. In person, he is excited to encourage people to pursue their dreams due to the increased chances of success of AAPI thanks to greater representation. The entertainment industry lacked diversity when it started as "Kevin intern", but now sees more representation. As a well-known voice in the 106.5 FM Wake-Up Call program, listeners accept it as a model for the AAPI.
"I'm glad people relate to me. I want them to be proud to see someone who looks like them do it right."

-Kevin Nguyen, Radio DJ on 106.5 FM
As the owner of Borderlands Bakery, Lisa He did not count her background as an asset to the business. That's why he hid it on social media, although he is ashamed to admit it. She now shares her story of Chinese immigrants to remind AAPI small business owners, especially women, that they are not alone in working to achieve their goals.
"Entrepreneurship can feel very lonely. But I want them to see that many of us have gone through the same things … and to impact people who are also of my own heritage, that's the next level of satisfaction for me."

-Lisa He, Borderlands Bakery
Elk Grove made a mark this month to celebrate the AAPI community. The Newell event added to the growing recognition as it recognized committee members Sebya Gorre-Clancy, Jordan Ritchie and Jazz Williams-Lewis for the success of the event.
For more information on upcoming events at A Seat at the Table Books visit them online at: https://aseatatthetablebooks.org/
Popular Elk Grove Blogger Hosts Weekend Long Event to Bring Cultural Awareness Source link Popular Elk Grove Blogger Hosts Weekend Long Event to Bring Cultural Awareness