Local
PETE TITTL: No matter the location, we're there for Noodle Bar | Food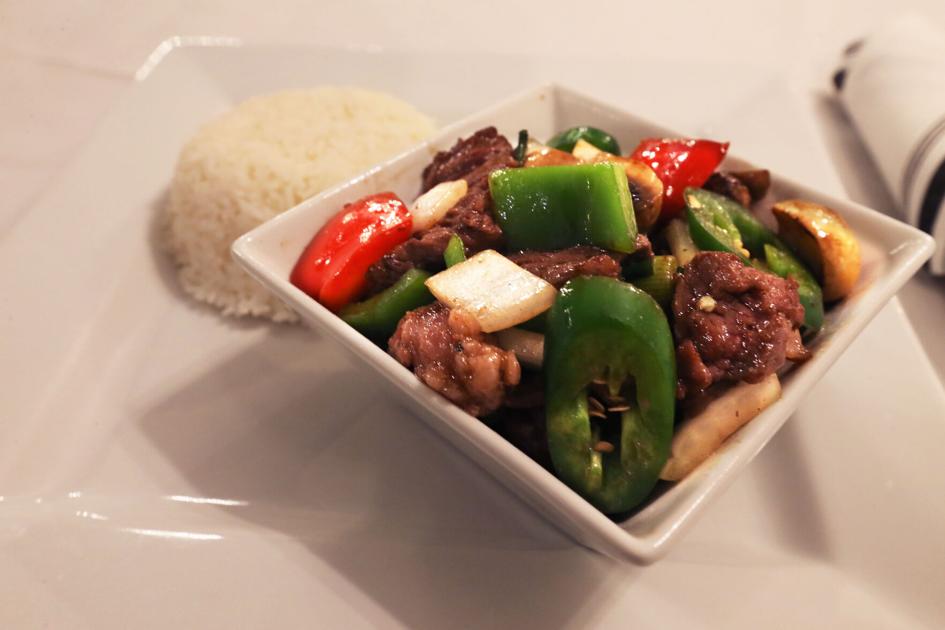 Recently, I made a silly attempt to dine at the Chef's Choice Noodle Bar in a new marketplace location without a reservation. This popular downtown restaurant has found a great new home in the old Johnny Garlic location, so don't try again. Our first impression was positive for several reasons.
The location looks great. Johnny Garlic had a completely different atmosphere before and after Guyfieri, but one of the most cherished assets is the huge garage door that opens the bar and dining room area to the outdoor patio. Sure, it's not wise to do so, but the patio has both a Mr. and a heater, so I'm hoping to act all year round.
The bar now has its trendy subway tile walls, pendant lighting, and the overall atmosphere is relaxed, casual and sociable, accustomed to such upscale treatments at nearby Mama Toska and Tahoe Joe. Great for marketplace customers.
Before digging deeper, one of the most striking was the Noodle Bar Express, an order counter with a separate door on the far left facing the restaurant. Open Monday to Friday from 11:30 am to 1:30 pm and offers a quick takeaway lunch. The main dish is $ 9 on one side and the main dish is $ 11 on one side. It is also designed for collection by food delivery services.
It looks like a great idea, and I know to take advantage of it, especially when you see its price very close to what fast food stores charge.
It is said that the menu will continue to increase in the future, but there is a special page of Preda Chef, and there are still many old-fashioned favorites such as the popular shrimp that I have always loved. Pad Thai ($ 23), Spicy Lime Dressing Steak Salad ($ 18), Pineapple Charhan ($ 21), Ruby Roast Duck with Coconut Rice and Great Red Curry Pineapple Sauce ($ 28), Duck Charhan ($ 22), Thai Garlic Pad Thai ($ 17), Chilean Seabass and Makeover Garlic Ginger Sauce ($ 42).
It's been visited many times since then and has always been on the list of recommended restaurants at the end of the year, but it's hard to believe that I haven't written a complete column about this place since 2012. I don't think old restaurant customers will be disappointed. I find the Specials Board as attractive as you'll always see at The Red Pepper.
During this visit, we introduced some fascinating new options, including spicy fried catfish ($ 19), stir-fried Mongolian chicken noodles ($ 17), and fried plantain for dessert ($ 8.50). Chef's Choice is all about desserts with 10 choices, all of which have been very satisfying in the past.
I didn't know what the catfish would look like, but I chopped it up and put it in a bowl of onions, green and red peppers, and twigs of young green peppers (called prickets). I'm not sure if they should be consumed, or if they were there just for their red pepper-like flavors used in spicy dishes, so I'll sample them. Neither of us got sick or died, so I think it's okay. It has a warm taste, not an overly spicy nuance. When served with rice, this was a dish that was consumed fairly quickly.
My fellow Mongolian chicken had a variety of vegetable combinations such as jalapenos, mushrooms, leeks, onions and red peppers. The chicken was a thin breast cullet, and when lightly stirred with cornstarch sauce, it was still very tender with almost no browning.
The fried plantain we had for dessert was different from Mama Roomba's favorite, but fried in peanut honey dip sauce, 2 scoops of vanilla beans ice cream, a light rain of chocolate, and a very thick, super crispy batter. It's absolutely attractive. This can be enjoyed in a variety of ways. Soak a piece of ice cream in the sauce and soak the fruit itself with either the sauce or the ice cream.
In the past, we had mango sticky rice ($ 9.50), Thai roti crepe ($ 7.50), creme brulee cheesecake ($ 9.50), and a three-layer chocolate cake with three different chocolate mousses ($ 9.50). I have enjoyed it. Going to a dessert shop is so refreshing that it seems a mistake to skip it. I have to say that the one I ordered was lighter and healthier than the options I just mentioned, but I could be fooling myself.
We sat on the outside patio and many customers enjoyed happy hour, but at this point there were no signs on the table detailing the deals offered. There is a long list of specialty drinks and a reasonably priced wine list, with plenty available for the class.
Our waiter, Ulysses, was friendly, young and charming, and took care of everything in a timely manner.
Starting June 23, the restaurant's sapphire room will offer a four-course luxury dining menu two days a week.
The Chef's Choice Noodle Bar is recommended for an upscale dining experience.
Pete Tittl's Dining Out column will appear in California on Sunday.Email him pftittl@yahoo.com Or follow him on Twitter @pftittl.
PETE TITTL: No matter the location, we're there for Noodle Bar | Food Source link PETE TITTL: No matter the location, we're there for Noodle Bar | Food