Local
Nick The Greek Comes to Elk Grove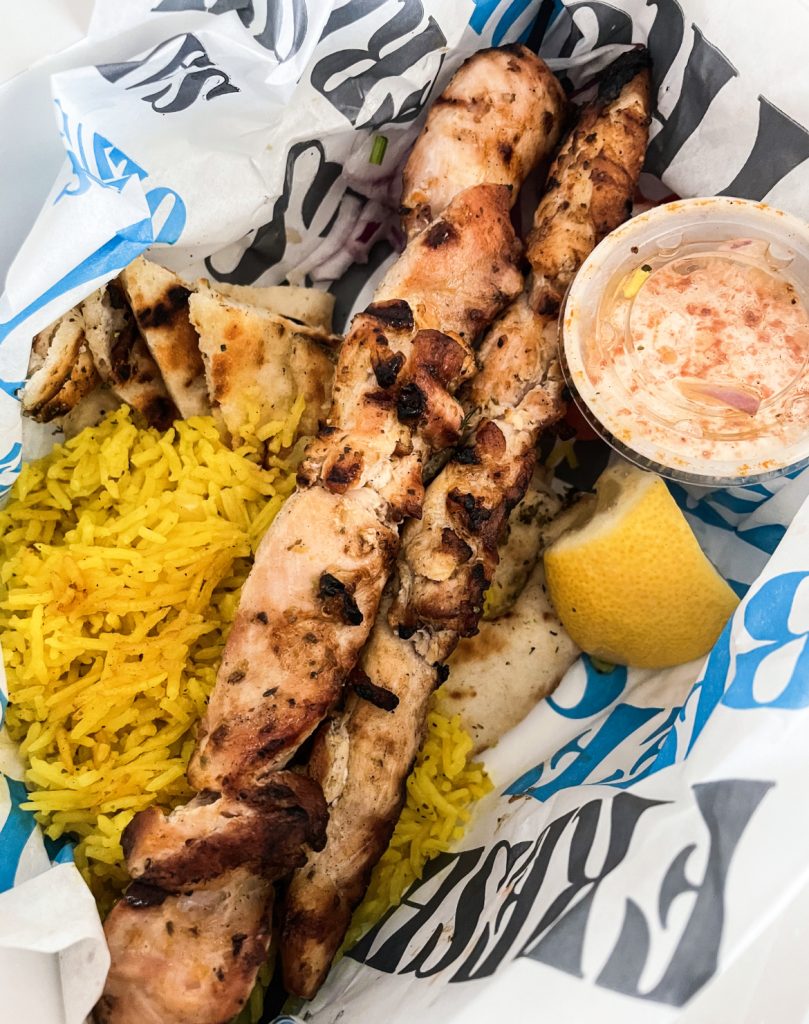 The long-awaited restaurant chain, Nick the Greek, located at 7460 Elk Grove Blvd in The Ridge Mall, opened on April 19 and has already received rave reviews from community members.
They serve a variety of delicious Mediterranean cuisine such as Gyros, Pitas and Hummus, and are open daily from 11:00 to 22:00.
Atmosphere
The restaurant is located on a corner and there are plenty of outdoor seating. We were pleasantly surprised to see that there are also many seats inside. On the opening weekend, we assumed the staff would be busy. But despite the large crowd, our order was quickly taken and the staff seemed well trained. The restaurant was very clean and the menu was simple.
Food
All the food was fresh and light. The meat is cooked on a vertical grill, so it is always hot and ready. The portions were large and easily shared. The box has a variety of Greek soft drinks on display, and they are imported directly from Greece. They also have their signature dessert, Baklava.
Chicken gyro
The "Chicken Gyro" is the most popular dish they serve. The mustard sauce is spicy and sweet, the chicken is well cooked and the pita is soft. All in all, it's truly the perfect bite.
Falafel Pita
Nick the Greek offers a variety of pitas, and falafel is one not to be missed. This mixture of chickpeas and spices is well cooked as they are crispy on the outside and soft on the inside. The ingredients are the same as chicken spinning and, like chicken, they work great.
The "Chicken Souvlaki Dish" was a favorite among our party. The chicken was grilled to perfection, and the sides were delicious. The rice was well seasoned and the salad had a great touch of vitality. This dish can also be shared for two or three people.
Nick's fries
In fact, we had to try "Nick's Fries." These fries are topped with feta cheese, spicy yogurt sauce, garlic, your favorite meat, and green onions. While the ingredients made the fries a little wet, the bite was a lovely dip of bold flavors. The feta was salty, combining well with the spicy yogurt dressing. Also, like the others, this dish was great.
Hummus with pita bread side
This side is a staple in Greek cuisine and has met all expectations. The pita bread was grilled and crispy, and allows you to easily grab the salted hummus. The hummus was soft and sprinkled with smoked paprika. Needless to say, it's a great snack.
Final thoughts
It won't surprise us that Nick the Greek has become an Elk Grove favorite. Their food is tasty, the prices are fair and the place is great. This is a great addition to The Ridge Mall and will surely become a basic family item. Happy birthday!
Nick the Greek
7460 Elk Grove Blvd suite 110
Elk Grove, CA 95757
Schedule
OPEN DAILY FROM 11:00 AM TO 10:00 PM
Website
Nick The Greek Comes to Elk Grove Source link Nick The Greek Comes to Elk Grove