Local
Local reactions to abortion decision Friday by the U.S. Supreme Court | News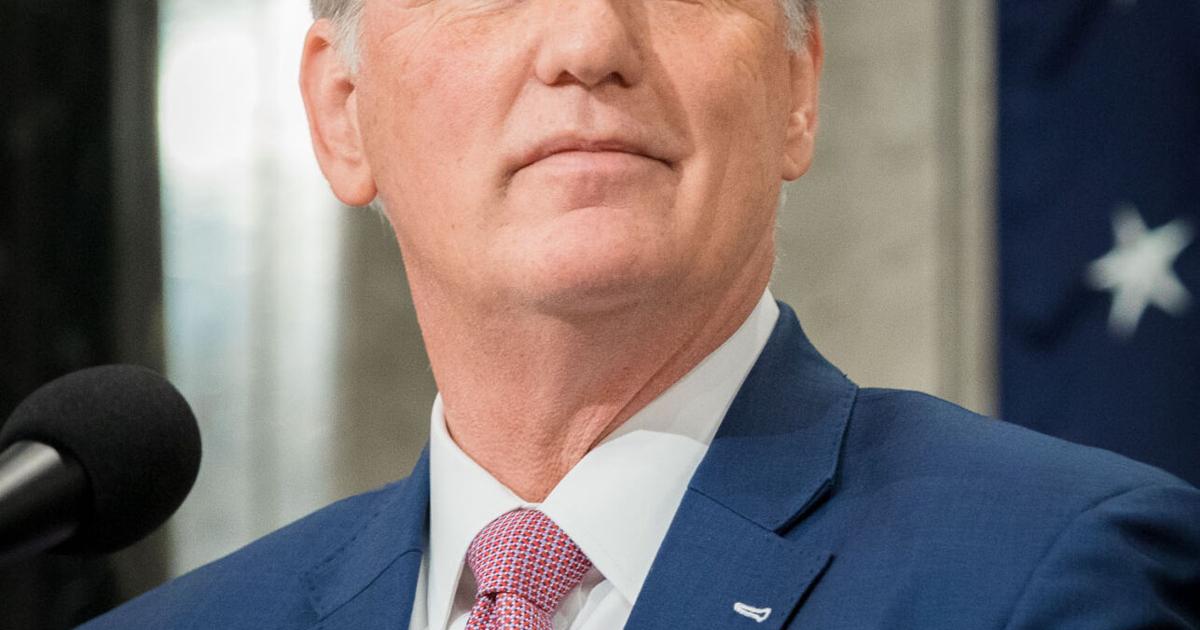 "Today's Supreme Court decision in Dobbs is the most important pro-life ruling in American history. By a vote of 6 to 3, the court affirmed that the power to protect unborn life is returned to the people and their elected representatives. The people have won a victory. The right to life has been vindicated. The voiceless will finally have a voice. This great nation can now live up to its core principle that ALL are CREATED equal. Not BORN equal. CREATED equal. Americans celebrate this historic victory because we know it will save the lives of millions of children and give families hope.
"But as encouraging as today's decision is, our work is far from done. America remains one of only seven countries on earth that allows elective abortions in the third trimester, including China and North Korea. This is radical — but House Democrats continue to support it against the wishes of the American people. This Congress, every House Democrat has voted for extreme policies like taxpayer-funded abortion, on demand, until the point of birth. But Democrats' radical agenda does not have Americans' support. To the contrary, Americans reject it — because they remain committed to our values and our principles.
"The Supreme Court was not bullied by a far-left mob. Threats of violence against the justices did not win. And the truth is, pro-life Americans are not planning a 'Night of Rage.' The reaction to this principled decision by the Court must be peaceful — and the DOJ (U.S. Department of Justice) must step up to protect our justices, their families, churches and pro-life pregnancy centers from unprovoked violence. We live in a country that is based on the dignity of all human life."
— Rep. Kevin McCarthy, R-Bakersfield
"This landmark Supreme Court decision returns the power to protect the unborn to the American people and their elected representatives, where it rightfully belongs."
— Rep. David Valadao, R-Hanford
"Today we celebrate life and I applaud the Supreme Court's decision to return the issue of abortion back to the states. While some states may eliminate abortion to some extent, California Democrats continue to prioritize legislation such as (Senate Constitutional Amendment 10) which would enshrine abortion rights into the state constitution. Unfortunately, the Supreme Court's decision does not change California's current policies which promote taxpayer-funded abortions on demand for everyone, including out-of-state residents and children as young as 12 years old." 
— State Sen. Shannon Grove, R-Bakersfield 
"The Supreme Court ruling returns the decisions back to the states and its elected representatives. The lives of our most vulnerable are sacred and precious. It is my firm conviction that we must protect the sanctity of life."
— Assemblyman Vince Fong, R-Bakersfield
"Government should not interfere in a woman's health-care choices between herself, her doctor and her faith. Women deserve health-care freedom. I am co-authoring and will vote next week for a state constitutional amendment to protect a woman's right to choose without any government interference.
"Rep. Valadao has backed legislation to criminalize abortions nationwide, even in instances of rape, incest and when the life of the mother is at risk. We need leadership who will protect the right to choose in federal law, instead of imposing government restrictions on women's health care."
— Assemblyman Rudy Salas, D-Bakersfield
"The community knows the U.S. Supreme Court is the law of the land. Half will agree and half will not agree, but I expect them all to follow the law, and they will. We are prepared for anything that may or may not happen. The U.S. Supreme Court is the ultimate court and we will follow the law. … All the high court did is send the issue of abortion back to the states to decide and California will allow abortion."
— Kern County Sheriff Donny Youngblood
"The Supreme Court has long been willing to re-evaluate its prior rulings when prior decisions do not stand up to scrutiny. This willingness has led to some of the most monumental changes in American society, including the ending of segregation. The Court's ruling that abortion is not protected by the United States Constitution is unlikely to impact reproductive decisions locally, as California has long held that the state constitution embodies its own right to pre-viability abortion and has laws that specifically protect a woman's reproductive choices prior to viability."
— Kern County District Attorney Cynthia Zimmer
"We are devastated. But we are not defeated.
"Today is a day that will be seared into our memories and the history of the United States because this morning the U.S. Supreme Court has made it legal for states to rob the rights of women and others of reproductive ability to make the personal health-care decisions that impact their lives, health and futures.
"People are already traveling hundreds, even thousands of miles, desperate for care at our health centers. And those who cannot afford to do so may die trying to end their own pregnancies — just as in the days before Roe. People already experiencing crushing poverty will be most impacted by this cruel and dehumanizing decision.
"… This is an outrageous disregard of 50 years of legal precedent by an ideologically extreme majority on the Supreme Court that is completely out of touch with the clear majority of public opinion. We cannot — must not — back down.
"Standing with Planned Parenthood … in this moment has never been more important. We are most powerful when we exercise our power together: Vote, donate and speak up about your own abortion story because abortion care is health care."
— Stacy Cross, president and CEO of Planned Parenthood Mar Monte
"The decision by the U.S. Supreme Court to reverse Roe v. Wade is just and long overdue. This is a day many of us in the pro-life movement thought we would not see in our lifetimes. Our youngest and most vulnerable citizens will now be granted various measures of protection in states where all life is valued. While we rejoice that many pre-born lives will now be spared, we also know that in California the court's decision has incited our pro-abortion legislature to action like nothing else.
"Zealous in its mission to establish California as an abortion sanctuary that offers abortions at no cost and with no restrictions, the state legislature continues to push heinous bills through at an unprecedented rate. Clearly, the fight for life in California is far from over, but if those who identify as pro-life choose to fight back against abortion with the same fervor shown by those who support it, we'd see lives saved, a culture changed. This is not the end of this battle as Right to Life of Kern County will continue to fight and protect the lives of our society's most vulnerable citizens."
— Right to Life of Kern County  
"The Bakersfield Pregnancy Center mission is to empower individuals with life-affirming options related to pregnancy and sexual health decisions. We accomplish this mission as a licensed primary care clinic in the state of California, providing free and confidential services such as pregnancy testing, first trimester ultrasounds, STI / STD testing with limited treatment options, parenting classes and material assistance to all who are in need. While we do not refer or provide for abortions, we do give women and men information that is critical in making such an important decision. We want to support individuals to thrive in California. Today's Supreme Court ruling allows the issue of abortion rights to be debated and legislated at the state level. California legislators have made is very clear that they intend for California to be an 'abortion sanctuary.' The Bakersfield Pregnancy Center will continue the work we have been doing in Kern County for the last 38 years, providing equitable choices, compassionate responses and services for individuals in their pregnancy decisions."
— The Bakersfield Pregnancy Center 
"The 10th Amendment of the U.S. Constitution says the federal government has only those powers given to it by the Constitution. If an issue is not listed in the Constitution, then it belongs to the states or the people to decide. Today's court determined that the U.S. Constitution does not provide for a right to abort. Many times in history a subsequent Supreme Court found error in a prior court's decision. 'Separate but equal' was a Supreme Court decision until 50 years later, when the court said 'Separate is NOT equal.' Today's decision affects a court decision made almost 50 years ago as well."
— Ken Weir, Chairman, Kern County Republican Party
"Today's Supreme Court decision to overturn Roe vs. Wade is a tragedy for all Americans, and most especially for women. This unprecedented ruling took away women's longstanding Constitutional right to make decisions about their own reproductive health. The Republican Supreme Court has relegated women to citizens with no choice over their own bodies and put the federal government inside of doctors' offices.
"Republican leaders have made it clear that they see this as the first major step in advancing an extreme, right-wing agenda. As Supreme Court Justice Clarence Thomas put it in today's ruling, '…we should reconsider all of this court's substantive due process precedents, including Griswold, Lawrence, and Obergefell.' These are decisions that protect Americans' rights to birth control, sexual privacy and same-sex marriage.
"Abortion, even in cases of rape and incest, is now a felony in more than a dozen states and Republican leaders have made it clear that they stand ready to pass a draconian, nationwide ban on all abortions should they regain control of the federal government. It is clear, now more than ever, that elections have consequences. The Democratic Party believes in a woman's right to choose. Period. The decision to seek an abortion is a decision that belongs to women, not the government.
"Although we may feel defeated by today's decision, the long fight for justice and equality for all must go on."
— Joint statement by the Kern County Democratic Party and Democratic Women of Kern
"I was born in 1976, three years after (the) Roe v. Wade victory. I have benefited my entire life by having the right and the resources to decide my destiny. Throughout my life, I supported multiple friends who chose to terminate their pregnancies. They made this decision without parental consent, sometimes with their partner, but always for the benefit of themselves and their future. These women were high school and college students, teachers, doctors and other professionals who sought higher education to end generational cycles of poverty and hardship.
"In a recent Senate hearing Janet Yellen, Treasury secretary, said, 'Overturning Roe will have very damaging effects on our economy and will set us back a decade.' We know that women of color will disproportionately suffer the consequences of this decision. I am outraged that my children's generation will not be afforded the same rights and resources that I had!
"We must fight like hell for reproductive justice. DHF will register, educate and mobilize voters for the November elections. We will work harder than ever to ensure that our voices will be heard in Sacramento and Washington, D.C. to fight for choice. Make a difference and be an agent of change. Join the DHF Social Justice Network.
"As Californians, we will not be complacent knowing that our state will protect our rights. We stand in solidarity with women, mothers and sisters across this country whose lives are at risk, including those who identify as lesbian, gay, bisexual, transgender or queer (LGBTQ), and need sexual and reproductive health care.
"Because we know that this tragic decision will not put an end to abortions, it will only end safe abortions.
"None of us are free until all of us are free!"
— Camila Chavez, Executive Director of Dolores Huerta Foundation
"Today, I give thanks to our almighty God as the Supreme Court has overruled its prior holding on Roe v. Wade and Planned Parenthood v. Casey and that the right to abortion no longer exists in our U.S. Constitution. I also give thanks to all of the faithful who have prayed and advocated for life. Today, I not only encourage you to celebrate and pray almsgiving, I also encourage you to pray for compassion, understanding and strength as the fight for life will continue in our state of California.
"I would like to share a quote in a statement that my brother bishops and I have published:
'From decades of holding the hands of those struggling with the decision to have an abortion, we know that for many women, abortion is not a choice they want to make but rather a choice they feel they have to make. From our work with mothers and families, we know they don't need expanded abortion services. They need housing assistance, prenatal and postpartum care, protection from domestic violence, paid family leave and maternity accommodations from employers. With rising inflation and soaring housing and health-care costs, California is not an easy place to raise a child. We pledge to expand access to life-affirming services that empower women in our state with the confidence that they won't walk through pregnancy or parenting alone or fearful.
'We look to increase our work to protect the sanctity of every life and support California's women, children and families.'
"… If you are looking to get involved in defending life, I would ask that you look for a ministry within your parish or visit Right to Life of Central California for more information. May God continue to bless those who defend life and guide mothers, children and families in need."
— Bishop Joseph V. Brennan of the Roman Catholic Diocese of Fresno
"This is a historic day. I was both joyful yet sorrowful at the same time. … I hope this gives people cause to think about what's going on inside them. Women have a right to their body, but a baby has an unalienable right to life.
"The U.S. Supreme Court has been given the authority to change the law, but only the supreme God has the power to change and transform any matters of the heart.
"… This is a turning point in our country … it has nothing to with with liberal versus conservatives or Democrats versus Republicans. It's about what the Constitution says and what we want it to say. So, I celebrate."
— Angelo Frazier, chaplain with the Bakersfield Police Department
"Christians all over our county and country are rejoicing at the Supreme Court overturning Roe v. Wade. I am aware at the same time, many people in our country are grieved by this situation thinking that a right has been lost. I think the better way to view it is that a wrong has been righted. Just like at one time there was a right for slavery, and eventually, that wrong was righted. Roe v. Wade from the beginning was wrong legally and it certainly was wrong morally and biblically. I think that it's important that we pray for the people of our culture and country. That any protests would be peaceful and we as Christians would be diligent in protecting life from the womb to natural death.
— Roger Spradlin, senior pastor of Valley Baptist Church
"My (reform movement) denomination's leadership is quite sad at this decision. Our congregation has, of course, diverse views. We pride ourselves as a religious denomination around pluralism and diverse views, and we welcome people with different perspectives into our community. We as a religious community, there's no doubt, I think I can safely say, that we stand with the struggles of women in faraway places who now face some very difficult realities. … For me personally, this was my coming to political engagement issues. This was the issue that just motivated me as a young person to fight like hell for what's right and what's just."
— Jonathan Klein, rabbi at Temple Beth El
Local reactions to abortion decision Friday by the U.S. Supreme Court | News Source link Local reactions to abortion decision Friday by the U.S. Supreme Court | News