Local
Koi Bistro Holds Grand Opening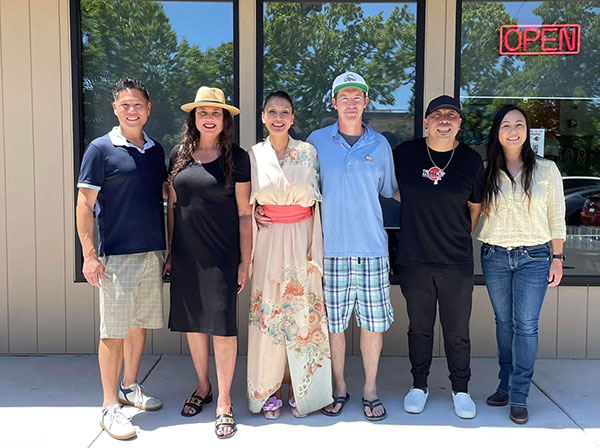 Koi Bistro downtown held a grand opening event on Saturday, May 21, 2022. The event was attended by Elk Grove Mayor Bobbie Singh-Allen, Deputy Mayor Darren Suen, City Councilor Stephanie Nguyen, Speaker of the House of Vietnam Trade. , and Miss Teen Vietnam Sacramento.
Koi Bistro serves Japanese fusion food. The owners are Nikki Nguyen and Alain Ng. Nguyen also owns Pho Kim Anh in Elk Grove. She is also a real estate agent for Keller Williams and vice president of advocates for the Little Saigon Sacramento community. Alain and Nikki attend and are part of the E2 Church staff.
Each of Elk Grove's elected leaders, as well as the president of the Sacramento Vietnamese Chamber of Commerce, spoke at the ribbon-cutting.
"We are here to support our hometown girl Nikki Nguyen. We wish you and your family and friends a great success in opening Koi Japanese Bistro. It is still AAPI Heritage Month. I am a proud mayor and I'm here to support you. It doesn't matter if the restaurant is not from Elk Grove. You're from Elk Grove. We're here to support you because we believe in you. "

Elk Grove Mayor Bobbie Singh-Allen
"Nikki, it's great to come out to support you. As some of you know, koi represents courage, love, perseverance, strength, everything that embodies Nikki and her family. And that's why we're so happy about this. new effort. We want you to succeed and look forward to eating right here. This is for Elk Grove! "

Elk Grove Deputy Mayor Darren Suen
"I've known Nikki for twenty years. Twenty years! I was with her when she sold houses. I was with her when she was selling pho. And now we're here with her because she's going to sell Koi Bistro sushi, fish, anything you can think of. The fact that you have three of your councils, your mayor, your deputy mayor, your council, tells you that we don't care where you are from, we want you to come here and support this restaurant well. here. And as the first Vietnamese woman in the Sacramento region, I have to say we are winners!

City Council member Stephanie Nguyen
During the Sacramento event Taiko Dan and Tiffany Tamaribuchi performed to the delight of the audience. Taiko drums originated in the postwar period in Showa 26 (1951). It was created by a jazz drummer named Daihachi Oguchi. He wondered why the taiko drums were never played together and formed a set of taiko drums.
Advertising
Inside the bistro, guests enjoyed Japanese food. It is important to note that the extensive menu includes sushi, sashimi and many interesting toppings, such as risotto with scallops, a scrambled egg made with an ajutami egg (ramen), grilled oysters with uni butter and a very juicy mushroom.
Above all, owner Nikki Nguyen was moved by the fact that community leaders and many people in the community attended the grand opening of Koi Bistro. In honor of the late mother of her husband Bryan O'Malley, she wore a kimono that had belonged to her.
"We are very happy and excited to see the community and elected officials come out and support us. It is very encouraging and we are here to provide a positive environment for our community. I cannot thank you all enough for your love and support."

Koi Bistro owner Nikki Nguyen
Bistro Koi
1920 29th Street
Sacramento, CA 95816
(916) 619-8569
Koi Bistro Holds Grand Opening Source link Koi Bistro Holds Grand Opening