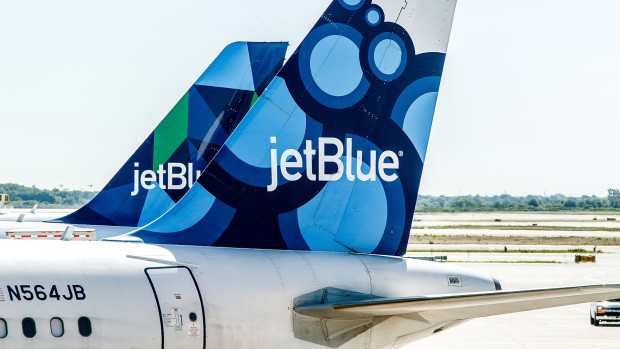 There is a decades-long distinction between leisure and business travel in the airline industry. While demand from travelers taking long-awaited trips put off by the pandemic has soared to new heights, the number of people traveling for business is still not where it used to be.
A recent Morning Consult report found that the number of Americans taking business trips either domestically or internationally rose by just 1% in 2022. Even the title of the report indicates that it's "business but not as usual."
DON'T MISS: Airlines See A New Kind Of Traveler At The Front Of The Plane
As a result, airlines are reworking an earlier strategy, running frequent routes that are used primarily by business travelers and launching more leisure-oriented flights. In its second-quarter earnings call, New York-based JetBlue  (JBLU) – Get Free Report announced that it was redeploying flights formerly dedicated to its Northeast Alliance with American Airlines  (AAL) – Get Free Report to "high-margin leisure opportunities throughout our network."
Leisure Markets Are Thriving
"Historically, leisure markets have ramped up more quickly, and we know that many months a year, there is a demand that can't be satisfied," Dave Clark, who heads revenue and planning for JetBlue, told analysts and investors. "In a world where corporate travel is 20% down, how do airlines sort of meet that off-peak need?"
In practical terms, this means directing traffic away from New York and Boston — the two cities make up nearly 80% of the airline's capacity while the airline also frequently shuttles business travelers between them.
New flights, in turn, will include daily service between New York's John F. Kennedy International Airport and Paris Charles de Gaulle and new routes to Puerto Rico as well as Belize and St. Kitts and Nevis in the Caribbean.
This does not mean that the airline will give up on New York. The city and JetBlue base will remain the airline's "largest focus city" with over 200 departures per day. 
In the same earnings call, JetBlue reported a second-quarter revenue increase of 6.7% to $2.6 billion but a total net loss of $138 million. This is down from $188 million in the second quarter of 2022.
The Airline Problem Is Bigger Than JetBlue
"I think it's far broader than our network," Clark continued. "I think it's resourcing strategy. I think it's maintenance planning. I think there's a whole number of things that in a world where business travel may not be coming back, we're going to have to work through and think through and just rest assured that we have a lot of actions on focus on that area."
Amid these changes in business travel, airlines have also been identifying and trying to reach a different type of customer.
An earlier Expedia  (EXPE) – Get Free Report survey found that the average "bleisure traveler" (a term used to refer both to those who travel to work remotely in a different destination and business travelers who also squeeze some sight-seeing into their trips) takes 6.4 plane trips per year — this is a growing demographic and significantly higher than the 1.4 taken by the average American.
This, also, is pushing airlines to prioritize more distant routes over short shuttle-style flights used by frequent business travelers pre-pandemic.
https://www.thestreet.com/travel/jetblue-makes-a-big-change-passengers-need-to-know-about-leisure-routes JetBlue Makes a Big Change Passengers Need to Know About