Local
Iowa kindergarteners wave to patients receiving treatment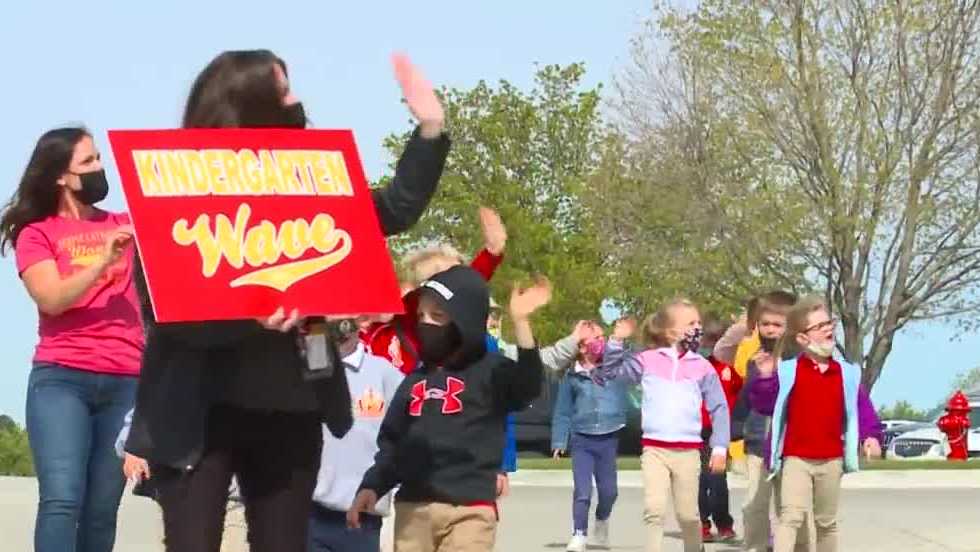 Children are learning about kindness at Quemper Catholic Elementary School in Carroll, Iowa. "We always talk about filling other people's buckets," said kindergarten teacher Jillwenk. "What does it look like? How does it sound?" But that's what's happening outside the classroom, driving the lessons of life. It's all because a family of Hawkeye fan students came up with the idea. With her mom by her side, kindergartener Andy Neeland is leading the way to show someone the waves. Fat Neeland is the reason. "It made my heart so happy. It's just unrealistic. It's just a surprise, a surprise. A few waves can make your day," said Fat Neland. She has been fighting cancer. From March onwards, another class will pass by and greet you through the window every day. "It started by waving to Grandma, and let's make it the whole class, and it would be fun," Amberneyland said. Not only do they wave to the patient, but also to the nurse St. Anthony behind the glass who has his own child in the Quemper Catholic district. Recently, the classroom was integrated for the first time. Each grade grabbed their sign and some hands and headed out for one big wave. "Forget everything they are experiencing and see that moment of happiness, it's just a simple joy," said nurse Julie Pietig. "I love it. It's a lot of fun. It's great." Fat Neeland finally looked out the window. After treatment and major surgery, she is now cancer-free. "It was definitely hard. There is no doubt about it," she said. "When dealing with this kind of thing, a positive attitude is best. It's great. It's all small support through the town, friends and family."
Carroll, Iowa —
Children are learning about kindness at Quemper Catholic Elementary School in Carroll, Iowa.
"We always talk about filling other people's buckets," said kindergarten teacher Jill Wenk. "What does it look like? How does it sound?"
But that's what's happening outside the classroom, driving the lessons of life.
It's all because a family of Hawkeye fan students came up with the idea. With her mom by her side, kindergartener Andy Neeland is leading the way to show someone the waves.
Devneyland is the reason.
"It made my heart so happy. It's just unrealistic. It's just a surprise, a surprise. A few waves can make your day," said Fat Neland. She has been fighting cancer. From March onwards, another class will pass by and greet you through the window every day.
"It started by waving to Grandma, and let's make it the whole class, and it would be fun," Amberneyland said.
Not only do they wave to the patient, but also to the nurse St. Anthony behind the glass who has his own child in the Quemper Catholic district.
Recently, the classroom was integrated for the first time. Each grade grabbed their sign and some hands and headed out for one big wave.
"Forget everything they are experiencing and see that moment of happiness, it's just a simple joy," said nurse Julie Pietig. "I love it. It's so much fun. It's great."
Fat Neeland finally looked out the window. After treatment and major surgery, she is currently cancer-free.
"It was definitely hard. There is no doubt about it," she said. "When dealing with this kind of thing, a positive attitude is best. It's great. It's all small support through the town, friends and family."
Iowa kindergarteners wave to patients receiving treatment Source link Iowa kindergarteners wave to patients receiving treatment