Local
Huge swells send waves crashing into an oceanfront wedding, homes in Hawaii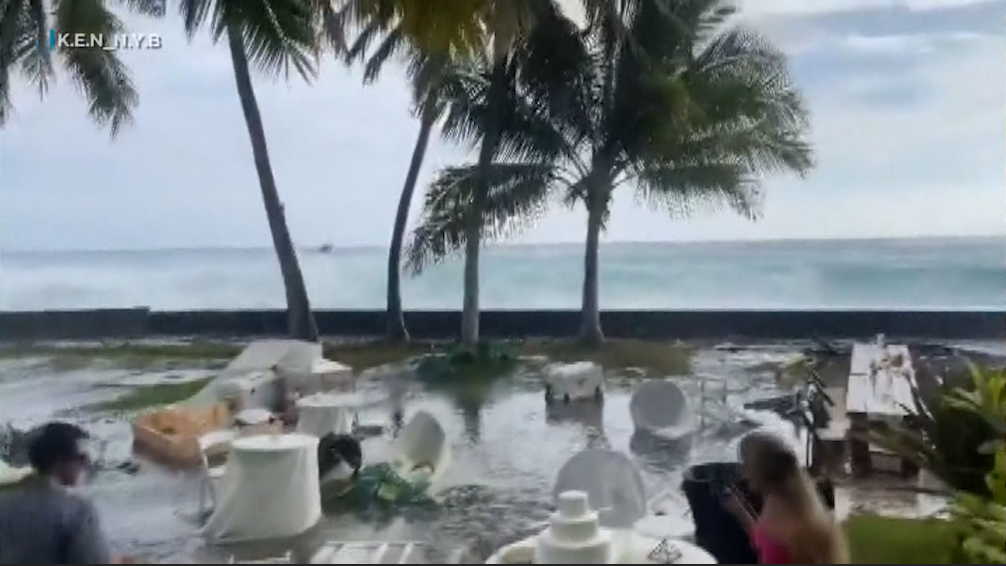 Video shows a massive wave crashing into homes, businesses and even an oceanfront wedding in parts of Hawaii over the weekend. According to KGMB, Honolulu Ocean Safety has performed more than 1,500 rescues due to swells. Waves can be seen crashing over a wall right before a wedding ceremony, taking out catering tables and a bar. "But luckily, we didn't lose any of our food or our wedding cake," said Riley Murphy, the bride. Dillon Murphy, the groom, said the waves "definitely didn't stop the party, we definitely kept it going." , resident of oceanview. "The waves were so big. Everyone in the pool was cheering and clapping, they thought it was really cool. And it was at the beginning and then it got a little scary towards the end." Tanya Fedak, who was visiting Chicago, said she was at the pool with her mother when they "started to see the waves crashing over the houses and almost landing near the pool." All the furniture had been pushed completely behind her. front door. The current had moved it, the screen door, everything was completely down, there was no carpet on the floor," Fedak said. In Maui, waves poured through a cliff and flooded the Honu Oceanside restaurant. Lisa Newman, one of the restaurant's owners, said the water "just filled the room with water and kept pushing forward right up to the front door." Newman said it could be a week before the dining room reopens because the swell took over the floor. "You just never know how big it's going to be or what it's really going to affect, even though you understand the tides," he said. "We were definitely prepared with, you know, reinforcements and stuff for the we just didn't know what to prepare for."
HONOLULU (Video above: KGMB via CNN) —
Video shows a massive wave crashing into homes, businesses and even an oceanfront wedding in parts of Hawaii over the weekend.
According to KGMBHonolulu Ocean Safety has performed more than 1,500 rescues due to swells.
Waves can be seen crashing over a wall right before a wedding ceremony, taking out catering tables and a bar.
"But luckily, we didn't lose any of our food or our wedding cake," said Riley Murphy, the bride.
Dillon Murphy, the groom, said the waves "definitely didn't stop the party, we definitely kept it going."
Other storms sent waves crashing over mansions and other properties.
"The whole parking lot was just like a river at one point," Oceanview resident Melanie Llanes said. "The waves were so big. Everyone in the pool was cheering and clapping, they thought it was really cool. And it was at the beginning and then it got a little scary towards the end."
Tanya Fedak, who was visiting Chicago, said she was at the pool with her mother when they "started to see the waves crashing over the houses and almost landing near the pool."
"There was one unit — we walked along the back by the waves when it started going out — all the furniture had been pushed completely behind the front door. The current had moved it, the screen door, everything was completely down, there was no carpet on the floor," Fedak said.
In Maui, waves poured through a cliff and flooded the Honu Oceanside restaurant. Lisa Newman, one of the restaurant's owners, said the water "just filled the room with water and kept pushing forward right up to the front door."
Newman said it could take a week for the dining hall to reopen because the swelling took over the floor.
"You never know how big it's going to be or what it's really going to affect, even though you understand the tides," he said. "We were definitely prepared with, you know, reinforcements and things that we just didn't know what to prepare for."
Several roads were closed due to ocean conditions, runoff and road damage.
Huge swells send waves crashing into an oceanfront wedding, homes in Hawaii Source link Huge swells send waves crashing into an oceanfront wedding, homes in Hawaii