California
How to Open a Tattoo Parlor in California
California is known for its cool vibe and laid-back attitude, so it's no surprise it has a thriving tattoo community. With a slew of shops and their tattooing style, opening your own might sound overwhelming.
If you're ambitious enough to open your own tattoo studio, you'll have control over its tattoo artists and its artistic direction, but you'll also have to follow certain laws to maintain and improve your business.
Below are some tips that can help if you're planning to open a tattoo parlor in California.
Photo by Maria Oswalt from Unsplash
Name your business, form a legal entity, and register for taxes
First off, when starting to plan a business, it's crucial to get a pre-clearance on your shops' name with the California Secretary of State, and federal and state trademarks since there might be another tattoo parlor with the same name.
Then, you'll want to form a legal entity. The most common types include sole proprietorship, corporation, partnership, and LLC (limited liability Company).
You will also have to register for a variety of state and federal taxes before opening your business. But remember that there are different options for how your business will be taxed, depending on which business structure you choose. Bear in mind that you will also need to apply for an EIN (Employer Identification Number) to register for taxes.
Apply for a business license, permits, and insurance
After all other legal necessities, you'll need to register your business license with your city to pay taxes. To obtain a permit, visit your local Office of the City Clerk and get a business tax certificate. With that certificate, your shop will be registered with the local government and will keep your business legitimate in terms of tax and operating information.
Your business will also need insurance to operate safely and lawfully. To get small business coverage in California you'll need to purchase general liability insurance which protects you and your business from general claims like bodily injuries and property damage. Almost every small business needs this type of insurance since it covers expenses like medical bills and legal fees.
Business bank account
To protect your personal assets you'll need to keep your personal and business finances in separate accounts and credit cards. This will make it easier to track the business's expenses and income. Also, it will protect your personal assets in the event your business is sued and will make accounting and tax filing much easier.
Getting a business credit card will help you put your business expenses in one place, separating them from your personal ones. It will also help to build your company's credit history, which will be useful when raising funds and making investments later on. Note that credit cards may provide an easier way to finance your business venture.
Comply with safety laws
Bear in mind that each state has its tattoo regulations and permit requirements since tattoo shops may be subject to regular inspections to ensure they follow safe sterilization, sanitation, and other health and safety measures. You can begin operating your tattoo parlor after acquiring all necessary permits and are cleared to do so.
You can check with the California Conference of Local Health Officers to ensure you're complying with the most recent laws. Note that if you fail to comply with the health and safety laws, your license can be revoked, and your shop closed. You can find the rules of safe and sanitary practices for body art shops in the California Safe Body Art Act.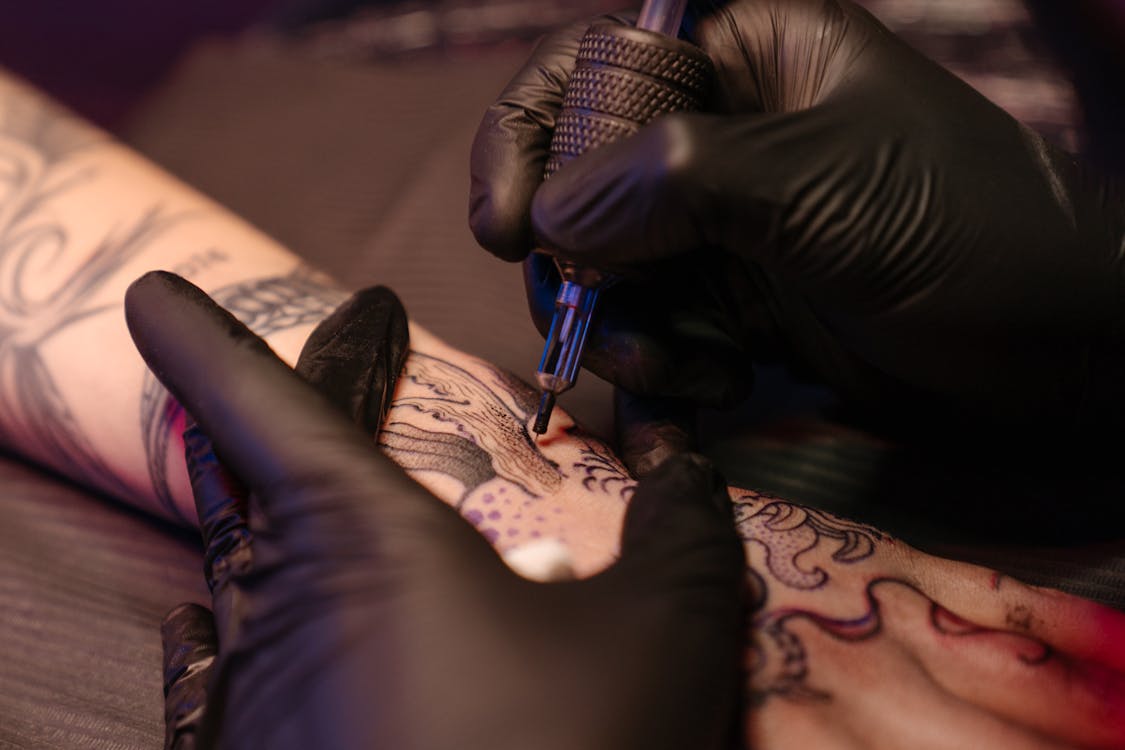 Photo by cottonbro from Pexels
Promote your brand
Your brand is what your tattoo shop stands for, and having a strong brand will help you stand out from competitors. Note that as a tattoo artist, you must devote a portion of your time to marketing. Word-of-mouth and social media are some of the ways to promote your business.
Maintain a portfolio that can be viewed regularly either online or in person, and also share your work on social media platforms like Instagram, Twitter, or Pinterest. Join the tattoo community, attend conventions around the world to display your work, and network with other tattoo artists.
In closing
If you're a gifted artist who lives in California and wants to open your tattoo parlor, just remember to comply with specific laws so you can get your business off the ground and running. Obtaining permits and insurance, ensuring your shop is sterile, and paying filing fees, is just the beginning of a much more interesting venture. Follow the regulations and requirements, and you'll be able to start your dream job.