Local
How Stockton high school students learn about climate change in the classroom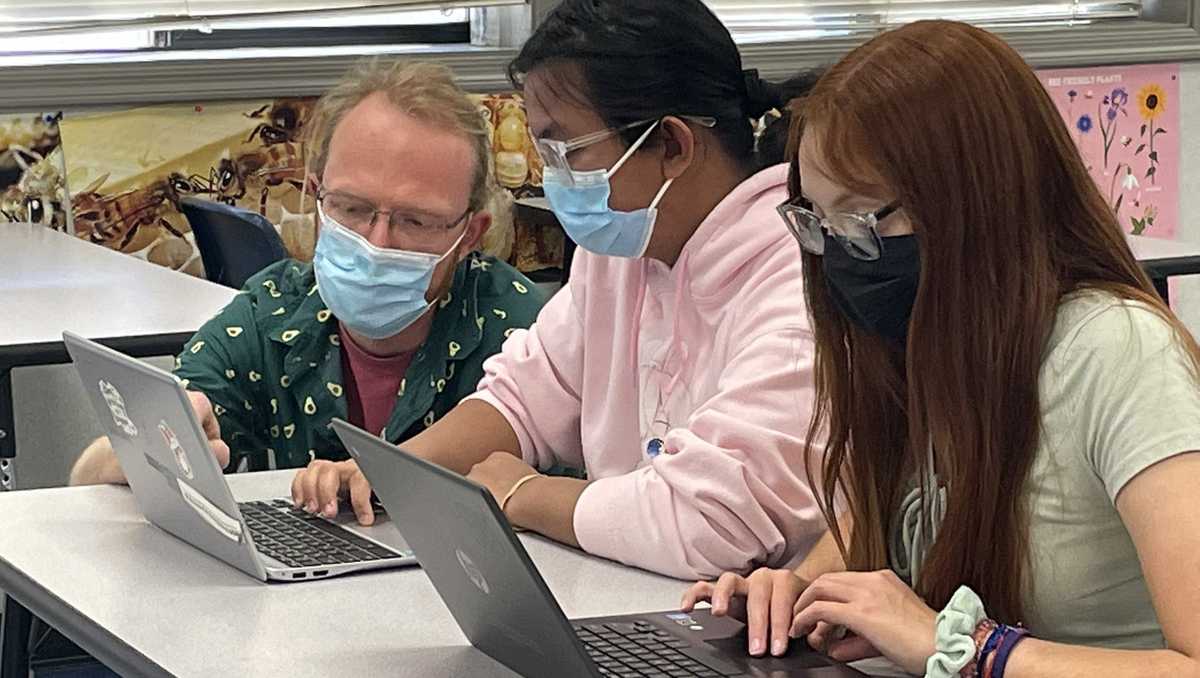 "Whether it's on the news or on social media, kids hear about climate change." I saw it a lot on social media, but I only knew one friend who would talk about it, "said Dominick, a junior at Law School Pacific in Stockton. Now Dominick and his classmates have the opportunity to learn and talk about climate change at school. It's all thanks to a new program with the Livermore Lab Foundation that provides climate change-specific courses to select science classes in California. Livermore said the foundation's executive director, Sally Allen. "And what better way to do that than to start in class." Scott Jorgensen, a teacher at Pacific Law, started introducing these lessons in science lessons this year. He says he is encouraged to see this material added to the curriculum. "Science teachers, as a team, are trying to teach climate change and this science forever," Jorgensen said. "Being an explicit part of the curriculum is important." Topics covered include climate change issues such as ocean acidification and carbon emissions. But these lessons also encourage students to think critically about solutions to climate change. "What I like about this curriculum is that, as far as foresight is concerned, it gives me hope as a professional and gives students hope that we can create a way out of it," Jorgensen said. And these engineering solutions will bring new kinds of jobs to California. Learning about climate change will help Jorgensen and many other Central Valley students get ready for these new career opportunities. Jorgensen However, even before they are ready for a career, Jorgensen students are grateful for the opportunity to learn about this huge, global problem in a friendly school environment. "Knowing about it really helps me talk about it more with my peers, with my parents and wherever I go," said Alex Santos, another junior at Pacific Law. Dominick's classmate agrees: "This is our future, so these are things we have to deal with later."
Whether through the news or through social media, children hear about climate change.
"I saw it a lot on social media, but I only knew one friend who would talk about it," said Dominick, a junior at Pacific Law School in Stockton.
Now Dominick and his classmates have the opportunity to learn and talk about climate change at school. All this thanks to a new program with the Livermore Lab Foundation that provides specific climate change courses to selected science classes in California.
"Our goal with this course is to bring this information in new and creative ways to different audiences," said Sally Allen, Executive Director of the Livermore Lab Foundation. "And what better way to do that than to start in class."
Scott Jorgensen, a teacher at Pacific Law, started introducing these lessons in science lessons this year. He says he is encouraged to see this material added to the curriculum.
"Science teachers, as a team, are trying to teach climate change and this science forever," Jorgensen said. "Being an explicit part of the curriculum is important."
Topics covered include climate change issues such as ocean acidification and carbon emissions. But these lessons also encourage students to think critically about solutions to climate change.
"What I like about this curriculum is that, as far as foresight is concerned, it gives me hope as a professional and gives students hope that we can create a way out of it," Jorgensen said.
And these engineering solutions will bring new kinds of jobs to California. Learning about climate change will help Jorgensen and many other Central Valley students prepare for these new career opportunities.
"As a region, we can graduate from California's poorest counties and regain living standards with the rest of the state," Jorgensen said.
But even before they are ready for a career, Jorgensen's students are grateful for the opportunity to learn about this huge, global problem in a friendly school environment.
"Learning about it really helps me talk about it more with my peers, my parents and wherever I go," said Alex Santos, another junior at Pacific Law.
Dominick's classmate agrees: "This is our future, so these are things we have to deal with later."
How Stockton high school students learn about climate change in the classroom Source link How Stockton high school students learn about climate change in the classroom