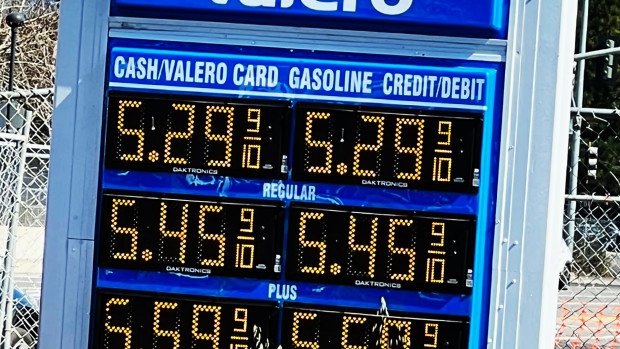 Retail gas prices ended August modestly higher for the month and opened September with a small decline. That's the good news.
But anyone driving to the beach or the mountains for the Labor weekend will still gnash their teeth each time they fill their gas tanks.
DON'T MISS: How to avoid flight delays this Labor Day weekend
Prices are up nearly 20% for the year and basically unchanged from a year ago, according to data from the American Automobile Association. AAA's national average price on Sept. 1 was $3.818 a gallon, down from Thursday's $3.825. 
On Sept. 1, 2022, the price was $3.829.
History sends a message on gas prices
If history is any guide, however, prices should drift back at the very least into the end of the year. At least one can hope. Friday's price was down 1.5% from the year's peak of $3.875 a gallon on Aug. 17. 
Tom Kloza, Global Head of Energy Analysis at the Oil Price Information Service, thinks the national average should drop to $3.25 a gallon to $3.50 a gallon at the winter low. OPIS tracks price trends in the energy industry.
California had the highest state-wide price, $5.298 a gallon with top prices in the Golden State's rural counties. Mono County, located east of Yosemite National Park was tops at $6.256. Los Angeles County prices averaged $5.372, according to AAA data.
The lowest statewide prices were in Mississippi at $3.298, with the lowest metro prices in the Biloxi-Gulfport-Pascagoula region at $3.205, down from $3.227 a day earlier and $3.289 on Aug. 1.
Gasoline prices surged along with the big oil-price rally that started in late spring. 
West Texas intermediate, the benchmark U.S. crude, is up more than 25% at $85.51 a 42-gallon barrel. Most of the gains came in July when WTI jumped 15.8%. August's gain was just 2.2%.
WTI represents roughly 53% of the retail price of gasoline.
Three forces have given speculators the green light to push global oil — and gasoline — prices higher this year.
Members of the Organization of Petroleum Exporting Countries have been trimming global supplies to boost revenues. 
The raging Ukraine-Russia war, with Russia using its oil to finance its effo
Record-high temperatures in the United States, especially in the South and West, forced oil refineries to dial down production for safety reasons. Phoenix, Ariz., recorded a record high of 117 degrees this past week. Houston hit 110 on Aug. 24.
Some of the gains re also due hurricane threats. The summer hurricane season is peaking. When a hurricane comes into the Gulf of Mexico, oil companies shut in production at their wells in the gulf and evacuate personnel. Refineries along the Gulf Coast produce roughly half of U.S. gasoline, OPIS' Kloza said.
Why gas prices may not fall
The end of the summer driving season typically reduces gasoline demand and prices.
U.S. demand is a bit more than 9 million barrels a day in the summer. That will fall by 2 million gallons in December and January. AAA's 2022 peak price was $5.016 a gallon on June 14. It fell 39% to a low of $3.09 a gallon by Dec. 8.
Global oil supplies are believed to be tight because of OPEC's ability to force their members to abide by their production quotas. 
The summer heat waves caused oil refineries to dial back some of the ingredients they use to make gasoline, especially butane, Kloza said. Butane is a derivative of natural gas and cheaper than other ingredients. But it becomes very volatile in hot weather. Refineries will use more of it in the winter.
In addition, refineries have been shut down for maintenance or repairs. Building new U.S. refineries is difficult because of strict environmental requirements, governmental pressures to curb oil use and local opposition. The newest was the Texas International Terminals refinery in Galveston, Texas, opened last year. 
A year ago, Chevron Corp.  (CVX) – Get Free Report CEO Mike Wirth said he didn't expect a new refinery to be built in the United States. 
Chevron has benefitted nonetheless. The stock finished up 52% in 2022, tops among stocks in the Dow Jones Industrial Average, as oil prices skyrocketed for much of the year.  The shares were down 1.6% in August 2023 and are down 10.3% for the year in part because investors switched their focus to technology. Higher oil prices Friday gave the shares a 2% boost, making the oil giant the second-highest Dow performer after Intel. 
Higher oil prices have set off a frenzy to develop electric vehicles, with investor cash flowing into the stocks as well. Tesla  (TSLA) – Get Free Report shares are up about 100% this year. But the shares were off 5% on Sept. 1 because of investor concern about rising competition in China.
In addition, computer chips throughout motor vehicles are making them more efficient. A winner in that space is ON Semiconductor  (ON) – Get Free Report. The shares were up about 14% in August and are up more than 58% this year.
https://www.thestreet.com/retailers/gas-price-gains-moderate-and-why-a-decline-may-be-ahead Gas-price gains moderate and why a decline may be ahead