Local
Former CDC Director Dr. Robert Redfield to Visit with SBCUSD Students – Westside Story Newspaper – Online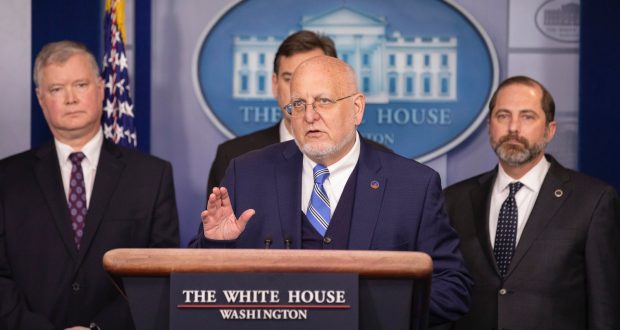 The former director of the CDC, Dr. Robert Redfield, pictured above during an event at the White House, will speak to SBCUSD students on May 17th.
Former Director of the Centers for Disease Control and Prevention (CDC) Dr. Robert Redfield will visit students from the San Bernardino Unified School District (SBCUSD) who are interested in medical careers during a visit on May 17th.
Redfield, a virologist and infectious disease clinician, joined the executive team of AM LLC as a senior medical advisor and his visit is part of the company's work to prevent and mitigate the spread of COVID-19 throughout the country. SBCUSD hired AM LLC as a consultant in 2021 while the District was preparing for the return of students to private tutoring.
SBCUSD high school students who are enrolled in health and medical pathways at Cajon High, Indian Springs High, Pacific High, San Andreas High, Sierra High and San Gorgonio high schools will attend this special event.

2022-05-13
window.___gcfg = {lang: 'en-US'};
(function(w, d, s) {
function go(){
var js, fjs = d.getElementsByTagName(s)[0], load = function(url, id) {
if (d.getElementById(id)) {return;}
js = d.createElement(s); js.src = url; js.id = id;
fjs.parentNode.insertBefore(js, fjs);
};
load('//connect.facebook.net/en/all.js#xfbml=1', 'fbjssdk');
load('https://apis.google.com/js/plusone.js', 'gplus1js');
load('//platform.twitter.com/widgets.js', 'tweetjs');
}
if (w.addEventListener) { w.addEventListener("load", go, false); }
else if (w.attachEvent) { w.attachEvent("onload",go); }
}(window, document, 'script'));
Former CDC Director Dr. Robert Redfield to Visit with SBCUSD Students – Westside Story Newspaper – Online Source link Former CDC Director Dr. Robert Redfield to Visit with SBCUSD Students – Westside Story Newspaper – Online