Local
Fontana Police Officer Brandon McCaulley honored for helping to save juvenile's life | News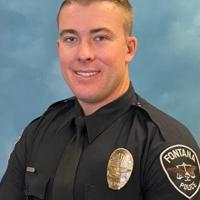 Police Officer Brandon McCaulley was named Fontana Police Department Sworn-in Monthly Officer for January because of his efforts to help a male juvenile who was suffering from a drug overdose.
On Jan. 26 at 8:21 p.m., McCaulley and his training officer Julio Landaverde were taken to an apartment in Fontana after receiving a report that a minor was not breathing. The call for service showed that the mother found her son on the sofa and could not wake him despite shouting and shaking him.
The first officer was on stage within two minutes, followed by McCaulley and Landaverde. They saw that the juvenile was sitting on the sofa with his mouth open and his eyes turned to his head. The juvenile sat on the floor, where he could be further evaluated and treated if needed.
McCaulley immediately determined that the symptoms and behavior displayed by the juvenile were consistent with a fentanyl / opioid overdose, as demonstrated at Narcan's recent PD training.
McCaulley prepared the Narcan released by the department for use and placed the first dose of Narcan. The juvenile remained unconscious and had extremely weak breathing and rapid pulse.
After about 30 seconds without any reaction, McCaulley administered a second dose of Narcan. After about 60 seconds, the juvenile began to react and within two minutes he was fully alert.
The boy was transported by AMR to a local hospital, where he recovered without any incident.
McCaulley's quick action and immediate application of the latest training may have saved the juvenile's life, Fontana PD said. McCaulley was honored at the Feb. 22 City Council meeting.


Fontana Police Officer Brandon McCaulley honored for helping to save juvenile's life | News Source link Fontana Police Officer Brandon McCaulley honored for helping to save juvenile's life | News