Local
Fontana City Council selects map for redistricting purposes | News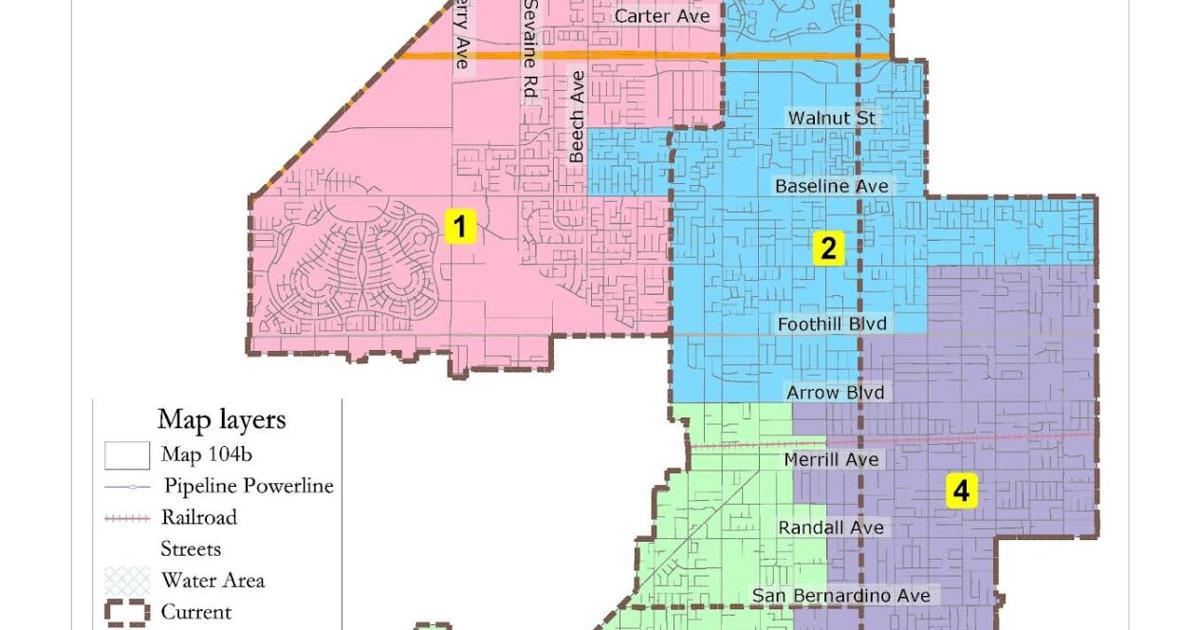 The Fontana City Council on March 22 chose a map for redistribution purposes for the upcoming election.
Council members decided on map 104b and rejected draft maps 103 and 402. The vote was 4-1, with Jesse Sandoval voting no.
The decision was controversial because some members of the public who spoke at the meeting wanted another map to be chosen (101). The speakers were against map 104b because it divides the southern Fontana area into two parts, which is a change from the current configuration.
Every 10 years, the boundaries of the district must be redrawn so that each circle is almost equal in population. This process is designed to ensure that each of the four members of the City Council represents almost the same number of voters. The vote for the fifth member, the mayor, is across the city.
District 1 will continue to contain the northwestern Fontana area, while District 2 will include the northeastern part, District 3 will have the southwestern area, and District 4 will include the southeastern Fountain.
During the discussion period, city council member Phillip Cothran said that after speaking with members of the African-American community in North Fontana, he did not want the draft map 103 to be considered.
Council members John Roberts and Peter Garcia and Mayor Acquanetta Warren agreed with Cothran and said the best solution would be 104b.
Sandoval said he would have preferred draft map 101, which had been submitted to the public earlier but was rejected by the City Council during the March 8 meeting.
Members of both groups, the South Fountain Concerned Citizens Coalitions (SFCC) and the Center for Community Action and Environmental Justice (CCAEJ), said map 101 would have been the best solution because it followed the principle of keeping "communities of interest".
CCAEJ's Faraz Rizvi said the adoption of map 104b means that the south's representation in the City Council will change and "not for the better". He said 104b would give someone living near Arrow Boulevard in central Fontana the ability to "represent" the south, when in fact it is too far from that area.
"It makes no sense if you are not trying to gain a political advantage – for the purpose of pushing an agenda that goes against the community and residents," Rizvi said in an email.
Roberts noted that the Southridge community will not be segregated for redistributive purposes and will include everyone within District 3.
Map 104b can be seen at:
https://www.fontana.org/DocumentCenter/View/37818/Map-104b?bidId=


Fontana City Council selects map for redistricting purposes | News Source link Fontana City Council selects map for redistricting purposes | News