Local
Fontana City Council approves industrial and residential projects in northern area of city | News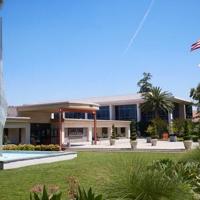 Fontana City Council on July 26 gave the green light to industrial and residential projects to be developed in the northern area of ​​the city.
Three of the projects were combined into one vote under General Plan amendments:
• Part 1 — Sierra Summit Industrial Project
Allard Engineering is constructing a 102,330-square-foot commercial industrial building on a 4.49-acre site at the northeast corner of Sierra and Summit streets.
During public comment, Speaker Noah Garrison said he was concerned about the potential for negative environmental impacts, but Deputy City Manager Phil Burum said he disagreed with that assessment.
• Part 2 — The Citrus East Project
Lennar Homes will build 76 detached "motor field" residential units at the northeast corner of Summit and Sierra streets.
Council members Phillip Cothran and John Roberts said they would have preferred cinder block walls to be used between units instead of vinyl fences, but they still liked the overall proposal.
• Part 3 – Ventana in Duncan Canyon
HD04 LLC wanted an amendment to the existing land use designation to support the proposed specific plan amendment for the 102-acre site located south of Interstate 15, west of Citrus Avenue and north and south of Duncan Canyon Road.
The amendment created six planning zones with a total of 476,500 square meters of commercial uses and 1,671 residential residential units.
Public speaker Delshawn McClellon said he was concerned about the environmental impacts.
All three projects were approved by a 4-1 vote, with Jesus "Jesse" Sandoval dissenting. Sandoval said he couldn't support Part 1 because of traffic concerns or Part 2 because of the vinyl fence, but he had no objections to Part 3.
—– ALSO during the meeting, the City Council voted 4-1 in favor of the Lennar West development at the northwest corner of Summit and Citrus streets. Lennar Homes sought to build 85 detached housing units on an approximately nine-acre site. Sandoval was against the idea.
(function(d, s, id) {
var js, fjs = d.getElementsByTagName(s)[0];
if (d.getElementById(id)) return;
js = d.createElement(s); js.id = id;
js.src = "//connect.facebook.net/en_US/sdk.js#xfbml=1&version=v2.5&appId=1550124928647000";
fjs.parentNode.insertBefore(js, fjs);
}(document, 'script', 'facebook-jssdk'));

Fontana City Council approves industrial and residential projects in northern area of city | News Source link Fontana City Council approves industrial and residential projects in northern area of city | News