Local
Fire truck responding to collision on freeway in Fontana is struck from behind by big rig | News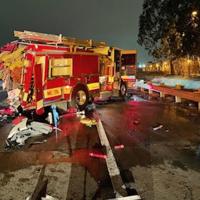 A fire truck responding to a collision was hit from behind by a large platform on Interstate 10 in Fontana in the early hours of June 3, according to the San Bernardino County Fire Department.
Around 2:34 a.m., Medic Engine 76 (ME76) from Bloomington Fire Station was on the west side of the highway, east of Sierra Avenue, to safely block the previous collision when the large platform hit the camera from back, he said. Battalion Chief Mike McClintock.
All Fire Department personnel were out of the apparatus when hit and were not injured by the secondary collision, McClintock said.
Immediately after the secondary collision, firefighters-medical assistants assessed the injuries and provided immediate care to the two passengers in the large vehicle. Both sides inside the truck had minor injuries and refused transportation.
The apparatus was successful in defending the original scene, McClintock said.
However, the ME76 suffered significant damage and crews from Station 76 have been relocated to a backup apparatus so they can continue to provide service to Bloomington and the surrounding area, McClintock said.
The California Highway Patrol is investigating the cause of both collisions.
"We are grateful that our firefighters, emergency responders and others at the scene were not injured this morning in Fontana. While an engine is replaceable, humans are not. We are fortunate that this incident had a positive outcome, but it is an excellent reminder to stay vigilant while driving and to be alert to highway incidents, "said Assistant Chief Jeff Birchfield, who oversees Division 1 operations, including the Fountain.
In 2021, the San Bernardino County Fire responded to nearly 10,000 traffic crashes across the vast area, many on highways. County Fire covers hundreds of miles of interstate highways, freeways, and local roads over the 19,000-square-mile service area.
"Please slow down, be careful and be wary of first responders working on the road," McClintock said.
(function(d, s, id) {
var js, fjs = d.getElementsByTagName(s)[0];
if (d.getElementById(id)) return;
js = d.createElement(s); js.id = id;
js.src = "//connect.facebook.net/en_US/sdk.js#xfbml=1&version=v2.5&appId=1550124928647000";
fjs.parentNode.insertBefore(js, fjs);
}(document, 'script', 'facebook-jssdk'));

Fire truck responding to collision on freeway in Fontana is struck from behind by big rig | News Source link Fire truck responding to collision on freeway in Fontana is struck from behind by big rig | News