Local
Evacuation info, maps, alerts and more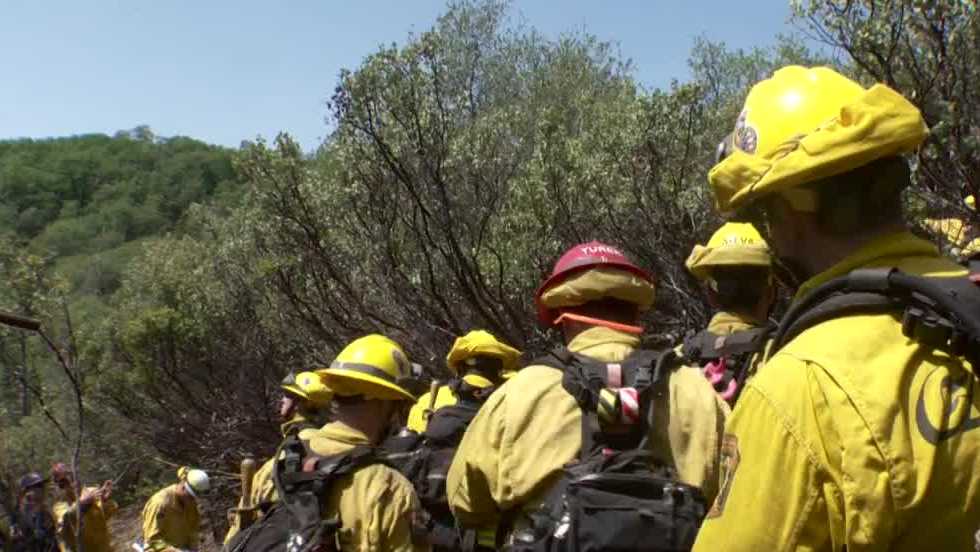 SEEING LARGER FASTER MOVING FIRES DURING DRY HOT CONDITIONS. THAT MEANS FIRE WARNINGSND PATIENTS ARE CHANGING FOR ALL OF US. THANKS FOR JOINING US. I'M LISA GZAONLEZ ALONG WITH CHIEF METEOROLOGIST MARK FINEAN AND TONIGHT WE HAVE THE SAFETY INFORMATION THAT YOU AND ALL OF US NEED TO KNOW. OUR TEAM OF METEOROLOGIST HAS BEEN HARD AT WORK MAKING SURE. OUR VIEWERS HAVE EVACUATION AND PREPARATION TIPS THAT COULD HELP IN CASE OF A FIRE. YEAH AND LAST WKEE ANOERTH REMINDER ABOUT HOW EARLY FIRES NCA START HERE IN CALIFORNIA T HECOASTAL FIRE BURNED THROUGHT MULTI-MILLION DOLLAR MANSIONS IN ORANGE COUNTY IT FORCED THE EVACUATIONF O NEARLY A THOUSAND HOMES FIREFIGHTERS SAY WITH THE DRY WEATHER. WE'RE SEEING FIRES LIKE THIS WILL BECOME MORE COMMON AND WHEN IT COMES TO FIRE PREPARATIONS SOME AREAS ARE AT HIGHER RISK THAN OTHERS. THERE ARE A LOT OF NEIGHBORHOODS. REGIONH WIT VERY FEW EVACUATION ROUTES. I SPOKE WHIT SHERIFF'S DEPARTMENTS AROUND RTRNNO CALIFORNIA ABOUT SOME OF THEIR GREATEST. AREAS OF CONCERN SIERRA FOOTHILLS ARE ONE OF THE MOST VULNERABLE AREAS IN NORTHERN CALIFORNIA HERE UYO FIND THE COMBINATION OF DENSE VEGETATION AND POPULATION ONCE A FIRE STARTS HERE. THERE'S SOME SPOTS THAT MIGHT BE DIICULFFT TO EVACUATE. LET'S LOOK AT AMARDO COUNTY AS AN EXAMPLE FROM WTES TO EASTHE T COUNTY RUNS FROM THE VALLEY FLOOR TO THE HHIG SIERRA AND IN BETWEEN THERE ARE COMMUNITIES EMBEDDED IN THE VEGETATNIO AMADOR COUNT SHEYRIFF, GARY. REDMOND SAYSIS H COUNTIES OVERDUE FOR A FEIR WE ARE OVERDUE WITH THE BUTTE FIRE AND THEN THE COWGIRL FIRE LASTR Y WAS ONE OF THOSE CLOSE CALLS AND IT WAS BASED ON WIN AND THAT WAS IT. SO IT'S NOT A MATTER OF IF IT'' GOING TO HAPPEN. IT'S JUST WHETHN IS WILL HAPPEN. THERE ARE SOME PARTS OF THE COUNTY THAT THE SHERIFF IS MORE WORRDIE ABOUT THAN OTHERS EVERHINGYTAST E OF 49 IS REALLY MY CONCERN ANDITH W THE OVERGROWN BRUSH AND THE AMOUNT OF FUEL WE HAVE WE'VE GOT AREAS UP IN THE FIDDLTOE WN SHAKERIDGE CORRIDOR ALL THE WAY UP INTO PIONR EEADA. THOSE ARE AOT L OF OUR MAIN CONCERNS A NETWORK OF NWRO ROADS IN THIS AREA COMBINED WITH DENSE VEGETATION WILL MAKE IT EVACUATION HERE VERY DIFFICULT. THE THREAT IS EXTREMELY HIGH. THERE'S AOT L OF OVERGROWN LOCATISON IN AMATEUR COUNTY WITH YOU KNOW, VERY LITTLE, YOU KNOW, INGRESS AND EGRESS OUT OF THOSE LOCATIONS NOW I TSHE TIME TO BE PREPARED FOR FIRE. SEASON AMADOR COUNTY AND MOST OTHER COUNTIES HAVE AN ALERT SYEMSTOU CAN SIGN UP FOR TO BE ALERTED ABOUT EVACUATIONS AND OTHER EMERGENCIES IN YOUR AREA NOW'S THE TIME AND AND WE'VE BEEN TALKING ABOUT THIS SINCE LAST YEAR DURING THE CALIBER FIRE I GO TO A LOT OF LOCATIONS AND MYSELF AND MY OES COORDINATOR. THIS IS SOMETHGIN WE ALWAYS TALK ABOUT IS MAKING SURE YOU'RE ON THAT CODE RED NOTIFICATION AMADOR COUYNT IS JUST ONE EXAMPLE OF ETH FIRE DANGER ON THE WEST SLOPE IN PLACER COUNTY. THE SHERIFF HEREOOKS L AT THE TOWN OF FOREST HILL AND THE DIFFICULTY OF AN EVACUATION EL DORADO COUNTY HAS PLASCE LIKE MOSQUITO AND SWANSBORO. THESERE A JUST A FEW EXAMPLES. THERE ARE MANY COMMUNITIES IN THE FOOTHILLS THAT VEHA DIFFICULT ACCESS IN THE CASE OF AN EMERGENCY IF YOU LIVE IN ONE OF THESE AREAS PREPARE NOW FOR HOW TO GET OUT IN CASE OF A FIRE. AND ONE OTHER THING I HEARD FROM THE SHERIFF WAS THAT THEY'V' ISSUE EVACUATION WARNINGS AND THEN ORDERS AND HE SAID IF YOU HAVE A TOLD IT'S DIFFICULTY GETTING OUT IF YOU HAVE LARGE ANIMALS IF YOU HAVE MEDICAL ISSUES, Y DOUON'T WAIT FOR THE ORDER GO ON THE WARNING LEAVING EAYRL IS BETTER THAN LEAVING LATER. WELL ANDE L WE SAW WITH THE KALDORE FIRE THAT ORDER MAY COME AT TWO OR THREE AM AND THERE AREN'T A LOT THERE AREN'T STREET LIGHTS OUT THERE. SO THEN UYO WOULD BE TRYING TO EVACUATE INHE T MIDDLE OF THE NIGHT AND SHEER DARKNESS. AND TTHA IS THE SHERIFF'S BIGGEST CONCERN IS TRYING TO GET
2022 Northern California wildfire resources: Where to find county evacuation info, maps, alerts and more
Here is a county-by-county resources list for KCRA 3's coverage area to help you find important information and updates in the event of a wildfire in Northern California. This guide includes links to the websites for county offices of emergency services and law enforcement and fire agencies. It also includes where to sign up for county emergency alert notifications now and find maps that counties will use to share evacuation updates during fires. One good rule of thumb during a wildfire is to check your county sheriff's Facebook and Twitter pages for the latest updates. | RELATED | Check out our wildfire preparedness guide for more information about understanding fire terms, defensible space and home hardening, evacuation warnings and go bags. Here are key websites that are important for all Californians during wildfire season. Cal Fire wildfire incidents: Cal Fire tracks its wildfire incidents here. You can sign up to receive text messages for Cal Fire updates on wildfires happening near your ZIP code here. Wildfires on federal land: Federal wildfire incidents are tracked here. Preparing for power outages: Ready.gov explains how to prepare for a power outage and what to do when returning from one here. Here is how to report track and report PG&E power outages.Keeping informed when you've lost power and cellphone service: How to find a National Weather Service radio station near you. Here are county-by-county resources. Sacramento County emergency information Sacramento County's emergency and preparedness website Sacramento Ready website with emergency response tips Sign up for critical emergency alert notificationsFire departments in Sacramento County and fire districts. Law enforcement agencies:Sacramento County Sheriff's Department. Follow updates on Facebook and Twitter.Citrus Heights Police DepartmentElk Grove Police DepartmentFolsom Police Department​Galt Police ​Department​Rancho Cordova Police DepartmentSacramento City Police DepartmentSacramento City Police DepartmentCalifornia Highway PatrolYolo County emergency information Yolo County Office of Emergency ServicesSign up for Yolo Alert for emergency notificationsServicios en EspañolYolo County is working on a Community Wildfire Protection Plan. Learn more about communities at risk on the Yolo County Living with Wildfire website here.Fire protection districts in Yolo CountyLaw enforcement agencies:Yolo County Sheriff's Office. Here is how to follow them on Facebook and Twitter. City of Davis PoliceCity of Woodland PoliceCity of West Sacramento PoliceUC Davis PDEl Dorado County emergency information El Dorado County Emergency ServicesSign up for El Dorado County Emergency AlertsThe Community Emergency Response Team trains people in neighborhoods, schools and workplaces to take an active role in emergency management planning. Contact 530-621-5895 or click here for more information.Fire agencies in El Dorado CountyLaw enforcement agencies:El Dorado County Sheriff's Office. Here is how to follow them on Facebook and Twitter. South Lake Tahoe Police Department California Highway PatrolPlacerville Police DepartmentSan Joaquin County emergency information San Joaquin County Office of Emergency ServicesSign up for the SJReady community notification systemSan Joaquin County neighborhood evacuation mapsFire departments in San Joaquin CountyLaw enforcement agencies:San Joaquin County Sheriff's Office. Here is how to follow them on Facebook and Twitter. Stockton Police DepartmentLodi Police DepartmentManteca Police DepartmentTracy Police DepartmentEscalon Police DepartmentRipon Police DepartmentLathrop Police DepartmentStanislaus County emergency informationStanEmergency websiteSign up for StanAware emergency alertsFire departments in Stanislaus CountyLaw enforcement agencies:Stanislaus County Sheriff's Office. Here is how to follow them on Facebook and Twitter.Stanislaus Regional 911California Highway Patrol – ModestoCalifornia State University – Stanislaus Police DepartmentCeres Police DepartmentHughson Police ServicesPatterson Police ServicesRiverbank Police ServicesWaterford Police ServicesModesto Police DepartmentNewman Police DepartmentOakdale Police Department Turlock Police DepartmentAmador County emergency InformationAmador County Office of Emergency ServicesSign up for CodeRED emergency notifications Amador County Fire Safe Council has information on community wildfire protection plans and moreFire agencies in Amador CountyLaw enforcement agencies: Amador County Sheriff's Office. Here is how to follow them on Facebook. If you want to make sure that your 911 call goes to the Amador County Sheriff's Office, call 209-223-1235.City of Ione Police DepartmentCity of Jackson Police DepartmentCity of Sutter Creek Police DepartmentCalifornia Highway Patrol, Amador OfficeTuolumne County emergency information Tuolumne County Office of Emergency ServicesSign up for the Tuolumne County Citizen Alert Notification SystemTuolumne County Fire DepartmentHere is a map that shows fire stations in the county.Community maps for helping with an evacuation planLaw enforcement agencies: Tuolumne County Sheriff's Office. Here is how to follow them on Facebook and Twitter. Sonora Police DepartmentPlacer County emergency informationReadyPlacer Sign up for Placer Alert emergency notifications.Fire districts and agencies in Placer County. Here are fire agencies participating in a Red Flag awareness program.Placer County wildfire resources websiteSee Placer County's community wildfire protection plan and learn about the Fire Safe Alliance.Law enforcement agencies: Placer County Sheriff's Office. Here is how to follow them on Facebook and Twitter. Auburn Police DepartmentLincoln Police DepartmentRocklin Police DepartmentRoseville Police DepartmentCalaveras County emergency informationCalaveras County Office of Emergency ServicesSign up for the Calaveras Alert emergency notification programCalaveras County's wildfire preparedness websiteHere is a map that shows evacuation information for the countyFire departments in Calaveras County. Here is information about the Calaveras Foothills Fire Safe Council.Law enforcement agencies: Calaveras County Sheriff's Office. Here is how to follow them on Facebook and Twitter. Angels Camp Police DepartmentCalifornia Highway Patrol – San AndreasSutter County emergency information Sutter County Office of Emergency ManagementSign up for CodeRED emergency alerts in Sutter CountyZonehaven map for fire and evacuation informationFire districts in Sutter County and Yuba CitySutter County's wildland fires website where emergency information gets postedLaw enforcement agencies:Sutter County Sheriff's Office. Here is how to follow them on Facebook and Twitter. Marysville Police Department Yuba County emergency informationYuba County Emergency ServicesSign up for CodeRed emergency alerts in Yuba CountyFire departments in Yuba county Law enforcement agencies: Yuba County Sheriff-Coroner. Here is how to follow them on Facebook and Twitter. Yuba City Police Department Marysville Police DepartmentSolano County emergency information Solano County Office of Emergency ServicesSign up for the Alert Solano emergency systemFire departments and districtsLaw enforcement agencies: Solano County Sheriff's Office. Here is how to follow them on Facebook and Twitter.Benicia Police DepartmentDixon Police DepartmentFairfield Police DepartmentRio Vista Police DepartmentSuisun City Police DepartmentVacaville Police DepartmentVallejo Police DepartmentHere is emergency information for more counties in Northern CaliforniaPlumas County Office of Emergency Services and wildfire website. Butte County Office of Emergency Management and its disaster preparedness website.Sierra County Office of Emergency ServicesLassen County Office of Emergency ServicesAlpine County websiteContra Costa County emergency alerts and resources
Here is a county-by-county resources list for KCRA 3's coverage area to help you find important information and updates in the event of a wildfire in Northern California.
This guide includes links to the websites for county offices of emergency services and law enforcement and fire agencies. It also includes where to sign up for county emergency alert notifications now and find maps that counties will use to share evacuation updates during fires.
One good rule of thumb during a wildfire is to check your county sheriff's Facebook and Twitter pages for the latest updates.
| RELATED | Check out our wildfire preparedness guide for more information about understanding fire terms, defensible space and home hardening, evacuation warnings and go bags.
Here are key websites that are important for all Californians during wildfire season.
Here are county-by-county resources.
Sacramento County emergency information
Law enforcement agencies:
Yolo County emergency information
Law enforcement agencies:
El Dorado County emergency information
Law enforcement agencies:
San Joaquin County emergency information
Law enforcement agencies:
Stanislaus County emergency information
Law enforcement agencies:
Amador County emergency Information
Law enforcement agencies:
Tuolumne County emergency information
Law enforcement agencies:
Placer County emergency information
Law enforcement agencies:
Calaveras County emergency information
Law enforcement agencies:
Sutter County emergency information
Law enforcement agencies:
Yuba County emergency information
Law enforcement agencies:
Solano County emergency information
Law enforcement agencies:
Here is emergency information for more counties in Northern California
Evacuation info, maps, alerts and more Source link Evacuation info, maps, alerts and more