Local
Drink Coffee Like A Wes Anderson Character at Dayglow's 'French Dispatch' Pop-Up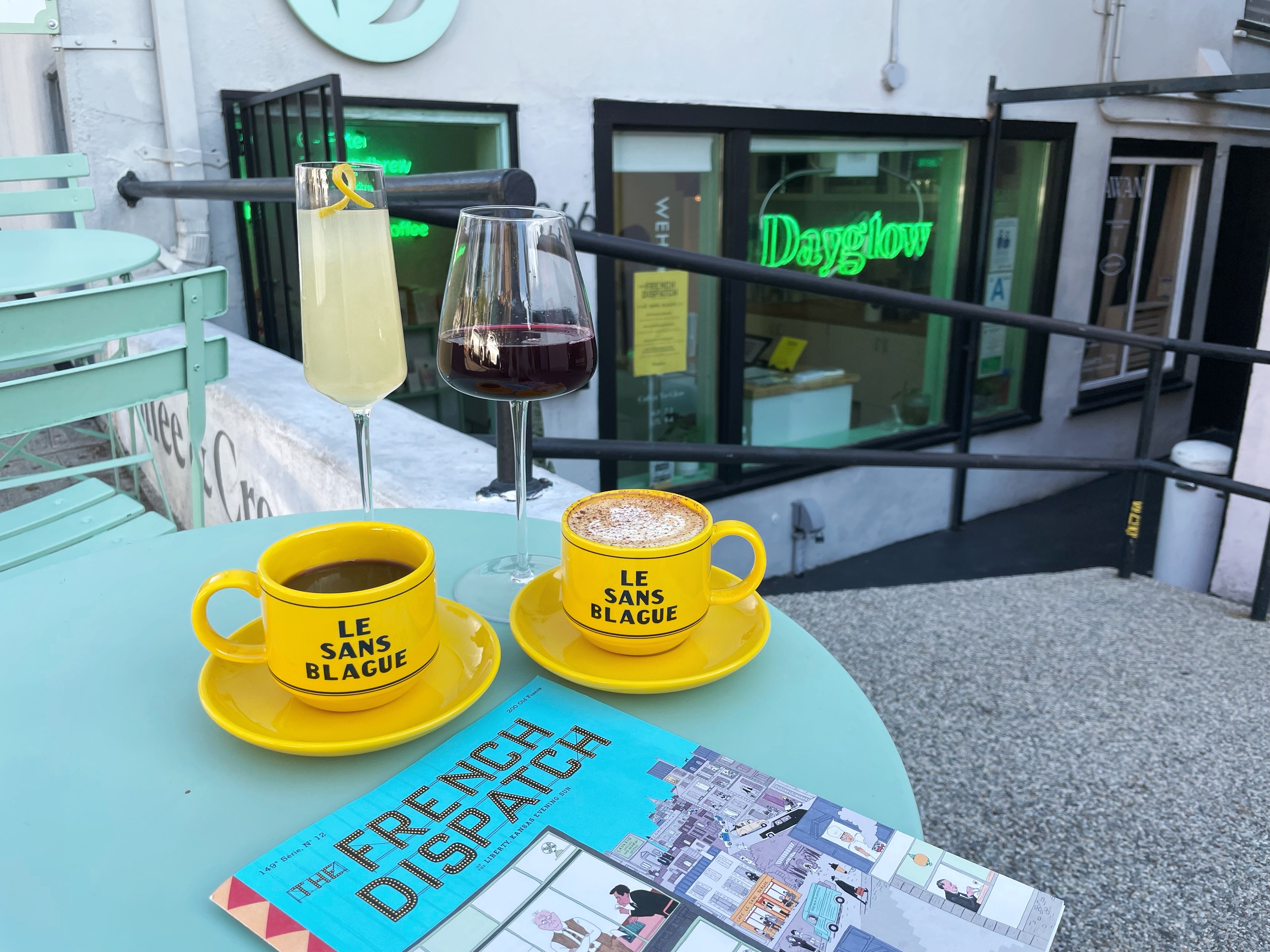 Until November 15, you can drink your coffee as Wes Anderson's character at Café Le Sans Blague, a promotional pop-up window at Dayglow Coffee advertising the director's latest film postponed by a pandemic. The French Dispatch, which premieres tonight in select theaters. Available in both Silver Lake and West Hollywood Daylight places as well as in ChicagoLe Sans Blague will serve a menu of four caffeinated beverages inspired by the film, which received a standing ovation in Cannes earlier this year.
Patrons of Dayglow can also take copies of a French sending a magazine full of behind-the-scenes articles and other movie-related bits. If its cover looks like lol, such a strange copy of New Yorker, this is because it is so: The creative genesis of Anderson's latest film lies in the early days of upper-middle-class magazine. Its founders, Harold Ross and William Sean, inspired the character Arthur Horowitz Jr. (Bill Murray) in the film.
Although two of the drinks on the menu, The Cycling Reporter and The Police Commissioner's Private Dining Room, may resemble a French 75 and a glass of red wine, neither contains alcohol. Instead, they are made with non-alcoholic champagne from Silver Lake's neighboring location in Dayglow, Soft spiritsand Verjus Rouge, a non-alcoholic red wine (this is mainly unripe grape juice).
The other promotional drinks, "The Concrete Masterpiece" and "Revisions to a Manifesto", are available in bright yellow Le Sans Blague glasses. Sweetened with light brown Demerara sugar, the cinnamon-coated The Concrete Masterpiece tastes like a softer Spanish latte. Served in black, Revision of the Manifesto is French baked by Belleville, whose menu description ends with a short postscript: "No Crying."
Priced from $ 6 to $ 12, Dayglow's French Sending– inspired drinks cut the price between special coffee and non-alcoholic cocktails – although who wouldn't want to play the role of a wine mother at eight in the morning? Visitors ordering from the limited-time menu can also choose from one of the film's items: a five-pin collection, a notebook, a pencil case full of green pencils or an always reliable reusable promotional bag.
Customers who stop by and buy Le Sans Blague dslide by the end of the day today (Thursday, October 21) will also be included in the raffle for the whole French sending a swag collection, plus a T-shirt with Timothy Shalame's face on it, with the winner announced on Friday. At the end of the pop-up window, the Dayglow team will make presents for the yellow glasses of Le Sans Blague.
Until November 15, you can visit Dayglow Coffee's Le Sans Blague promotional pop-up window at:
866 Huntley Drive, West Hollywood, daily from 7 a.m. to 5 p.m.
3206 W Sunset Blvd, Silver Lake, daily from 7 a.m. to 7 p.m.
Drink Coffee Like A Wes Anderson Character at Dayglow's 'French Dispatch' Pop-Up Source link Drink Coffee Like A Wes Anderson Character at Dayglow's 'French Dispatch' Pop-Up