Local
Detained immigrants hope ICE lifts ban on visitations in place since start of pandemic | News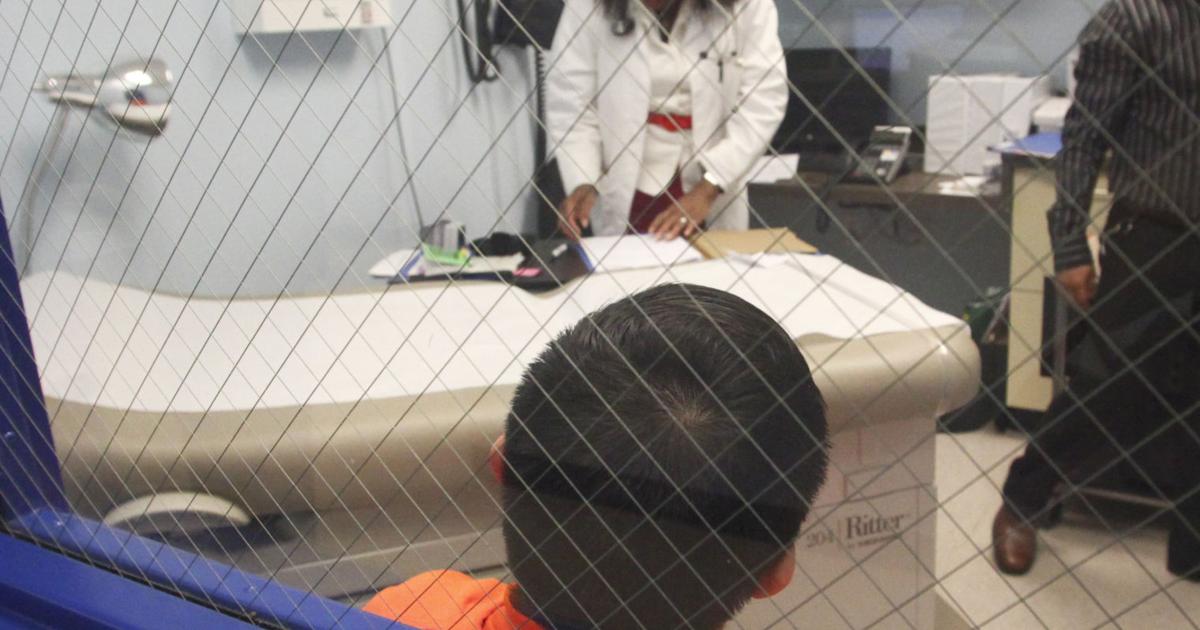 Immigrants arrested in Kern County and the United States are pushing for U.S. Immigration and Customs Enforcement to lift a ban on visits that has been in place since the coronary pandemic began.
Detainee advocates say Sunday marks two years since they were allowed to visit relatives and friends in person. Detainees are now seeing many of the restrictions over the past two years being removed across the country and are expected to be forgotten as the spread of COVID-19 spreads less.
"I haven't been able to see my family for two years," said Serafín Andrade, a Mexican immigrant who is being held in McFarland's Golden State Annex. "I would often receive their visits. When I was in the visiting room, I felt like I wasn't a prisoner. For me, it was like an escape. Being able to put all those worries and things behind you, at least in those few hours. Now that I don't have that time, you have to deal with a little more stress, a little more anxiety. It makes it worse to deal with it. "
Immigrants from the Mesa Verde ICE Processing Center in Bakersfield and immigrants from the Golden State Annex are arrested after their normal detention. Many were arrested by the ICE after serving a prison sentence.
Those who have been confined in immigrant detention centers for many years are usually fighting in the courts to continue in the United States.
On its website, ICE says the social visit has been "temporarily suspended" as a result of the coronavirus pandemic.
"ICE acknowledges the high impact of interrupting personal visits and urges managers and facility administrators to make the most of teleconferencing, video visits (such as Skype, FaceTime), email, and / or tablet usage as long hours as possible." , government agencies. published on its website. "ICE will continue to work with the CDC, IHSC and its network of healthcare providers to provide updates and review procedures if necessary."
ICE has no qualms about commenting on this story. GEO Group Inc., a company contracted to operate Mesa Verde and Golden State, sent questions to ICE.
Some detainees have lost sight of the main milestones of their families' lives and prevented them from seeing their loved ones in times of need.
Salesh Prasad, a Fijian immigrant arrested in the Golden State Annex, said during the pandemic he was not allowed to see his mother from COVID-19 on September 28th.
"I couldn't even talk to him. I couldn't say goodbye, "he said. "Sometimes I accidentally call his number and start realizing, 'Oh, no, my mother is dead.'" It's awesome. It's painful. It empties her mentally emotionally. Spiritually, you question your faith. "
Although medical experts see congregational settings as particularly weak for COVID-19 appearances, detainee advocates question whether continuing family visits would release all restrictions in much of the country.
Laura Duarte Bateman, head of communications for the California Immigrant Justice Co-operation, said the visit ban is similar to other practices in detention centers that make those inside uncomfortable. Along with the lack of visits, poor food, cold temperatures and other hardships, people complained that it was worthwhile to apply for self-deportation instead of going through lengthy court battles.
"These are small problems, but they are tactics that want to break people's minds," he said of the conditions inside the facility. "That's why it's important to address these issues as well, because they clearly affect people who have been arrested."
Bakersfield, a non-profit organization dedicated to befriending and visiting Kern Welcoming and Extending Solidarity to Immigrants, Mesa Verde and Golden State immigrants, has had to change its approach to the ban on visits. The organization has called on the detainee commissioner to donate money to the accounts and help those who are released to return to friends and relatives.
KWESI co-founder Jeanie Parent suggested that ICE could only allow vaccinated people to visit or enforce strict mask orders if they were concerned about the spread of COVID-19. He added that the detainees appeared more depressed and more isolated in the pandemic.
"They feel really forgotten, like they don't see it when they're inside," he said. "I think it's cruel on the part of ICE and it's time to stop visiting their families."
You can contact Sam Morgen at 661-395-7415. You can also follow @smorgenTBC on Twitter.
Detained immigrants hope ICE lifts ban on visitations in place since start of pandemic | News Source link Detained immigrants hope ICE lifts ban on visitations in place since start of pandemic | News