Local
CSUB alum's screenplay takes off | Entertainment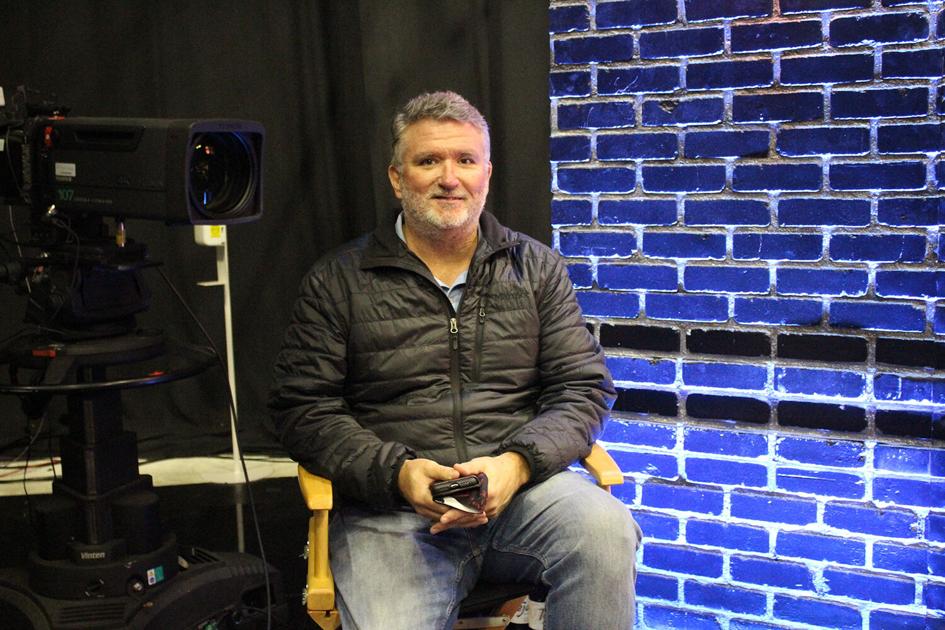 It seems to be the premise of a comfortable movie.
A young man who doesn't know what to do with his life is noticed by an English teacher who takes a poetry class at a small state university and develops his writing skills. While trying to make it in the entertainment world, he writes a script that will be made into a movie purchased by Netflix for $ 20 million a few years later.
But it's not a movie plot, but a true story of CSUB's alum, Matt Harris.
Harris's script, The Sterling, is a drama starring Melissa McCarthy, Chris O'Dowd, and Kevin Kline, premiered at the Toronto International Film Festival and is currently being streamed on Netflix.
It's the story of an everyday couple (McCarthy and Odaud) struggling to recover from a tragic loss. McCarthy is initially seeking advice on how to deal with starlings, with the help of a psychologist who turned to a veterinarian (Klein).
"It's that kind of story that's easily pitted as a pleasing story, but I tried to make it a reality," Harris said from his home in Burbank. "I don't like it when I see and read stories of people who have experienced such losses and say,'Everything is okay!'," He said.
Harris breathes hope and humor into "Sterling" so that no one is worried that the story is downer. Given his current job, it's no surprise. He is the executive producer of the hit MTV clip show "Ridiculousness".
It took years for Harris to see his words turn into a movie, and there were many disappointing turns. But when he did, he was able to get into the set during the last five weeks of filming in the late summer of 2019.
After years of wanting to see actors, producers, cinematographers and others bring his work to life, the experience was "very satisfying," he says.
And Harris says that without the instructions, guidance, and support from CSUB's mentors, none of them would have been possible, not a movie project or previous screenplay awards or production credits.
"I'm really grateful to them for recognizing the spark and raising it," he said. "Without it, I wouldn't have been here today to talk to you about the script I wrote."
Road to CSUB
Harris's father was in the oil business, so he used to move around as a kid. He didn't know where to go to college, so he followed his sister to St. Mary's University in San Antonio. "I wasn't an avid student," but he liked reading and seemed to be good at writing.
When his parents moved to Bakersfield, Harris spent the summer there and liked it. He finally stayed and finished his college career at CSUB.
One of Professor Jeffrey Spencer's first mission in a 300-level English class was to analyze poetry. Just before the class started one day, Spencer stood at Harris' desk and asked, "Are you majoring in English?"
Harris, who has been fighting impostor syndrome for a long time, was trying to apologize for a poorly written treatise when Spencer began reading it into his class.
Spencer was so impressed that he asked Harris to talk about his interests and introduced him to another professor. They explained what he could do with an English degree, taught him the critical thinking skills he is currently using to evaluate screenplays, and made him believe in himself.
"I was taken to the English Department, and that would change my life," Harris said.
Harris is in contact with Spencer, who lives in the Bay Area at the age of 93.
"Very often students are unaware of their gifts until they are pointed out by them, and that's what I did for Matt," she said. "He was really talented and ran with the ball."
Harris earned an English degree from CSUB in 1991 and then a master's degree in American literature from San Diego State University. He then envisioned a PhD, teaching at the Liberal Arts College in the Midwest, and writing a script.
But he didn't get any of his PhDs. The program he applied.
"Stupid" TV carrier
Harris was trying to understand his next move when a Los Angeles companion told him about his production assistant gig at PBS. Harris was able to get a job, sleep on a friend's dirty couch, save enough money for his place, and take some writing classes.
It became a PA job at CBS's Sitcom, and Harris continued to acquire skills. He took the opportunity to write and got one of the Fox series featuring wild police videos.
"You're actually writing a copy of the narration that talks about these real-life police chase, and I said," Are you kidding me? I love this. This is great. I'm on TV. You can write and hear my spoken words. "
It led to the writing of clip shows caught on various tapes and the subsequent director of the writer. The next thing he learned was that Harris was Executive Producer and Executive Producer.
In 2016, Harris launched the Nickelodeon Kids Series Crashlet, which featured sports bloopers and blunders, and persuaded the then-tight-end Rob Gronkowski of the New England Patriots to host it.
Two years later, Harris took over the "ridiculous thing" and mandated that the number of episodes per year increase from 40 or 60 to 168. "Stupid Things" features a viral video from the internet that criticizes long-time host Rob Dyrdek and his co-host.
Harris currently produces over 250 episodes a year and is celebrating the 1,000th episode of the series. MTV frequently broadcast "ridiculous" marathons and created several spin-offs.
"Viral videos have always been entertaining me since the very early days when I first started watching this new thing called YouTube," says Harris.
"Sterling" flies
Harris' first script was the Western drama "Popping Tree Moon," about bounty hunters in the early 20th century, who were hired to track down Sioux Indians who allegedly captured white women. In the process, he revisited past crimes, including participating in the December 1890 massacre of Native American injured knees by US Army soldiers.
Harris wanted to get attention as a screenwriter, so he invited the screenwriter to the contest. He was one of the five winners of the 2002 Academy of Motion Picture Arts and Sciences Nicole Screenwriter Fellowship, the most prestigious Screenwriting Awards.
Nicholl came with a $ 30,000 award designed to give the winners time to write their next script. The money helped Harris finish "Sterling".
Harris broke up with him because he secured an agent who tried to make a Westerner, but the agent's efforts went nowhere and he couldn't circulate "Sterling."
A powerful creative artist agency has become the "Sterling" champion, and Harris has told author directors Tim Robbins and John Lee Hancock about making it. Many times Harris thought a movie would be made, but the stars (champion, talent, funding, and luck) never matched.
In April 2019, producer Dylan Sellers called Harris and asked if "Sterling" was still available. That last option has expired. The seller then prepared lunch for him, Harris, and Ted Melfi, the director of the "hidden person" fame who wanted to make a movie. He was already talking to McCarthy about it.
"I was like,'OK, well, it sounds like it's going to happen,'" said Harris, who went into lunch preparing to be disappointed again.
The seller had the "inspired" idea of ​​having Lily (McCarthy) as the main character instead of Jack (Odaud). At first, Harris wasn't excited about the idea of ​​recreating a piece he had been tinkering with for 15 years. But when he started the process, he said, "bringing things to new life."
In the original script, Lily entered a mental health facility. In the new one, Jack did. Harris loved the switch.
"It was a bit of a cliché, you know, women somehow take it harder than men," Harris said. "It was really helpful to me because I didn't think I wrote a character without dimensions or emotional depth, but when I changed roles I was stunned and a little embarrassed about how I drew it. It's a female character in my story. "
Harris was in charge of most of the shoot. He became "a little arrogant" and asked to talk about what he was feeling.
"Walking through the movie set, you'll see star wagons and production trucks, and it looks like a small little town has been built. The streets are closed and police are guiding traffic," Harris said. .. "And you walk,'This is all due to some things that came out of my head.'"
Today, the acclaimed Western director Walter Hill is making a film from "The Moon of the Popping Tree," starring Christoph Waltz and Willem Dafoe. However, Hill changed the story considerably and gave the movie the title "Dead for a Dollar".
Hollywood news website Deadline said one of its producers, Kirk Damiko, said Hill "created a western drama with contemporary themes and contemporary sensations," and Waltz and Dafo said, "History of the film." It embodies the extraordinary leading role destined for. " ""
Harris says Hill is a great director and the action of the movie promises great, but he wonders if the movie lacks some of the dramatic elements and character development of the original version. I'm thinking.
"But you know, it was collecting digital dust," Harris said. "Unless'Sterling'was a hit like'Matt, I want to make whatever you have', I wouldn't see the light of day."
Harris at home
Harris met his wife, producer Molly Ryan, in the A & E series "Ancient Mysteries and Bible Mysteries." Her background is documentary and journalism.
They got married in 1998 and have two daughters, Maggie and Erie.
Harris's mother died last December, but his father, like one of his sisters, still lives in Bakersfield. Another sister who died raised a girl in Bakersfield. Two of his nieces are CSUB graduates.
That is, he comes to town on a regular basis, but has little connection with CSUB. He changed that and signed up to mentor students of this year's CSUB Alumni Runner Alumni Mentor Program.
He wants to repay the mentorship he received from CSUB faculty members.
"It's that person who is interested in you and says,'Hey, you're good at this' or'Hey, you can't do this,'" Harris said. "Once you realize that power, you can't help but want to do it yourself."
CSUB alum's screenplay takes off | Entertainment Source link CSUB alum's screenplay takes off | Entertainment