Local
Conrad Los Angeles and the Grand are bringing Bunker Hill closer to its pedestrian-friendly potential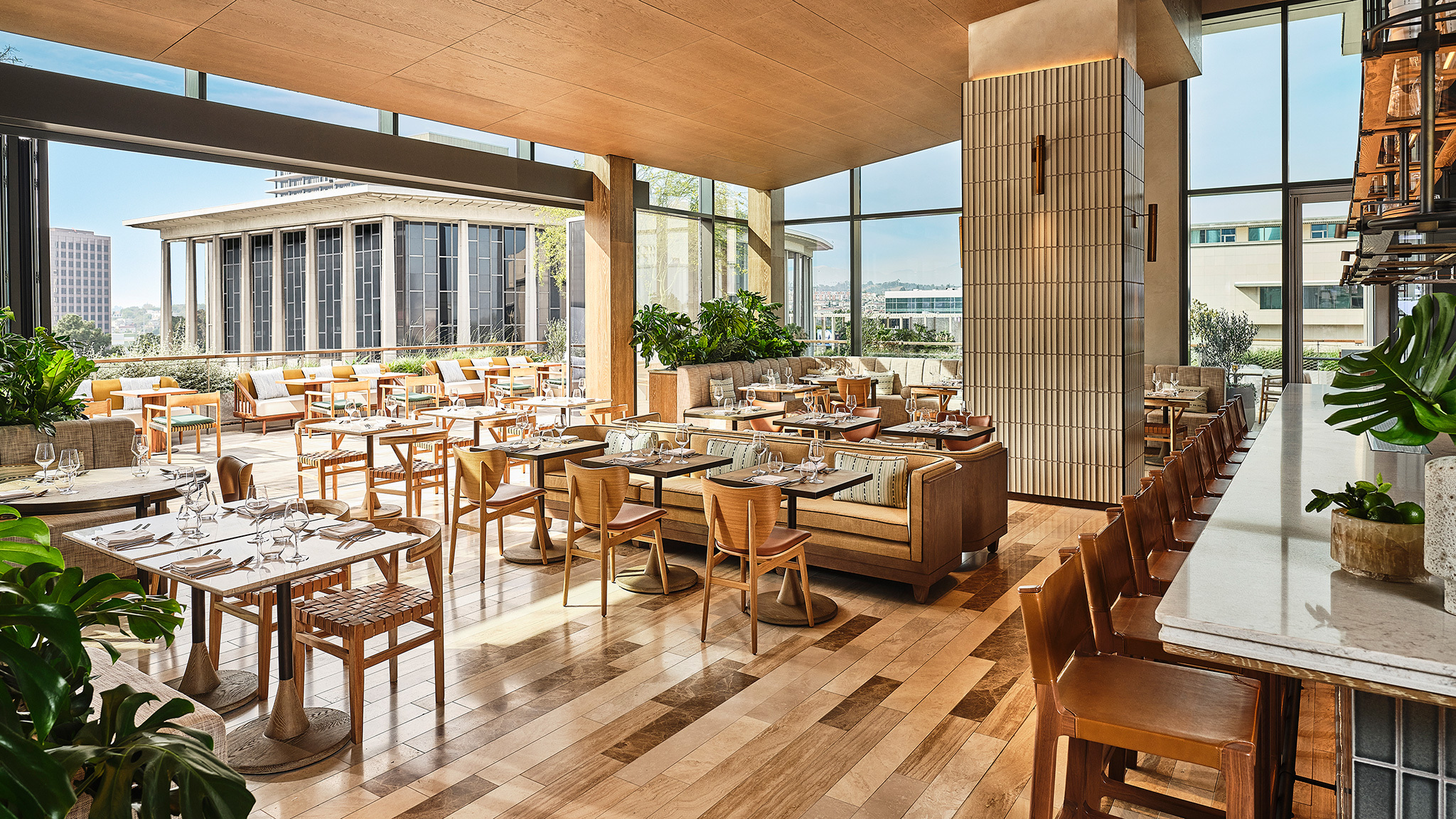 Making plans atop Bunker Hill almost always involves "…and then what?" You've got reservations for the wide one… but then where can you walk after that without undermining it all the way down to Pershing Square? You have tickets to a show at Walt Disney Concert… but then where can you get a drink?
The newly discovered Conrad Los Angeles arrived with an answer, even if you do not intend to spend the night in Downtown LA hotel. Positioned between the ultra-luxe Waldorf Astoria and the more familiar Hilton label, the Conrad brought 305 guest rooms, as well as a spa and a host of restaurants and bars helmed by José Andrés, to one of two Frank Gehry-designed towers on the other side of across the street from Disney Hall.
It's the first completed piece of what was once known as Parcel Q, Los Angeles' most quintessential story of prime property on Grand Avenue: As Victorian mansions gave way to civic campuses and postmodern skyscrapers, a block-sized hilltop parking lot was built in the late 1960s to try to meet the increased demand for cars. It was clearly ugly then, and it was still ugly when the supposed temporary lot continued to exist half a century later as a pedestrian dead zone right in the center of what was supposed to be the cultural heart of DTLA. But in 2018, the lot was finally razed, and after a number of delays, the resulting mixed-use complex opened its doors — well, at least the hotel part of it.
It has a trio of main components Grand: a three-level shopping and dining plaza that won't be ready until next year; 45-story tower divided into two levels of residences; and the Conrad Los Angeles, a 25-story hotel we toured earlier this summer as it neared completion.
As you enter the 10th floor lobby, you'll find yourself in an indoor-outdoor space at eye level with the Music Center's grand auditoriums—certainly an aesthetic upgrade over the parking deck. It's the kind of space you'll want to linger in, so it's no surprise that it's dominated by José Andrés' dining concepts: San Laurel, a Spanish-California menu served in a dining room that extends onto the patio; Sed, a curved cocktail bar that specializes in drinks that will make you open your camera app; and the Beaudry Room, a stylish take on a casual lobby bar.
"The way I envisioned it," explains Adam Heffron, the hotel's general manager, "you'd say 'let's meet in the Beaudry Room, we'll talk about where we're going tonight.' The next thing you know, I'm two bottles of wine down, I've had a steak, and I'm sitting outside by the fireplace.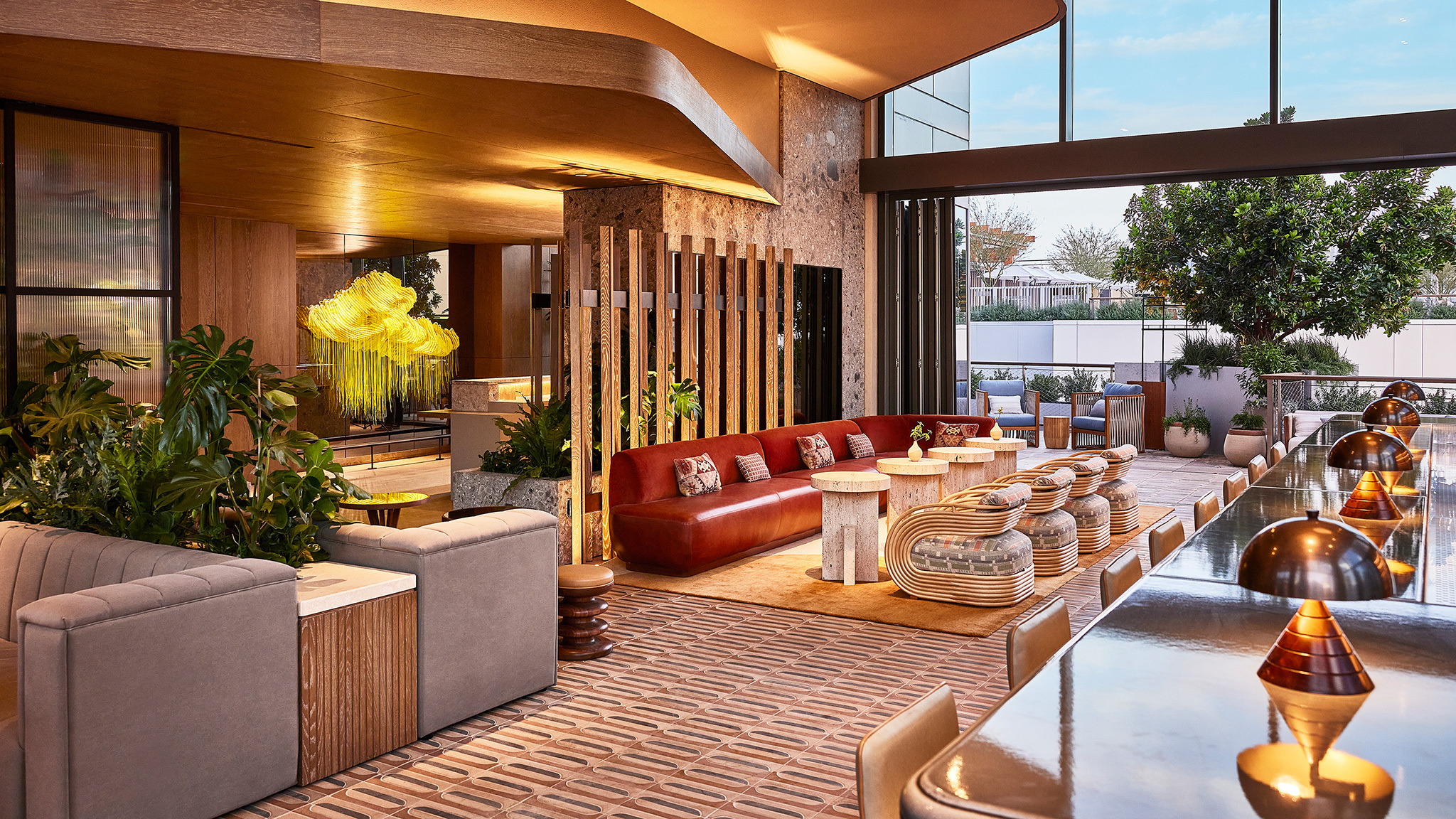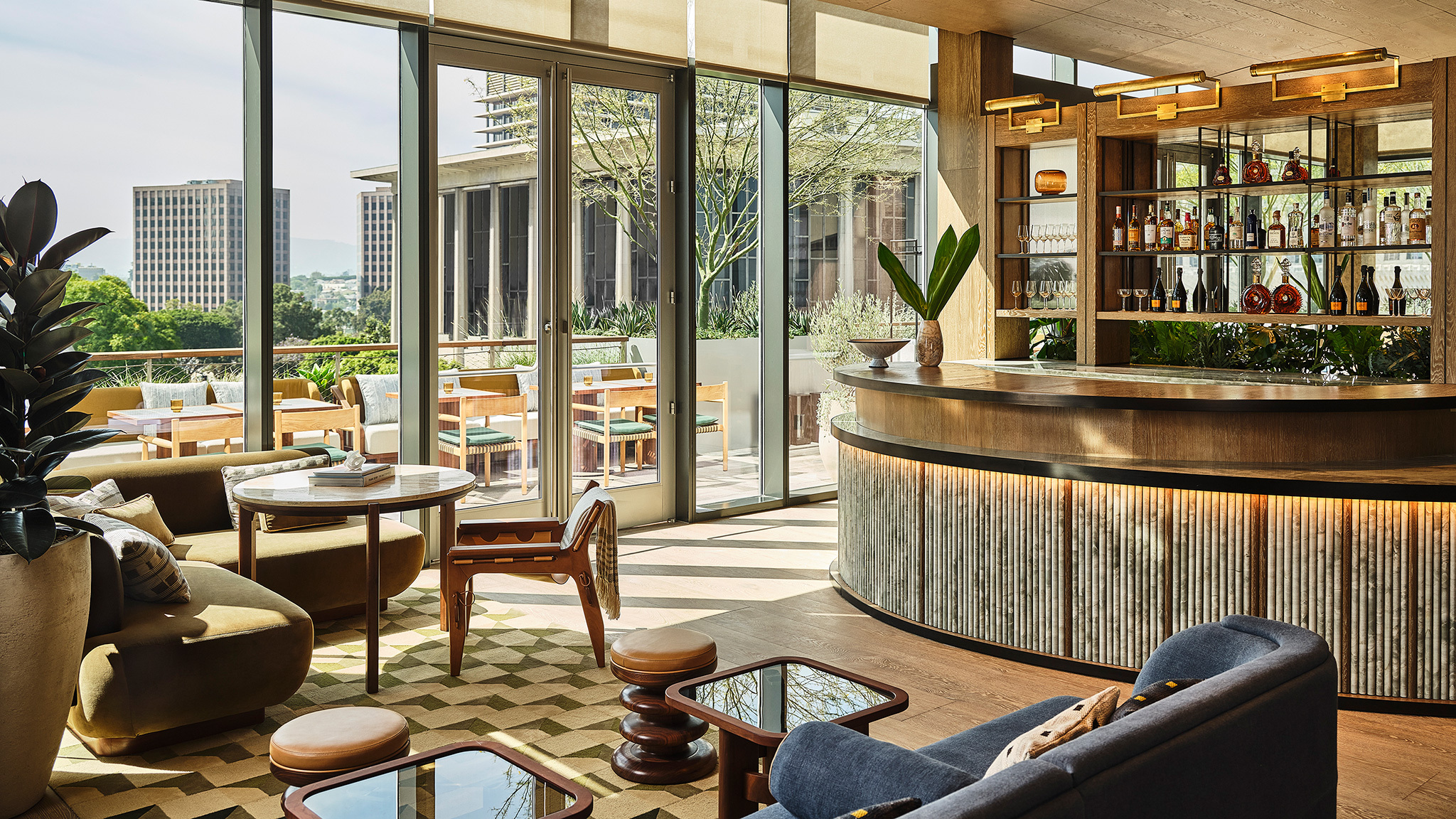 Although we were particularly enthralled by the lobby's panoramic view of Grand Avenue, the pre-show and post-show reservation will definitely be outside on the terrace at Agua Viva. Its southeast perch means its views are mostly of government buildings, but you'll be much more focused on the thicket of wooden trellises, woven fibers and lush greenery. When it comes to food, you'll find Japanese and Latin American cuisine parallel, but not necessarily fused together (so, say, ceviche and hand roll, but not a collision of the two). It's also right next to the pool deck—easily the largest open in DTLA, with only the JW Marriott coming close—which includes even more bites at Andrés at Airlight.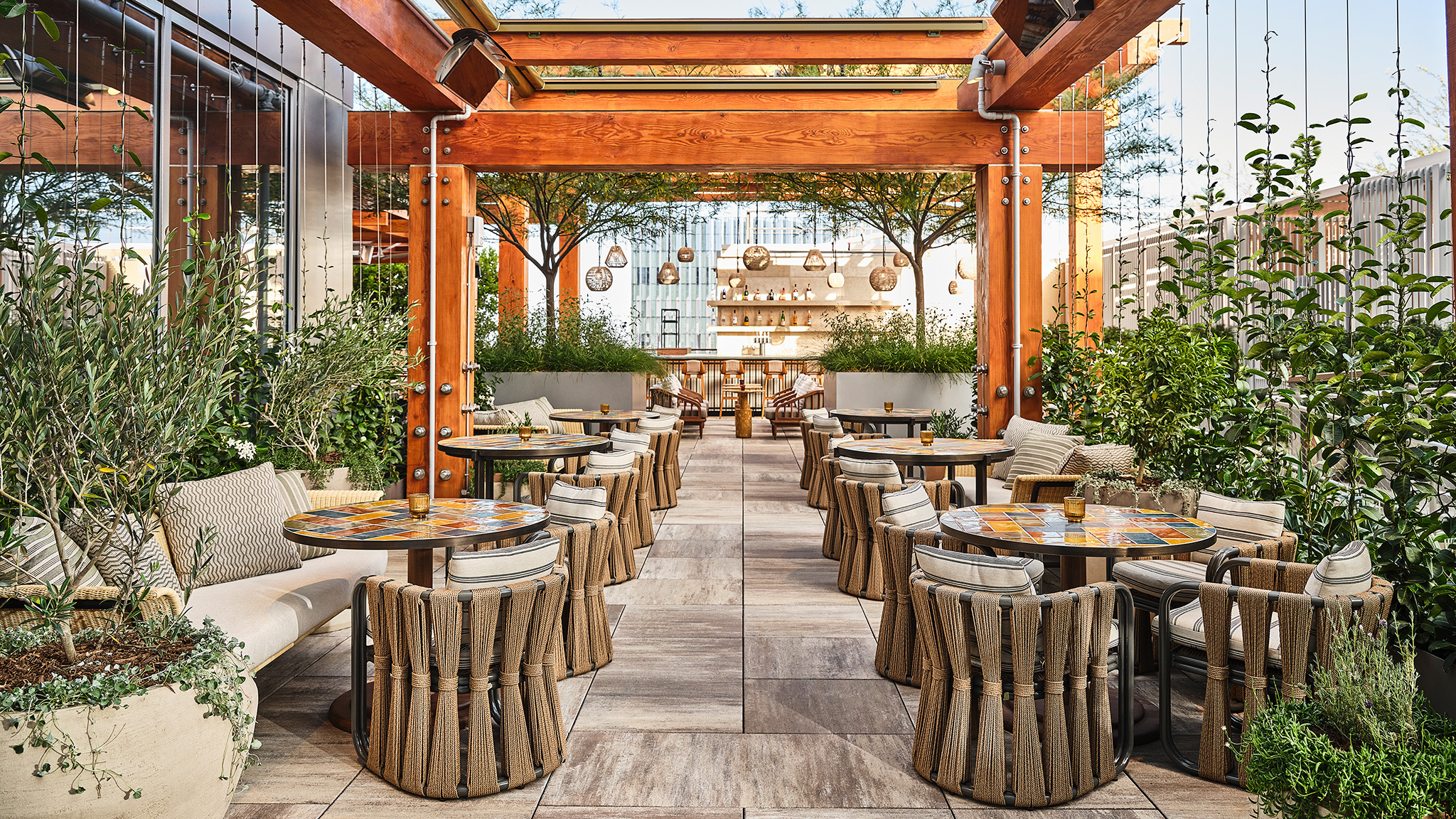 Back in the lobby, the industrial edges of Gehry's construction are softened by designer Tara Bernard's interior touches, which combine sleek, mid-century-inspired lines with warm wood finishes and bright colors. There are local elements throughout, from the floor tiles handcrafted in Inglewood to the curated artwork entirely by Los Angeles artists including Ben Medansky, Casper Brindle, Mimi Young and Brian Wills.
The aesthetic carries over into the surprisingly spacious guest rooms (made even more airy with some clever sliding doors that open the bathroom vanity). Unlike most towering hotels, you may find yourself wanting to stay lower; like the lobby, the lower floors have postcard-worthy views of Grand Avenue, but move around the 18th floor and you start to see more of the facilities that crowd the rooftops of the Broad and Disney Hall.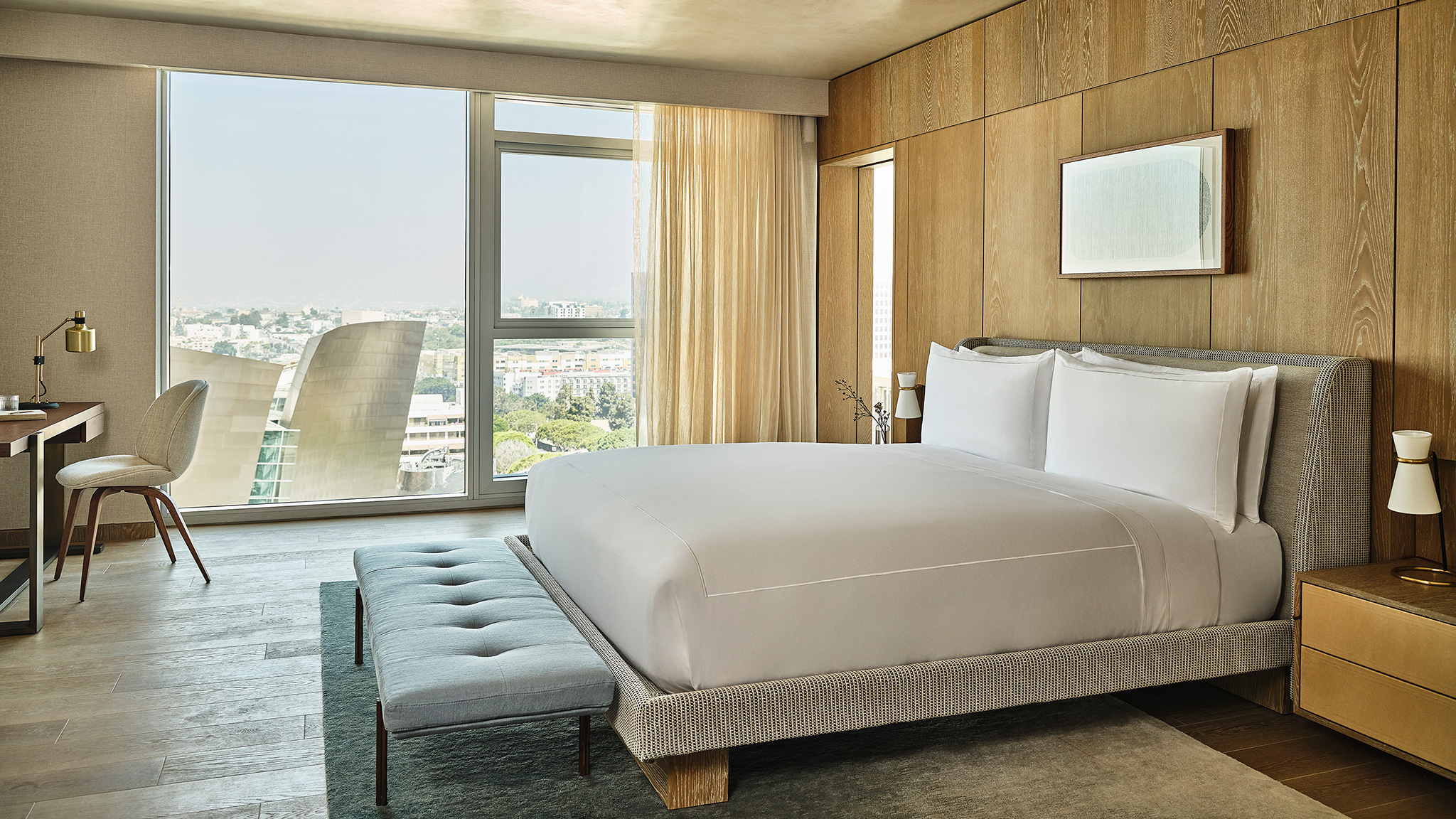 Even the spa turns its attention to the cityscape. There are also three recovery cabins, nooks that can be booked by the half or the hour, that overlook the Grand's central square while filtering out almost all outside noise. As for the more formal services, the focus is on "intuitive massages," a sort of relaxation buffet that spa director Alina Medyanikova says avoids some of the typical downsides of massage. "Instead of going, 'oh, but I want deeper pressure,' and then the therapist saying, 'okay, but it's a deep tissue massage—you have to pay more for that,' it's almost a personalized massage," she says.
The spa is a pretty intimate place, but that doesn't seem to have always been the plan. On the eighth floor, a lofty, cave-like, magnificently situated room along Grand Avenue currently stands unfinished. It was originally supposed to be a spa when Equinox was the original hotel operator, but the tenant quietly changed last year and Conrad quickly moved in early fall; they have not yet announced plans for the space.
There are still some missing pieces that need to be put into place in the larger grand complex, specifically the retail center which includes another Jose Andres Dining Concept. And The subway The Regional Connector project will bring a subway station just a block away later this year (fingers crossed). But with the opening of the Conrad Los Angeles and its many culinary spaces (and even the recent arrival of Ray Garcia's Asterid across the street), this stretch of Grand Avenue finally feels like it's pedestrian-friendly. The late philanthropist Eli Broad, who funded many of the block's earlier developments, including its namesake museum, once envisioned Grand Avenue as Los Angeles' Champs-Elysées. Maybe the avenue will never reach that level of foot traffic (a fact Broad himself acknowledged), but its mid-2022 status is already surely beating a parking deck.
Conrad Los Angeles and the Grand are bringing Bunker Hill closer to its pedestrian-friendly potential Source link Conrad Los Angeles and the Grand are bringing Bunker Hill closer to its pedestrian-friendly potential