Local
Congressman Aguilar visits Fontana to promote bill designed to help fight wildfires and protect water supplies | News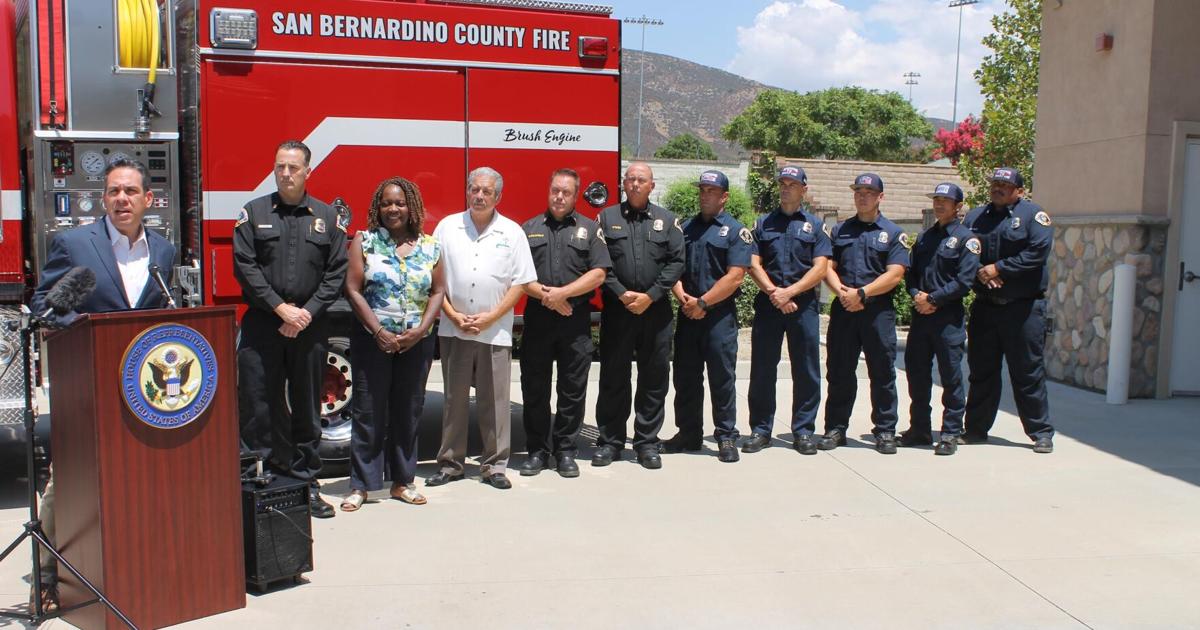 Rep. Pete Aguilar (D-31st District) visited Fontana on Aug. 2 to express his support for legislation that he said will help local firefighters as they deal with the constant threat of wildfires.
Aguilar, joined by San Bernardino County Fire Chief Dan Munsey, spoke at a news conference at Fire Station 79 in the northwest corner of the city.
Next, they toured the nearby area in Lytle Creek which was affected by the Southern Fire, which resulted in evacuations and lost homes last year.
Fontana Mayor Acquanetta Warren and City Council Member Jesse Sandoval, along with several firefighters, attended the event.
"Fires know no boundaries between our local cities, our county, and our federal and state lands. We need to make sure we are giving all the resources we can to our local agencies to help mitigate and protect lives and property. That's exactly what they do here at Station 79, and I'm grateful for their efforts," Aguilar said.
Munsey said state and federal government support is vital because the county has been ravaged by dozens of large fires during his 27 years with the department.
Aguilar voted in favor of the Fire Response and Drought Resilience Act (HR 5118), which passed the House and was sent to the Senate for consideration.
Aguilar said HR 5118 is a comprehensive package of bills that takes the necessary actions to protect communities from wildfires and protect water supplies. The bill increases pay and benefits for federal firefighters, creates a 10-year fire management plan, advances modern water management technology and data, and invests in drought-proof water supply projects.
"Fires have become a year-round threat, especially in our communities, burning larger areas of land with greater intensity," Aguilar said in a statement. "Wildfires are only expected to worsen due to extreme drought conditions. Passage of this bill ensures that the Inland Empire and other areas affected by severe wildfires are provided with the resources they need to preemptively address fire danger and support our nation's depleted water supplies. We can no longer wait to act on climate change, the health of our planet depends on it."
In 2021 alone, the effects of drought and wildfires have cost the United States approximately $20 billion. More than 2.5 million acres of land in California burned due to wildfires last year.
Earlier this year, Aguilar voted for the Bipartisan Infrastructure Act, which included $84 million in California over the next five years to create a wildfire management plan.
(function(d, s, id) {
var js, fjs = d.getElementsByTagName(s)[0];
if (d.getElementById(id)) return;
js = d.createElement(s); js.id = id;
js.src = "//connect.facebook.net/en_US/sdk.js#xfbml=1&version=v2.5&appId=1550124928647000";
fjs.parentNode.insertBefore(js, fjs);
}(document, 'script', 'facebook-jssdk'));

Congressman Aguilar visits Fontana to promote bill designed to help fight wildfires and protect water supplies | News Source link Congressman Aguilar visits Fontana to promote bill designed to help fight wildfires and protect water supplies | News