Local
City's First 'Pride' Event is One For the Books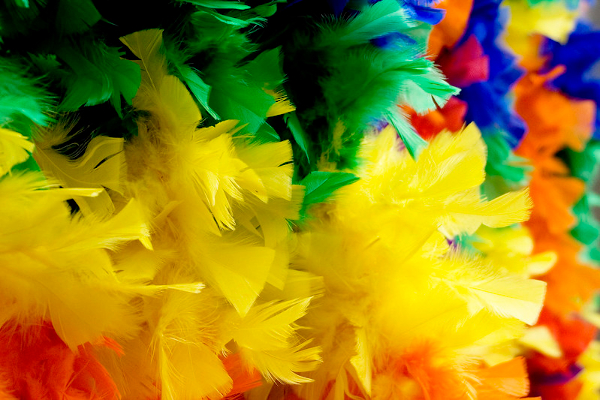 For the first time in Elk Grove history, Emily Autenrieth, owner of "A Seat at the Table Books," hosted the city's first Pride event in a two-day celebration as the start of "Pride Month" on the weekend of June. 4.
"We can't be more grateful for the incredible experience of giving Elk Grove its first Pride Weekend with the support of the City's Diversity and Inclusion Commission," Autenrieth said.
"This weekend was all about the joyous affirmation of LGBTQ + identity and the many ways queer people make the world and our city a better place."

-Emily Autenrieth, owner, A Seat at the Table Books
"We are grateful to the City Council; the queer makers who came out to share their products; the musical and drag performers who lit up our Big Queer Party and the many community partners who made this possible, Autenrieth said.
"Elk Grove Pride" was the theme, as the weekend event was packed with singing, dancing and a variety of entertainment and guest speakers. Most importantly, many felt that something bigger and more transformative was happening inside the city.
Steps to Progress
The "Lesbian, Gay, Bisexual, Transgender, Queer, Intersex, and Asexual" (LGBTQIA) community has been gaining more recognition and acceptance in recent years. In fact, on May 22, 2019 Elk Grove City Council issued its first proclamation of recognition for Pride Month. The first hoisting of the Pride of Progress Flag was held on June 1 at Elk Grove Town Hall. To this end, the bookstore continues to build its reputation as a welcome center for diversity and inclusion.
"Elk Grove did not have a space for this community. It's been a long time coming, "said Jessica Carter, chair of the city's Diversity and Inclusion Commission." But I'm seeing progress toward being more inclusive. And that's a beautiful thing. "
In addition, throughout the weekend, young people and adults walked through the doors dressed in rainbow-colored buttons, bandanas, and colorful shirts. They mingled with each other and bought at the various tables of the vendors. A girl, dressed in a rainbow flag clip in her hair, danced through the store. Her mother, Carissa Reis, said she felt very supported as a gay father.
"I love it. We didn't have this in my younger days," Reis said. "I'm excited to show my daughter what our community is like. It can help her normalize that she may not be the only daughter with two mothers. "
Even those who consider themselves as old school thinkers said it's time to "bend" ingrained attitudes about gay pride.
"What if two women go hand in hand," said local minister Tina Mercer. "That's love."
"There's too much hate in the world. Why close love?"

-Tina Mercer, Elk Grove Minister
A colorful collection of entertainment
A drag king and queen show took place, which was a city first. George Azar shared his journey as a closed evangelical pastor seeking a sense of belonging to the church. Bret Bugs, a Davis drag queen storyteller and kindergarten teacher, wanted to spread love and gender expression through shocking tales. KC Shane, the first openly transgender singer and songwriter nominated for a "Sammie" music award, aroused emotions in his guitar. And some vendors attended their first Pride event.
Youth It may be change
The curator of Diversity and Inclusion, Delia Orosco, was a guest reader of age-appropriate stories on gender roles and identity. She said events like this could plant seeds in young adults to become community pillars.
"It could inspire the younger generation to take on leadership roles," he said. "But I hope they continue to help us grow.
"We can learn from them. We can make our city a place that honors the diversity that lives here."

-Delia Orosco, Elk Grove Diversity and Inclusion Commission
George Azar, author of "My Gay Church Days: A Memoir of a Closeted Evangelical Pastor Who Eventually Had Enough," said young people should understand that there is nothing wrong or wrong with their sexuality.
"They're not alone," Azar said. "We can build a community together and help each other."
What's coming?
Seat at the Table features a series of reading club readings to commemorate Pride Month. They include:
-Dead Dead Girls by Nekesa Afia on June 23 at 5 p.m.
-Beyond the Gender Binary by Alok Vaid-Menom on June 25 at 4 p.m.
-The Jasmine Throne by Tasha Suri on June 27 at 5 p.m.
-Blaine for the Win by Robbie Couch on June 29 at 5 p.m.
-Yerba Buena by Nina LaCour on June 30 at 3:30 p.m.
"We hope this is a start. I hope Elk Grove embraces Pride in June and throughout the year," said Ryan Autenrieth, co-owner of the bookstore.
"All of this is happening at an intersection of times where people are ready and need that pride to be celebrated."

Ryan Autenrieth, co-owner, A Seat at the Table Books
For more information on "A Seat at the Table Books" and upcoming events CLICK HERE.
City's First 'Pride' Event is One For the Books Source link City's First 'Pride' Event is One For the Books