Local
Brothers from Fontana who were in foster care are able to overcome challenges, look forward to college | News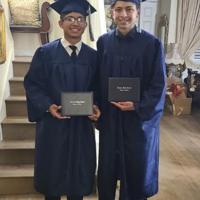 Two brothers from Fontana are among more than 300 young people in foster care who are being honored for achieving their goals in high school and are now pursuing post-secondary education.
Jerry Davalos, 18, and Javier Davalos, 19, will be introduced during a virtual party hosted by the Los Angeles County Department of Child and Family Services (DCFS) on June 21st.
The two brothers are scheduled to attend Chico State University in the fall.
They are first-generation high school graduates overcoming abuse and neglect due to parental involvement with gangs and substance abuse disorder, according to a press release sent by DCFS.
With the support of his legal guardians, Jerry excelled at school, joined the track and cross country teams and now holds the 2-mile record at his high school. Jerry graduated with a grade point average of 3.82.
"My overall goal is to touch as many children as possible, in order to make a difference in this world," he said.
Javier also excelled in school and successfully passed the special education class and graduated with an average grade of 3.62.
"It was a difficult and long road, but along the way I reached many stages. "Now I am a different person, thanks to my legal guardians, who have been with me along the way," he said.
(function(d, s, id) {
var js, fjs = d.getElementsByTagName(s)[0];
if (d.getElementById(id)) return;
js = d.createElement(s); js.id = id;
js.src = "//connect.facebook.net/en_US/sdk.js#xfbml=1&version=v2.5&appId=1550124928647000";
fjs.parentNode.insertBefore(js, fjs);
}(document, 'script', 'facebook-jssdk'));

Brothers from Fontana who were in foster care are able to overcome challenges, look forward to college | News Source link Brothers from Fontana who were in foster care are able to overcome challenges, look forward to college | News