Local
Boys team tennis back in action Tuesday, with individual tournament set for this weekend | Sports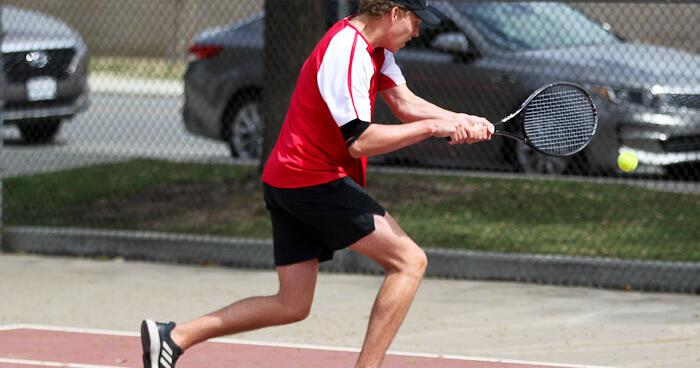 High school boys' tennis week kicked off this afternoon with five teams from the field competing for the finals of the Central Section teams.
The first qualifier in the West will be the only home game to be played at home when the Vikings play at No. 4 Firebaugh No. 4 at 3:30 p.m. Title.
Centennial, Bakersfield Christian, Golden Valley and Independence will play on the road at 4 p.m.
4. The Golden Hawks are at No. 1 Clovis Buchanan II. Level, 6. Eagles Hanford-Sierra Pacific No. 2, III. Mailan.
12. The Bulldogs, in the opening game Tulare-Mission Oak No. 4. angry and on Wednesday Chavez No. 13. who will dominate will play at No. 1 San Luis Obispo-Mission Prep. Independence No. 6 Selma plays No. 2 in the other semifinal.
In the men's and women's individual section of the Central Section tennis match to be played in Garces on Friday and Saturday, several of the local players received favorable ratings.
Eli Noel of Bakersfield High is the first individual qualifier and will play against No. 16 Josh Wilson of the Hanford-Sierra Pacific team on Friday at 9 p.m. The quarterfinals are at noon, and the semifinals will begin at 9 a.m. Saturday.
If all goes according to plan, Bakersfield Christian Ryan Bashirtash No. 2 is expected to face Noel in the final. Bashirtash will open Friday morning against No. 15 Preston Nguyen of St. Louis Bishop.
No. 11 Calvin Hibbard of Tehachapi will play No. 6 George Keskinov of Arroyo Grande, and No. 12 Kabir Rahal Stockdale No. 12 will face No. 5 Ian Cabrinha of St. Louis Bishop in other individual opponent matches.
In the doubles match, Brett Yackovich, a BVarsity All-Area player last year, and teammate Max Geissel are the first to qualify, and Isaac Maciel-James Isaac Malloy, Tulare-Mission Oak, will play No. 16 in the opening match on Friday. The quarterfinals will begin at 10:30 a.m. and the semifinals and finals will begin at 10:30 a.m. Saturday.
Bradley Campoy-Thomas Lehman of Liberty is in 3rd place and will play against No. 14 Brandon Jensen-Sulaiman Syed of St. Louis in the opening game. Any winning team will play against Bakersfield Christian's Zeb Duket-Austin Cusator No. 11 and Clovis West's Ben Burgess-Matt McBride No. 6.
Jonah Barks and Stockdale's Avya Shukla No. 7 will face Nico Bernstein and St. Louis Bishop's Grant Steins No. 10.
Boys team tennis back in action Tuesday, with individual tournament set for this weekend | Sports Source link Boys team tennis back in action Tuesday, with individual tournament set for this weekend | Sports