Local
Bob's Discount Furniture Comes To Elk Grove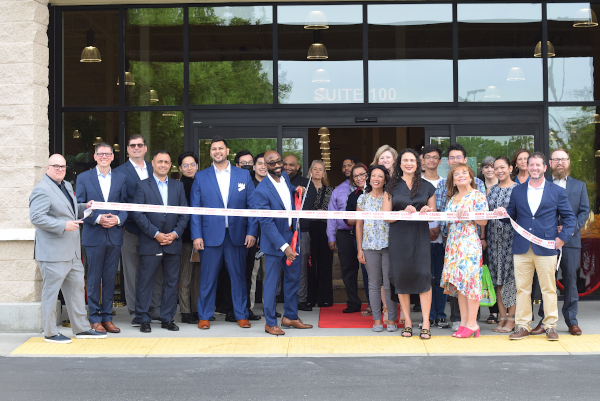 The grand opening and ceremonial ribbon cutting of "Bob's Discount Furniture," located at 7707 Laguna Blvd. Suite 100 at Laguna Crossroads Mall, took place on Friday, May 27th.
Interestingly, there were three major inaugurations that took place on the same day throughout the Sacramento region. In addition to the Elk Grove location, Roseville and Folsom stores also held their grand openings. Elk Grove Mayor Bobbie Singh-Allen and members of the Elk Grove Chamber of Commerce, as well as President and CEO Angela Perry and Angela Spease, were in attendance to welcome the new store to the city.
Unlike other furniture stores, Bob's offers a wide range of fashionable furniture and mattresses at discounted prices. Most importantly, they offer a unique in-store shopping experience. To do this, customers will be able to enjoy personalized purchases in the store's "Experience Center", where they will be able to access a digital catalog and browse their latest product line. In addition, each store has a café serving gourmet coffee, ice cream, biscuits and free sweets.
Founded in 1991 in Manchester, CT, they now have 150 stores nationwide.
"We're now in 24 different states," said Eric Adelstein, senior vice president of distribution center operations. "Bumping into the country the way we are now: it's one thing to be in Los Angeles, but to be in Northern California … I never thought we'd be here. It's an incredible opportunity."
This is not your normal furniture store
According to the most recent publication of Furniture today, Bob's is ranked as the "tenth largest furniture store" in America. In addition, Bob's ranked it as "the third highest net sales growth of any Top 100 company, an increase of $ 177.7 million to an estimated $ 1.61 million."
Not only that, but they are recognized as leaders in sustainability by both the Sustainable Furnishings Council (SFC) and the National Wildlife Federation (NWF).
In addition, they are proud to support local communities through the Bob's Discount Furniture Charitable Foundation and a separate entity known as the Bob's Outreach. In addition, they donated a total of $ 17.5,000 in charity funds to local organizations. At Elk Grove, $ 2,500 checks were presented to organizations that demonstrated "random acts of kindness."
Those organizations were: Harriet Eddy Middle School; Legenade Childrens Fund and St. John's Program for Real Change (not shown).
Mayor Singh-Allen commented on the philanthropic efforts of the stores.
"And that's one of the reasons I value your business mindset so much … that you give it back to the community and that's what it says here."

-Alc Grove Mayor Bobbie Singh-Allen
Advertising
Planning your visit
According to store manager Vashawn Jackson, members of the Elk Grove community and beyond can expect a positive visit at Bob's.
"I am excited that they have a place to come with low pressure; sales to be able to enter; bring your families into a family atmosphere … enjoy an ice cream and get the best value they can get in the community. "

– Vashawn Jackson, store manager
Operating hours
Bob's Discount Furniture is located in Laguna Crossroads Mall next to Kirkland's. The store is open from Monday to Saturday from 10:00 to 21:00 and on Sundays from 11:00 to 20:00.
For more information on Bob's Discount Furniture, visit them online at: https://www.mybobs.com/
Bob's Discount Furniture Comes To Elk Grove Source link Bob's Discount Furniture Comes To Elk Grove