Local
ASA gets authorization from FUSD to launch K-8 school | News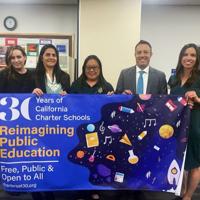 The Fontana Unified School District Education Board recently voted to grant a four-year Allegiance STEAM Academy – Thrive (ASA) authorization, paving the way for the ASA to launch its K-8 school in Fontana.
"We want to thank the community, the staff at the Fontana School Unified District and the Board of Education for their support," said ASA CEO Sebastian Cognetta. "From the beginning of this process, we have tried to be transparent, to display our STEAM-based model, and to demonstrate that ASA can complement the great efforts being made for Fontana students."
ASA intends to start enrollment for the 2023-24 school year, envisaging enrollment of 630 students.
With the authorization of FUSD, ASA can pursue an agreement on the use of the facility through Proposal 39. While ASA intends to establish itself in the southern part of Fontana as a charter school, ASA has no registration limits and can enroll students in it. all of Fontana and surrounding communities.
"This is a historic moment for both FUSD and ASA-Thrive, and I can no longer be proud of our team. "I would like to thank the ASA staff and FUSD staff who worked together to bring an innovative STEAM program to FUSD that can complement the extraordinary programs that FUSD offers to Fontana students," said ASA Thrive Board Chair, Samantha Odo.
(function(d, s, id) {
var js, fjs = d.getElementsByTagName(s)[0];
if (d.getElementById(id)) return;
js = d.createElement(s); js.id = id;
js.src = "//connect.facebook.net/en_US/sdk.js#xfbml=1&version=v2.5&appId=1550124928647000";
fjs.parentNode.insertBefore(js, fjs);
}(document, 'script', 'facebook-jssdk'));

ASA gets authorization from FUSD to launch K-8 school | News Source link ASA gets authorization from FUSD to launch K-8 school | News