Local
Arrowhead Regional Medical Center opens new clinic location in Fontana | News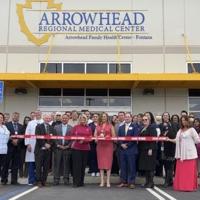 Arrowhead Regional Medical Center (ARMC) will open a new expanded clinic location in North Fontana.
This location at 16888 Baseline Avenue features two operating rooms, 30 examination rooms, three consultation rooms, and spaces for viewing or reading educational materials for patients.
The ribbon-cutting ceremony for the new clinic took place at the new location on April 20th. Present were staff from the Fontana Clinic, hospital administration, and San Bernardino County staff members.
The clinic will serve patients in the near future, according to a press release issued by the county on April 29th.
"The new, modern clinic in Fontana allows ARMC to expand and improve the essential health care services that the hospital provides to our residents," said Janice Rutherford, Second District Supervisor. "As the clinic has additional space and new equipment, patients will be comforted to know that staff members who have served them for so long will stay in the new location."
Patients can visit Fontana's location to receive medical services including radiology, mammography, ultrasound, advanced care management (ECM), and laboratory services, including sampling and blood sampling.
"This clinic will provide many services to those in need of medical services and health maintenance to prevent long-term health problems," said 5th District Supervisor Joe Baca Jr., "For those in need of laboratories, medicine family health, pediatrics, geriatrics, and maternity services, etc., this facility is a great place to start.We look forward to seeing the continued growth that Arrowhead Regional Medical Center has in our community.Stay safe and Healthy."
The Fontana Clinic currently visits an average of 1400 patients per month. The new larger facility allows more patients with a wider range of healthcare needs to be seen.
"This expansion will give us the opportunity to better serve our Fontana patient community," said ARMC Hospital Director William Gilbert. "This larger facility allows us to serve a larger number of patients, and we will also be able to accommodate more resident physicians for rotation through our clinic."


Arrowhead Regional Medical Center opens new clinic location in Fontana | News Source link Arrowhead Regional Medical Center opens new clinic location in Fontana | News