Tech
Apple Refreshes iPhone SE, iPad Air, Debuts Studio Desktop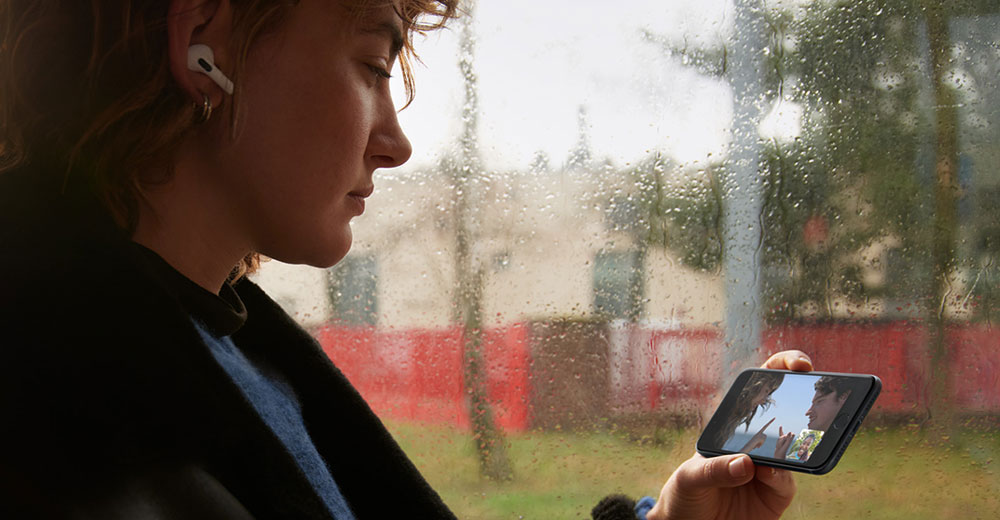 Apple refreshed its iPhone SE and iPad Air models, unveiling a new desktop at an online event on Tuesday.
The new iPhone SE, which retails for $429, features a new processor, the A15 chip, and supports 5G.
The $599 iPad Air also received a processor upgrade to Apple's M1 processor and will also support 5G.
Apple also introduced the Mac Studio, a powerful desktop in a 7.7-inch square box. The M1 Max version costs $1,999, while the version with the new M1 Ultra chip costs $3,999.
Apple also introduced the Studio Display, a 27-inch 5K Retina display with a 12-megapixel ultra-wide camera and six speakers with spatial audio. The price is $1,599.
Pre-orders are now open with shipping starting March 18th.
The Power of Two
"The M1 Ultra was the key technological development announced at today's event," noted Tim Bajarin, President of Creative Strategiesa technology consulting firm in San Jose, California.
"With its new semiconductor design, the M1 Ultra will offer high performance and low power consumption. That's a big thing in the creators' market," he told TechNewsWorld.
The Ultra features a 20-core CPU, up to a 64-core GPU, support for up to 128GB of unified memory, and a staggering 800GB/s of memory bandwidth. It does this by combining the power of two M1 chips connected by a process developed by Apple called UltraFusion.
"The two chips not only behave like one chip, but appear as one to designers, so they don't need to do any special coding to reap the benefits, which are essentially double the capacity," said Ross Rubin, the lead analyst at reticle researcha consumer technology consulting firm in New York City, told TechNewsWorld.
"The software works out of the box with the M1 Ultra," added Bajarin.
future of chip manufacturing
Kevin Krewell, a senior analyst at Tirias Research, a high-tech research and consulting firm with offices in San Jose, California, said packing the chips together made sense. "That way they don't have to make a bigger chip and can have a better performing chip with a minimum of custom design," he told TechNewsWorld.
Apple's M1 Ultra approach is a precursor to future chip manufacturing, noted Bob O'Donnell, founder and principal analyst at technolysis researcha technology market research and consulting firm based in Foster City, California.
"The need to package components is necessary because we cannot continue to block transistors on a single chip," he told TechNewsWorld. "The design of the M1 Ultra is the future of chip design for everyone."
M1 Ultra consists of 114 billion transistors and supports up to 128 GB of fast unified memory. Apple's innovative packaging architecture connects the dies of two M1 Max chips together to create a system on a chip. (Image credit: Apple)
---
Although there was speculation leading up to the event that Apple would unveil the second generation of its silicon M Series at the pre-taped session, there was a subtle hint of things to come. "I thought it was interesting that they described the Ultra as the last chip in the M1 series," Rubin said. "That suggests the M2 is coming soon."
The Ultra will be the high-end model of Apple's Mac Studio Desktop. The more affordable Studio model features an M1 Max processor with a 10-core CPU, up to 32-core GPU, support for up to 64GB of unified memory, and 400GB/s memory bandwidth.
Good punch on Mac Pro
"A lot of people were surprised by the studio," noted O'Donnell. "It's the first new computer model Apple has introduced in a long time."
Although Apple had hinted that a new Mac Pro model was in the offing, the arrival of Mac Studio could have a negative impact on the fate of the older computer.
Mac Studio has a wide range of ports on the back (pictured here), along with two USB-C ports and an SD card slot on the front. (Image credit: Apple)
---
"Apple killed Mac Pro sales with the Studio," O'Donnell said. "No one in their right mind would buy a Mac Pro now if they can get a more powerful machine with the Studio."
Along with the Mac Studio, Apple introduced the Mac Studio display with support for 14.7 million pixels (218 pixels/inch), one billion colors, and 600 nits brightness. "The studio display is a sleek, impressive monitor," said O'Donnell.
Mac Studio and Studio Display (Image credit: Apple)
---
Also at the event, Apple beefed up its smallest iPhone, the 4.7-inch SE, with a faster processor, better cameras and 5G. "The new SE probably won't sell as well as the original, which was very popular, but the new phone will be very popular with Apple users looking for a mid-range phone with 5G," Nabila Popal, research director at I.D.C Worldwide device trackers, TechNewsWorld said.
Trickle Down Functions
With a retail price of $429, the new SE costs $30 more than its predecessor. "It's amazing that they were able to add 5G and a new, faster processor for just $30 over the SE's original price," says David McQueen, lead research at ABI Researchsaid TechNewsWorld.
However, O'Donnell was less than impressed with the pricing. "I was surprised they couldn't get it for less than $400," he said.
He added that the SE benefited from Apple's "trickle down" strategy. "It has a new, more powerful processor and 5G, both previously introduced in higher-priced models," he explained.
Getting the SE to market below $400 isn't as important as it used to be, Rubin claimed. "Today it makes less of a difference because most consumers pay in installments and the extra $30 over the course of a year doesn't make a difference," he said.
iPhone SE features an aerospace-grade aluminum design with the toughest glass in a smartphone on the front and back. (Image credit: Apple)
---
Rubin added that the SE isn't just for new users, but also for users who want a smaller device.
While the SE offers many new features found in pricier iPhones, it only has Touch ID and no Face ID. "You're going to give up some features for a much lower price," Rubin commented.
Consolidation of position number one
Bajarin explained that the SE allows Apple to participate in the midrange market. "It will bring more people into the Apple ecosystem," he noted.
Bajarin pointed to Apple's all-important services category, claiming that "Apple needs to expand its customer base to grow this business."
Apple has also improved the features of the iPad Air without increasing the price. "Apple made the iPad Air a more capable device and brought it into the M1 family," Krewell said.
"With the new improvements, Apple solidifies the iPad's position as the number one tablet market," added Bajarin.
Rubin pointed out that the move to the new M1 processor is significant. "A lot of the positioning around the iPad lately hasn't been in comparison to other tablets, but in comparison to Windows laptops," he said. "If they're looking at it more as a laptop-class machine, then it makes sense that they'd want to give it a laptop-class processor. "
Apple is riding a wave of success right now, but storm clouds could be on the horizon, assured Mark N. Vena, president and principal analyst at SmartTechResearch in San Jose, California. "Most of Apple's sales have always been at the high end of the market," he explained, "but with inflation and high gas prices, the Apple brand could be really tested in the coming months.
Apple Refreshes iPhone SE, iPad Air, Debuts Studio Desktop Source link Apple Refreshes iPhone SE, iPad Air, Debuts Studio Desktop