Local
Adventist Health recognizes, celebrates cancer survivors | News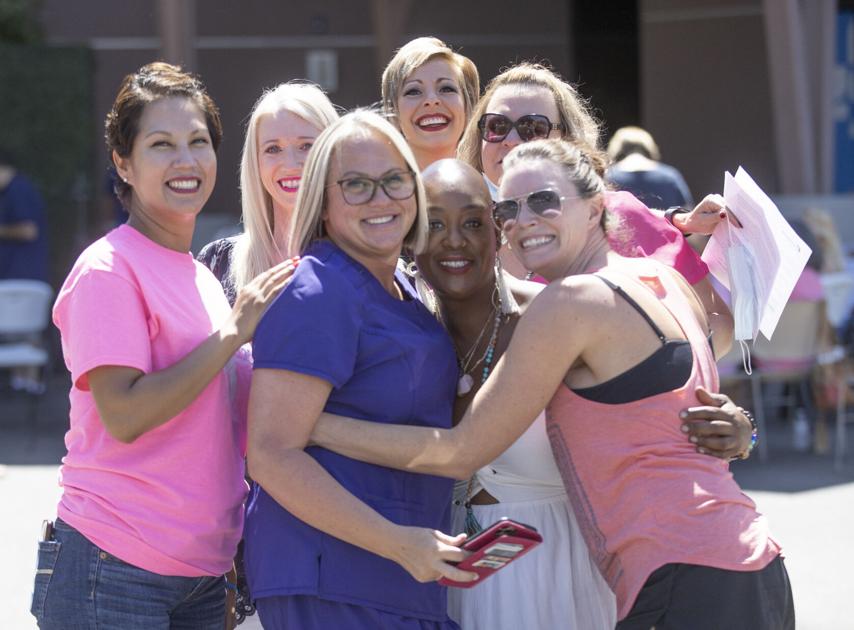 All speakers at Adventist Health Bakersfield's Friday Morning Cancer Survivor Celebration had a story to tell.
All stories were uplifting, inspirational and hopeful.
That word, hope, was the central theme of an event held to commemorate National Cancer Survivors Day, which is usually celebrated on the first Sunday of June.
Eyewitness News KBAK / KBFX anchor and reporter and stage 3 breast cancer survivor Rachelle Murcia led the speaker portion of the event streamed through adventist Facebook Live.
Murcia, who was diagnosed in January 2020, was pleased to announce that she had been in remission since October.
She today sees a blessing to the world around her, the community of Kern County she calls her hometown, and everyone who has helped in the process.
"We want to show the community that life after being diagnosed with cancer is exciting and uplifting, and that we can live as beautiful a life as we know," Murcia said. Mr. says.
Murcia introduced Shelby Williams, who was diagnosed with breast cancer at the age of 36 two years ago. Due to a rare genetic mutation, Shelby was also found to have an 83% chance of developing stomach cancer. reality.
She underwent both mastectomy in February 2019, and in April of that year the doctor performed a total gastrectomy (a complete surgical resection of the stomach).
Two years later, my wife and mother were free from cancer. She thanked the doctors, husbands and children for inspiring them during difficult times.
"I'm here today and I'm strong and I'm 65 pounds lighter, but I'm not going to waste my journey," Shelby said. "Breast cancer saved my life. I'm forever grateful that I found a lump in my breast and didn't ignore it."
Chei Whitmore, a breast cancer patient at the Adventist Health AIS Cancer Center, also spoke at the ceremony.
She said some important people provided support during this difficult time. Her daughter is the ultimate planner and attends all Chey medical appointments. And Chei's boss who provided personal and professional support.
Whitmore talked about treatment fatigue, migraines, nosebleeds, hair loss, heartburn, and muscle aches.
"All the other horrifying side effects we endure. Be aware that they don't define us," Chei said.
"This is not my eternity. This is also gone."
And there was also Dr. Vikas Guy of the Adventist Health AIS Cancer Center.
He first encountered the disease at the age of eight when he lost his grandmother, who died of breast cancer.
"At that time, I decided to become a doctor," he said.
Ghai talked about remarkable advances in medicines, gene identification, gene profiling, and personalized medicine based on the individual needs of patients.
"All of this has changed the overall dynamics of cancer treatment," he said. "That's why there are more survivors and people live longer."
All four speakers discussed the importance of support from the medical community, family, friends and community groups overcoming cancer treatment.
"As we survivors know, the cancer journey doesn't end there. But as we know, no one fights alone. And it's in our community. It's not as true as this, "Murcia said.
The two-hour event also featured a boxed branch offered in drive-through format. Meals were distributed by the California State University Bakersfield Baseball Team.
About 30 cancer survivors attended the speech section of the ceremony.
Adventist Health recognizes, celebrates cancer survivors | News Source link Adventist Health recognizes, celebrates cancer survivors | News